Dave Whelan believes Manchester United should have made approach for Roberto Martinez
Wigan chairman Dave Whelan was surprised that Manchester United did not approach Roberto Martinez in the summer.
Last Updated: 28/11/13 10:05am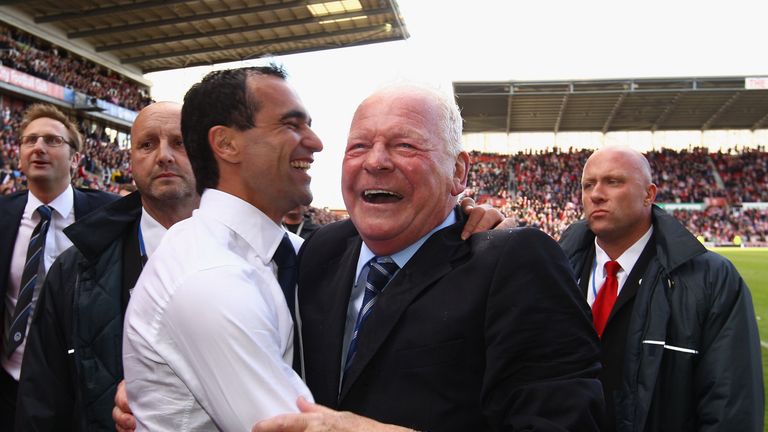 Whelan allowed Martinez to end his four-year spell with Wigan following the club's relegation from the Premier League last season.
The Spaniard moved to Everton as David Moyes' replacement after the Scot took charge of United, but Whelan believes the champions should have considered Martinez as a possible successor to Sir Alex Ferguson.
"I think he's the best manager in the world and I was a little surprised that Man U didn't come for him because I knew that Alex was going to retire," Whelan told Sky Sports News.
"Alex had already told me that he was thinking of retiring and I was a bit surprised that Man U didn't. They have still got a great lad in David Moyes, let me say that, he's still a great manager, but Roberto now going to Everton, he will take Everton to places they can only dream about."
Whelan has kept a close eye on the Football Association's new commission and suggests that FA chairman Greg Dyke has played down England's hopes of winning the World Cup next summer.
Dyke has set a target of winning the trophy in 2022, but Whelan has urged the national team to go for glory in Brazil.
He said: "I want to win it next year. Why don't we win it when we're in it now?
"We're in Brazil, let's go to Brazil and let's go there with the confidence and we've got the team.
"Everybody thinks England can't do it. England can do it and we've got to believe in England, we've got to believe in ourselves. We should go to Brazil and think yeah, we can win this and do it. Let's go and get it."