Manchester City boss Manuel Pellegrini frustrated to concede three in 6-3 win over Arsenal
Man City boss Manuel Pellegrini was frustrated to see his side concede three goals in their 6-3 win over Arsenal.
Last Updated: 14/12/13 5:13pm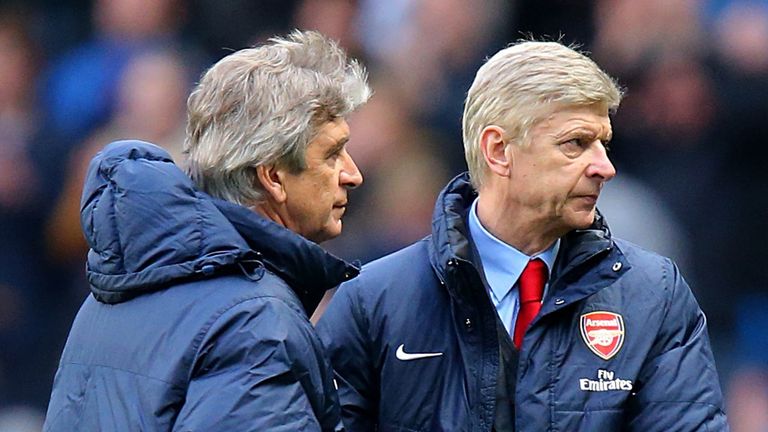 The Chilean was delighted to see his side climb to within three points of the league leaders, but admits conceding three at home was not what he wanted.
However, he also insists that City will not be changing their attacking mentality and that scoring goals will always be their main priority.
"It's very important to be an entertaining team but I would prefer we won 6-0 rather than 6-3," Pellegrini declared.
"Every manager can think the way they want to think, maybe some managers prefer to score one and sit back but we will continue to keep trying to score goals because that's how we want to win.
"It's possible to [win in attacking fashion without conceding] but the whole team must know how to defend. I will watch the game again but I don't remember Arsenal having that many chances to score more than three.
"Attacking, it was a very good performance, it's not easy to score six against Arsenal - the best defence in the Premier League but I think we had four more good, clear chances to scores goals, so in that sense I'm very happy but we must keep improving.
"We are three points behind (Arsenal). We must continue working and improving because we have a lot more things to improve."
One real negative for Pellegrini was the loss of leading scorer Sergio Aguero, who limped off with a calf problem early in the second-half - after he had volleyed home the opening goal.
"Sergio Aguero, we will see him with the doctor, maybe he has some problem
with his calf but I don't know at the moment how many weeks," he said.
Brazilian Fernandinho was named man of the match after his two goals form midfielder and Pellegrini was quick to praise his display.
"He is a typical Brazilian midfielder, he plays very well with the ball, he has a lot of pace - he gets forward well," he said.
"He's doing very good work with Yaya Toure and I'm very happy for him.
"Fernandinho played a perfect game in all senses, not just his two goals but he recovered a lot of balls and had a lot of pace.
"I am very happy for him but you will see how good he is over the season - he will get better every week.
"Yaya, Samir and David all played very well today, too. The four in the midfield are very difficult to play against - the strikers can score a lot of goals with them behind them."