Premier League: Arsenal's Tomas Rosicky set to sort out future soon
Tomas Rosicky has reiterated his desire to end his career at Arsenal and expects his future to be resolved soon.
By Vasek Kadlec
Last Updated: 23/12/13 3:36pm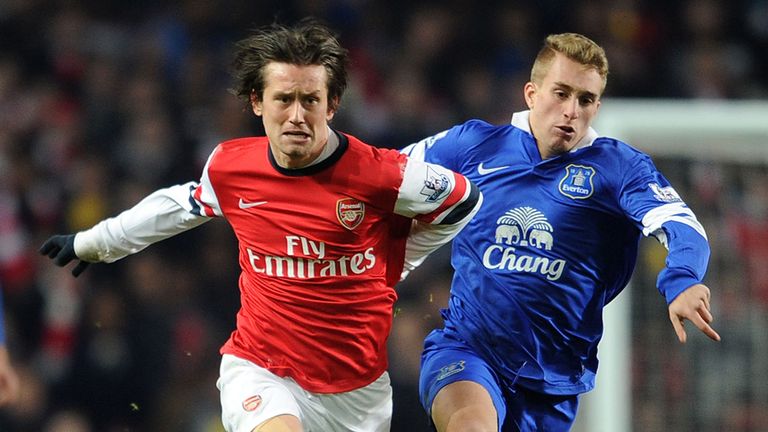 Rosicky is in the final year of his contract but continues to be an important member of the squad and hopes to be offered a new deal.
The 33-year-old also remains passionate about playing for Czech Republic and has set his sights on Euro 2016 after missing out on qualification for the World Cup, and he expects his future to be resolved soon.
"I would like to carry on but there are a few question marks," the midfielder told isport.blesk.cz. "I would say within a few weeks we will know more.
"If the day comes and I leave Arsenal, then I will be surely considering a move to play on a different continent.
"If it was possible, I would love to end my career at Arsenal, which is something I have said many times before.
"If I should leave, however, then I would be tempted to play in the USA. Football has been on the rise there and I'm interested in trying a different style of life.
"By that, I'm not ruling out a return to Sparta Prague, though."
Rosicky has been at Arsenal since making the move from Borussia Dortmund in 2006, and admits his time at the club has been as special as he could have hoped for.
He explained: "Naturally, I would love to continue. It's hard to leave a top club like Arsenal. It's a club where I have had everything I have ever been searching for in the football side of things.
"The same can be said about the national team. Even if the last qualification was a disappointment and I left with a negative feeling, I don't want to give up on it.
"I have always liked to play for my country and if you have something to offer, it's not easy to give it up. At least that's how I feel it."
Asked about the chances of him staying at Arsenal, Rosicky replied: "I can't say the likelihood but I can say that this will be sorted out soon. It can't go for long."
Rosicky has also dismissed as 'absolute nonsense' suggestions that his contract would be automatically extended if he reached 25 appearances for the season.
He added: "We have been discussing a new contract with Arsenal but I need to speak to Mr Wenger.
"I wouldn't like to give up on either (Arsenal & the national team) despite learning what it is like not to be busy in the international term. I would like to try for the Euro 2016."
Watch Arsenal take on Chelsea live on Sky Sports 1HD from 7pm, or for just £4.99 with a NOW TV day pass.