Chelsea boss Jose Mourinho never wants to leave Stamford Bridge
Jose Mourinho hopes he finishes his management career at Chelsea, claiming he does not want to go anywhere else.
Last Updated: 13/01/14 1:52pm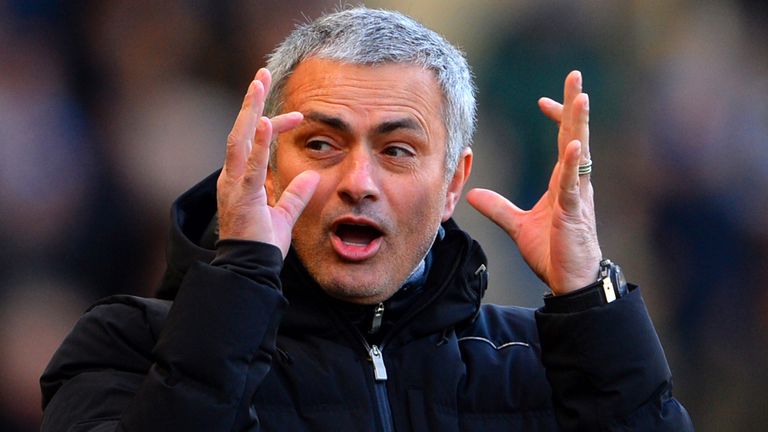 Mourinho began his second spell at Stamford Bridge in the summer, and admits he loves the job so much he does not want to leave.
"I'm not here thinking about my next move because I don't want to have a next move," he told the Evening Standard.
"I will have a next move if and when Chelsea decides it's time for that. I'm here to stay. I belong to Chelsea, Chelsea belong to me.
"I gave a lot to Chelsea in the past but they also gave a lot to me. This is a different professional relationship."
Mourinho spent five years away from west London, enjoying spells with Inter Milan and Real Madrid.
But the 50-year-old now feels his European odyssey is at an end, admitting to feeling settled with his family in London, back at the club he first led between 2004 and 2007.
"We kept our house (in London) from last time and, although we tried to hide it, we came lots of times," said Mourinho.
"The success I had in my career gave me the possibility to choose my destiny.
"When I made the decision I didn't know if Chelsea would be available and if the door would be open but when it did, the picture was perfect for me."
Challenge
Mourinho now hopes he can emulate his achievements from his previous stint in west London - which brought five major trophies, including two Premier League titles.
He acknowledges that he is reshaping the club on this occasion, rather than rebuilding it, but is convinced that success can be achieved if everyone continues to pull in the same direction.
He added: "I'm enjoying this challenge. It's a different challenge from before.
"The other one was to win for the first time, there was the impact of a new foreign owner that was something new in English football and world football. Now it is a different perspective.
"I have different people at different stages of their careers in my hands. You never know how they will react.
"I didn't know where John (Terry), Frank (Lampard), Ashley (Cole) and the other senior players were. I didn't know if I could recover their their motivation to play at the top, their understanding of the importance they have in the squad, in the club, even if they're not the players that can play 50-60 games a season any more.
"The new players have come from different countries and all of them are young people. Willian never played at a top European club; Andre Schurrle came from a club [Bayer Leverkusen] not fighting for titles; it's Oscar's second season but physically he's still getting used to English football.
"Many people told me Chelsea supporters will expect me to do the same as before. I was never worried about that. I was sure about people's trust.
"In the same way people know I built a Chelsea team that lasted seven-eight years and was in place to fight for titles even after my departure, I know that I'm going to do the same [this time].
"People trust me and I like that feeling. People know I am one of them so they know that my happiness in the good moments is more than a normal manager and my sadness is more, too."