MLS: David Beckham ready to make big decisions for new team Miami
David Beckham says all the big decisions will be down to him for his new Miami-based MLS franchise.
Last Updated: 06/02/14 11:58am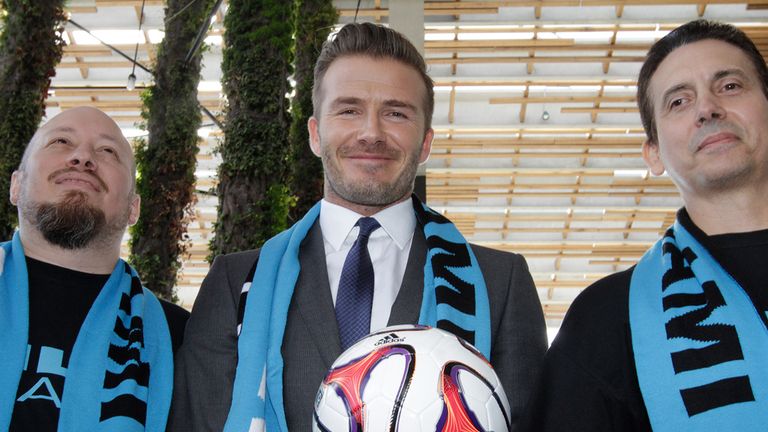 At Wednesday's official announcement, the former England captain said a world-class stadium would be built and hoped to recruit "some of the best players in football".
Miami would become the 22nd team in the MLS, although the date for entering the north American football league has still to be set.
"I'm 100 per cent involved with bringing the players in with the coach or manager whoever that will be," said Beckham, who played for MLS club LA Galaxy from 2007-2012.
"That's important to me. All those decisions will be down to myself and with the investors and partners we bring in. All the big decisions like that - people will rely on me making the right ones."
Having retired from playing football last May, the 38-year-old jokingly refused to rule out being involved on the pitch.
"You never know," he said. "My heart says yes but my legs say no. I do miss the game and when I go to games, it does makes me miss it more. We'll see but I don't think so."
Beckham's group is now in talks with Miami local government officials about building a stadium for the new club, but insisted no public money would be needed.
With Beckham's extensive network of friends and colleagues developed after six years of being based in the United States, one source of financial help may be on its way from a basketball legend.
LeBron link
Miami Heat forward LeBron James declared his interest in being involved with the Miami team and said: "Hopefully I can be. Right now, there are some things that need to be worked out but I think it's exciting for the city of Miami.
"I have grown a great interest in watching the game and learning the guys. It's a pretty intense sport and my kids love it as well. I've grown to the point where I know exactly what's going on when I'm watching the game.
"David has become a good friend of mine over the last few years and Miami is a great town for soccer."
From his time at LA Galaxy, Beckham held a $US25 million option in his MLS contract to start a new franchise, with that being exercised shortly before it expired on December 31.
On Tuesday he signed a shareholder agreement with his two partners, the British TV producer and creator of American Idol Simon Fuller, and Bolivian born billionaire Marcelo Claure, founder of Miami-based Brightstar Corp.
A final deal to grant the franchise to Beckham's investment group could be several months away though with a stadium location and financing still requiring approval from the MLS board.
The former Manchester United and England midfielder remains hugely ambitious and stated; "We are going to make a soccer club that is going to be loved by millions of people - we plan on bringing a team that is not just for Miami but is a global team.
"We will want to bring in some of the best players in football to play in this team - I have seen what happens to a team when you bring great players in.
"We want the best. Fortunately I have played with some of the greatest players in the world, and these players have been sending me messages and calling me up and saying 'Miami, great - when can we get there'."
The MLS currently consists of 19 teams, but that will soon be 22 with Miami now joining fellow new franchises New York City FC and Orlando City.