Portsmouth spokesman Colin Farmery says club can cope with relegation
Portsmouth spokesman Colin Farmery is confident the club could cope with relegation from the Sky Bet Football League.
Last Updated: 27/03/14 3:01pm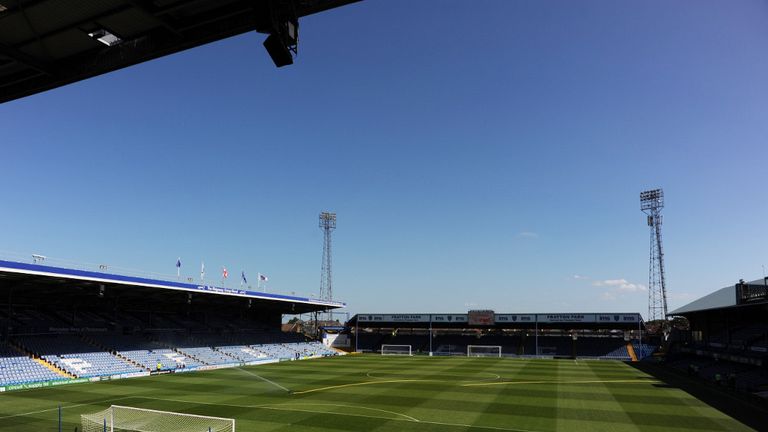 Portsmouth are currently just two points clear of second-bottom Northampton in League 2 but Farmery is confident the club will steer clear of trouble.
If they do drop out of the league, however, Farmery has assured fans the club is in a strong financial position to withstand the drop in income.
He told the new FL72 Weekly Show on Sky Sports News Radio: "It would be a tremendous shock if we found ourselves in the Conference but the finances are set up to withstand that.
"But we're certainly not planning for that scenario. Our aim in the seven games we've got remaining is to pick up somewhere in the region of 10-11 points, which we feel that is eminently achievable. We're confident Portsmouth will still be in League 2 next season.
"In financial terms we're on a pretty sound footing now because our income has run ahead of what has been budgeted this season, which is encouraging.
"At least the problems we're talking about now at Portsmouth are on the pitch. That's an important point to make when you consider where Portsmouth have been for the last three or four years that."
It has been almost a year since the Pompey Supporters' Trust completed a takeover of the Fratton Park club, and Farmery believes there have been a lot of positives to take out of the time.
He said: "Pompey's problems probably started around 2008, 2009 when Sacha Gaydamak, our then owner, ran out of money to bankroll the club, and we've been through a succession of owners that probably haven't always had the best interests of the football club at heart.
"But just over a year ago we managed to pull off an extraordinary achievement as a Supporters' Trust in raising £2.5million, plus the investment of some individual fans who put in some substantial funds, to take our club over.
"As we approach the first anniversary we're very proud of a lot of the achievements. We've got an average gate of around 15,000, which is higher than we were getting two or three seasons ago when we were in the Championship when we had a different ownership model."
Portsmouth are one of only a handful of clubs with supporter representation on the board but Farmery believes it is something far more should consider - and would benefit from.
He added: "Because it is a fairly new model there are going to be challenges and teething troubles and things that are unforeseen that crop up, but the net position here at Portsmouth has certainly been a positive one under fan ownership.
"Having some element of fan ownership, whether it's majority owned like Portsmouth or a minority model like Swansea City, has got to be something that football clubs look at seriously.
"It's not that individual owners per se are a bad thing but I think any football club could do worse to look to its fan base to invest their money in their football club, and they'll find that their bottom line actually improves as a result."
To hear more from Farmery, as well as football administrator Brendan Guilfoyle and former Leeds boss Kevin Blackwell on finances in football, listen to the full FL72 Weekly Show via the Soundcloud player below.