La Liga preview: Atletico Madrid keep eyes on league prize
Atletico Madrid are bracing themselves for another important weekend in their bid to secure the Primera Division title.
Last Updated: 25/04/14 11:12am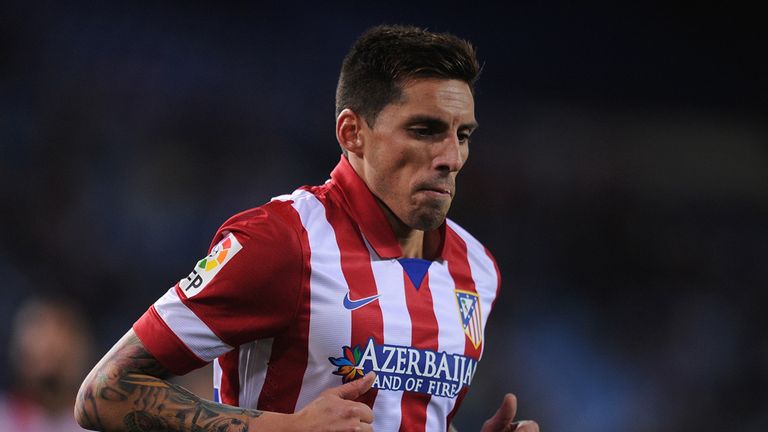 Diego Simeone's men are four points clear of Barcelona and six ahead of Real Madrid with four games left, although their cross-city rivals do have a fifth fixture remaining.
They face Osasuna on Saturday and 24 hours later Atleti will look to respond to whatever they do away to Valencia.
"We try to maintain the same concentration and the same eagerness away from home that we do at home," midfielder Jose Sosa told a pre-match media conference.
The impact of the Vicente Calderon crowd has been a significant one of late, with Simeone almost orchestrating them through games.
"We know we are more comfortable playing at home but we have been doing things right up until now," Sosa added.
Atleti will fly from Valencia to London for their UEFA Champions League semi-final second leg clash with Chelsea, with no let up in their intense schedule.
"We try and rest but also keep our concentration," Sosa said.
Real Madrid also have a big European clash on the horizon as they prepare to go to Munich to defend their 1-0 lead over Bayern.
They have not been in league action for a fortnight but since then have beaten Pep Guardiola's men and also seen off Barcelona to win the Copa del Rey.
"In terms of teamwork, our last two have been our best two games of the season. This team plays with a lot of enthusiasm. Sometimes we're better, sometimes we're worse but we're always enthusiastic. The environment is also really positive," coach Carlo Ancelotti said.
Barcelona are in danger of being the season's forgotten team, although they remain sandwiched in between the two capital clubs.
They go to Villarreal, themselves in seventh and pushing for a Europe League spot.
"We know we have to play the remaining four games like finals and the best thing we can do is to be totally committed, so that we are there if Atletico or Real Madrid slip up," defender Marc Bartra told Barca's official website.
"We have to keep up the pressure and we still hope to win this league.
"We have shown that there is no way we are giving up on the title."
At the bottom of the table, Real Betis will go down if they fail to beat Real Sociedad on Saturday, while even a win may not be enough if other results go against them.
There is a huge clash on Sunday as Athletic Bilbao meet Europa League semi-finalists Sevilla.
Athletic are in fourth, the final Champions League spot, and three points clear of Sevilla in fifth.
"We don't know how to play for a draw," said home defender Mikel San Jose, ruling out any thoughts of his side settling for a point.
"We are going all out to win. If we draw, that's not so bad, but we are only thinking about the win."
Saturday's fixtures are wrapped up with Granada against Vallecano and Getafe against Malaga.
Elsewhere on Sunday, Espanyol host Almeria while on Monday Celta Vigo face Real Valladolid.