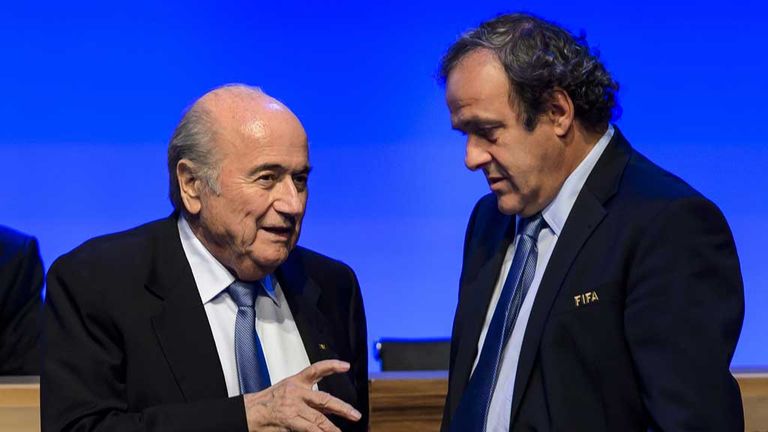 UEFA president Michel Platini has said that FIFA president Sepp Blatter no longer has his support.
Blatter, who has been under pressure over the controversy-plagued 2022 Qatar World Cup, declared to the FIFA Congress in Sao Paulo on Wednesday that he was ready for a new mandate despite having said in 2011 he would not seek re-election for a fifth term.
However, Platini, who is yet to decide whether to contest the FIFA presidential election himself, believes world football needs a new leader despite his respect for the 78-year-old Swiss.
"I am supporting him no longer, it's finished," said Frenchman Platini.
"I supported him in 1998 but I do not support him in 2014. And in the future I will not support Mr Blatter.                  
"He knows it, I told him. I think FIFA needs a new breath of fresh air.
"In 2011 he asked for our support and told us that that would be his last term."
A number of leading European football officials have already voiced their opposition to Blatter being given a fifth term this week, including FA chairman Greg Dyke, FA vice-chairman David Gill and Dutch FA chief Michael van Praag, and Platini agrees with their views.
"I share the European position," said the 58-year-old. "A new mandate for him would not be good for football. But he is a person one has to respect and he has all my respect."
At present there is just one candidate to run against Blatter for the FIFA presidency - former FIFA deputy secretary-general Jerome Champagne - and Platini is still not ready to commit himself.                 
"It is an option to run but it is not because Sepp Blatter is a candidate that Michel Platini won't be," said Platini.
"My only concern is what I want to do. I'm nearly 60 and I need to know what I want to do. I'm taking my time.           
"It's not as if choosing between UEFA and FIFA is like choosing between hospital and prison. There's nothing negative about this choice. When I undertake something, it's to win."