Dunga replaces Luiz Felipe Scolari as manager of Brazil after World Cup semi-final exit
Last Updated: 23/07/14 7:51am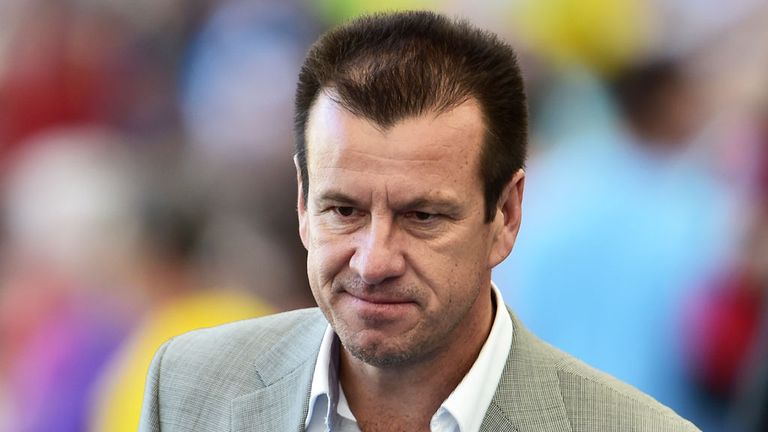 Brazil have appointed Dunga as their new national team manager following the resignation of Luiz Felipe Scolari last week.
Dunga, 50, led Brazil to World Cup glory as a player in 1994 and returns for a second spell as manager, having been dismissed in 2010 when the Brazilians were knocked out by the Netherlands in the World Cup quarter-finals.
Scolari masterminded Brazil's latest World Cup campaign but the hosts crashed out at the semi-final stage, hammered 7-1 by eventual winners Germany, and he subsequently quit his post.
A hard-working midfielder as a player, Dunga plied his trade in Brazil, Japan, Germany and Italy, and earned 91 caps for his country.
He was named manager in 2006 and led Brazil to glory in the 2007 Copa America and the 2009 Confederations Cup but they lost 2-1 to the Netherlands in South Africa four years ago, costing Dunga his job.
"I am immensely happy to be back," Dunga said on Tuesday. "Thank you for your confidence in me.
"The fans are very down right now but they are right behind the team. I am not here to sell a dream, we must get down to work.
"We're no longer the best, we're all aware of this. We can't tell our fans that we're the best.
                  
"My first time as coach, I was asked to rescue the team's values and get results.
"This second time around, the focus is on preparing the side for the 2018 World Cup."
Brazilian Football Confederation (CBF) president Jose Maria Marin is confident the re-appointment of Dunga will prove a success.
"He was world champion, captain of a world champion side," said Marin.
"He has what it takes to lead the Brazil team. The numbers show he absolutely has the ability to take charge.
"It was a decision made with the participation of everyone here at this table in a show of unity and total integration, aimed at great conquests in the future."
Dunga first took charge in 2006, with no previous management experience behind him, but Brazil won 42, drew 12 and lost just six of his 60 matches in charge.
However, he was criticised at times for the team's physical style of play and conservative tactics.