Louis van Gaal was coy on Manchester United's pursuit of Angel di Maria after a "disappointing" 1-1 draw at Sunderland.
United manager van Gaal was unwilling to confirm whether Di Maria is on the verge of joining the club, despite reports the Real Madrid winger has already said farewell to his team-mates in Spain.
Real boss Carlo Ancelotti said on Sunday that the Argentina international had not taken part in training but had instead "come to say goodbye", fuelling speculation that Di Maria will sign for United in the next few days.
However, speaking after his side's Premier League clash at the Stadium of Light on Sunday, Van Gaal remained coy over the rumours.
He told Sky Sports: "I think always the club has to announce it. And when we think it's the right time to form a transfer, then we will come to you and say we have bought that player or the other player.
"But at this time, we can't say anything."
The Dutchman added: "Yes (I like Di Maria), but I like Messi also. There are a lot of players in this world that I like but they can't always come to Manchester United."
Van Gaal is still awaiting his opening league win since taking charge of United, although he did at least see his side pick up their first point at the Stadium of Light.
Juan Mata fired the visitors in front but Sunderland's summer signing Jack Rodwell capitalised on woeful defending to head home Sebastian Larsson's corner on the half-hour and ensure the points were shared.
Having lost to Swansea at Old Trafford on the opening weekend, Van Gaal feels his side are still lacking the final pass needed to score.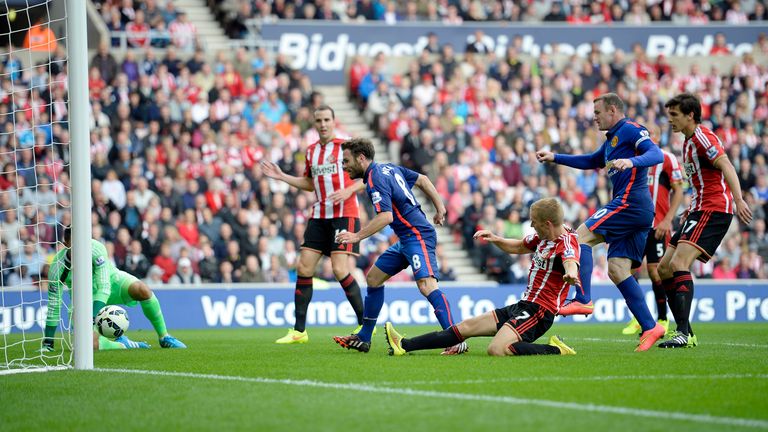 "In the first half, we played an equal match with Sunderland. We didn't create so much but scored a fantastic goal," he said.
"But then we've already warned our players they don't have to give a lot of set-pieces away, and we gave a lot of set-pieces away and they scored out of a set-piece, so that was disappointing.
"We played much better in the second half and could have created more but in the last third, we lacked creative passes.
"Football is played for creating chances and making goals. We haven't created so many chances today. We probably had more ball possession and were more dominant than the last match but you have to win your game at that moment and we couldn't, so that's a pity."
When asked in his post-match press conference how long it would take to get United up to speed, van Gaal said: "You can never say how long it takes because when you win the next match, the confidence comes back. But we have to work a lot.
"The players are very disappointed after the game because we thought we would win.
"But still we have one point and that is not good enough for Manchester United."
Van Gaal was also critical of the decision to book Ashley Young for simulation after going over Wes Brown's leg in the second half, although did admit the winger's action was "exaggerated".
The manager told Sky Sports: "He was free at the ball, he lifted the ball across the player and the opponent is kicking him.
"After that, he was jumping too much but what counts is that he was kicked by the opponent and then the referee can give a penalty.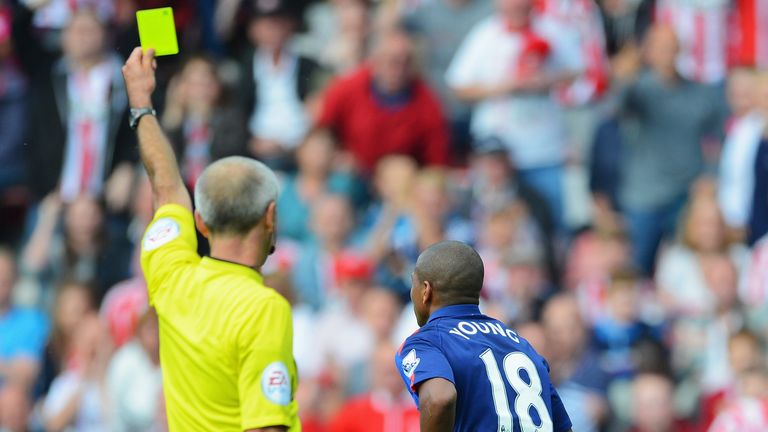 "He was tackled in my opinion, but after that he was exaggerating. But it is not diving because he was touched by the opponent."
Asked again later about Martin Atkinson's decision to show Young a yellow card, the Dutchman said: "I have said that he has been touched by the opponent in the 16m area and when it is like that there are referees who are whistling because you cannot touch players in that area because it is a risk.
"The referee wasn't whistling and nor was he for the tackle on Van Persie. I have seen the images since and I saw that Van Persie was already falling a little bit, but nevertheless the opponent takes the risk and it was a tackle on his ankle.
"Normally it is a penalty. There are referees giving those penalties and those who don't."