Europa League: Everton boss Roberto Martinez thinks getting a point at Krasnodar was a fine result
Last Updated: 03/10/14 9:41am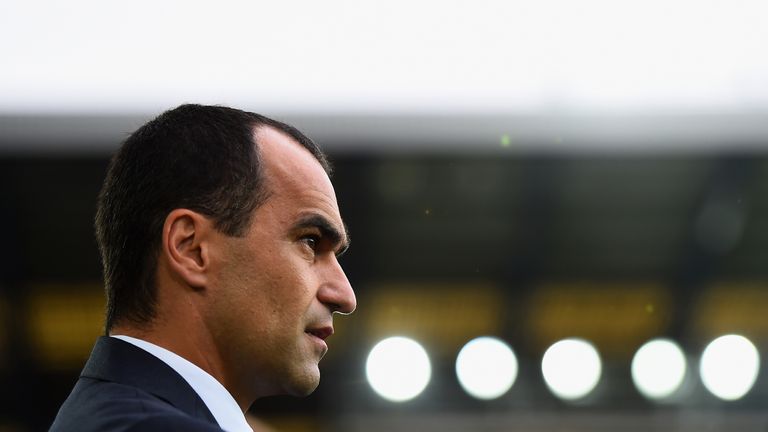 Everton manager Roberto Martinez was delighted with his team after they drew 1-1 at Krasnodar in the Europa League.
The Premier League side were on the back foot for much of the game and trailed to a goal from Ari which went in just before half-time but Samuel Eto'o netted eight minutes from time to salvage a draw.
And Martinez said: "I am pleased because I thought Krasnodar played really, really well.
"We showed an incredible character to know to we had to wait a little bit and then be able to get ourselves back in the game.
"I think we finished the second half really, really strongly and I think the energy levels were in our favour at that point.
"It's an incredible result for us to be able to get something from a very good side, who used their home advantage very well.
"I think anything you can get away from home is a positive.
"We were able to weather the storm in a couple of periods and then I felt we finished really strongly and could have won it at the end.
"I thought we couldn't find our attacking rhythm in the first half. In the second half, Romelu (Lukaku, a half-time substitute) helped us.
"I think, in the end, we deserved it.
"Maybe a draw is a fair result, but Krasnodar did have a lot of chances they couldn't take, and it could have been a different story."
Martinez also said he is confident his team are benefitting from their European campaign.
"The experience we have in the squad is really important for us and it's been a fantastic learning curve for us as a group," he said.
"To come to a place like today, where you don't really know what to expect and where you can't really be yourselves and do what you are good at, it's tough.
"Then, it's just about the experience of waiting for your moment and keeping composed.
"I think Samuel had that and I think we'll learn a lot from the game, because I think that is what European football is about – going into the unknown.
"You can follow a team as much as you like but, until you are in that environment, in that situation playing the game, it is impossible to know what is coming.
"That's why I am so delighted with the manner in which we stayed focused, kept fighting and showed incredible character at the end to finish really strongly."
Krasnodar boss Oleg Kononov said: "We tried to play our football the way we can, we tried to attack.
"We were successful with this in the first half and scored one goal, but we should have scored more.
"There were some wonderful chances to do that, but maybe we were just unlucky.
"I'm not saying we ruined things in the second half, but maybe we could have played better.
"The ending was not that good but I'm satisfied with the result."