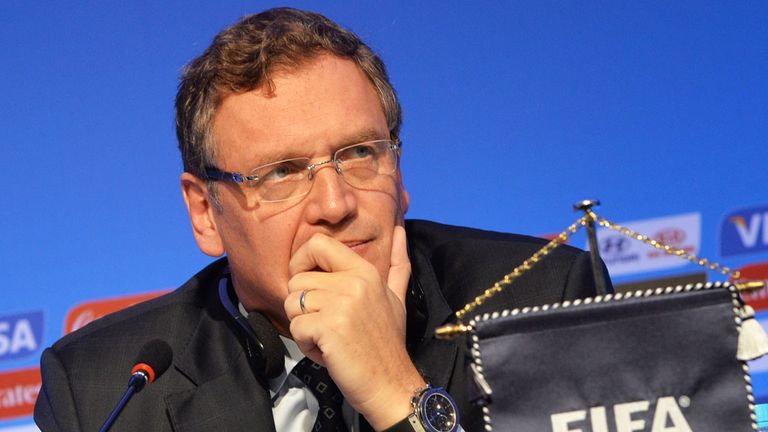 FIFA Secretary General Jerome Valcke has reaffirmed the commitment of world football's governing body to help develop football in India.
Valcke was in Delhi on Tuesday to meet with the sports ministry ahead of the FIFA U17 World Cup that will take place in India in 2017.
And Valcke applauded the efforts of organisers of the inaugural Indian Super League for attracting marquee names such as Robert Pires, Freddie Ljunberg and Marco Materazzi to the sub-continent.
"What I would definitely like to say is that we at FIFA support any new event that will help to develop football in India or anywhere else in the world," Valcke told Sky Sports. 
We must all work together in order to have one goal which is to develop football in India.
Jerome Valcke
"We thank all the private owners that are building teams in the ISL and bringing in stars from abroad because that is one way that you can bring that passion around the game.
"All of the fans in India know these stars who have played in Europe and different World Cups but we must also try and strike the right balance.
"In 2017, there will be the U17 FIFA World Cup here and that is definitely one big milestone in the organisation of the game of football in India.
"We must all work together in order to have one goal which is to develop football in India."
Valcke was the guest of honour at the ISL's third match, which pitted Alessandro Del Piero's Delhi Dynamos against David Trezeguet's FC Pune City.
The match finished goalless but Valcke was impressed by the fervent support for football in a country that is traditionally associated with cricket.
"Watching this game between Delhi and Pune was amazing because there was such a strong support from the 35,000+ people in the stadium," he said.
"From what I understand the crowd in Kolkata (for the match between Atletico and Mumbai City on Sunday) was even bigger, something like 50,000 people.
"It shows that football not only has the potential, but is also now a reality in India."