Europa League: Trouble flares in Lille ahead of Everton's Group H game
Last Updated: 23/10/14 5:10pm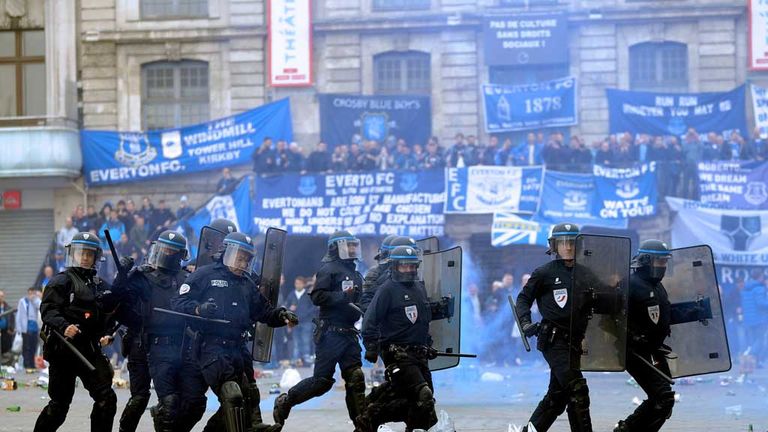 Everton supporters were caught up in trouble in Lille ahead of Thursday's Europa League game in the French city.
Two travelling supporters were taken to hospital with minor facial injuries on Wednesday night after what Everton called an isolated attack by "around 50 local men" in a bar.
And in the hours before kick-off on Thursday the club warned fans to steer clear of the main square amid reports of tear gas and rubber bullets being used by police.
Travelling Everton fan Andrew Broughton said his father was one of those hurt in Wednesday's trouble and told Sky Sports News HQ he saw tear gas fired on Thursday.
But he could not corroborate reports of rubber bullets being fired and described Thursday's incident as "just a couple of minutes, a bit of chaos".
Everton sold out their allocation of tickets and estimate the travelling support is the club's biggest since the 1985 European Cup Winners' Cup final in Rotterdam.
The statement about Wednesday's incident read: "The club has been made aware of an isolated incident in a bar in Lille on Wednesday evening (22 October) in which a number of Evertonians were attacked by a group of around 50 local men.
"The club understands that two Everton fans suffered minor facial injuries and were taken to the local hospital and that this was the only incident in what was otherwise a good-natured evening in the city centre.
"The club is in continual contact with Merseyside police officers who are in Lille today, and the city's police representatives.
"Supporters travelling to tonight's match are advised to utilise the travel information provided on the official website where updates on any safety matters will also be provided."