Emmanuel Adebayor says the Tottenham squad would rather play away from home at the moment to avoid being booed by their own supporters.
Spurs are enduring one of most difficult spells in their history of late – slumping to 12th in the Premier League after a fourth defeat in five home league games against Stoke on Sunday.
The team were booed off both at half-time and full-time at White Hart Lane and Adebayor has suggested this oppressive atmosphere is not helping.
"When you are playing in front of your own crowd you want them to support you, but now it's like going through a sad moment and your family isn't welcoming you home," he said.
"That's the worst thing ever because you have nowhere to go. I was on the bench against Stoke and, though I could not see everything, I could see that nobody wanted the ball.
"It's hard for the players. It's not their fault and it's not the fans' fault either because the fans want to see a result, the fans want to see a response and things are not going our way.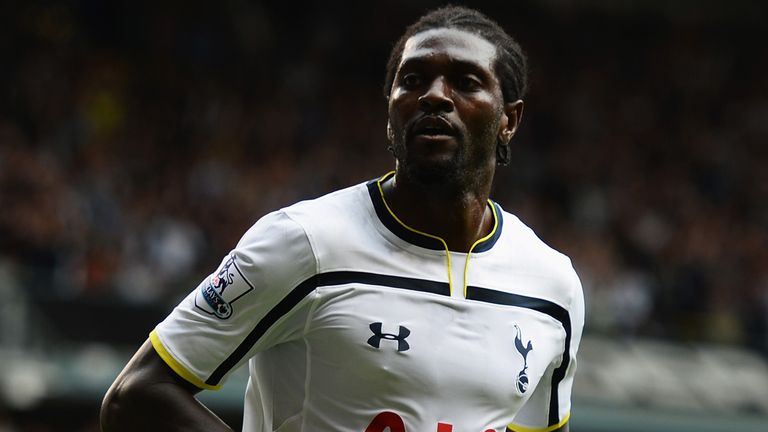 I was on the bench against Stoke and, though I could not see everything, I could see that nobody wanted the ball.
"But it might be better to play away because at least we know beforehand we are guaranteed to be booed by the opposition. When you are playing at home and your own fans start booing you after a few minutes then it is harder.
"I'm not just talking about me; I'm speaking on behalf of all the players. Now it is not fun. We are going through a difficult moment."
Spurs boss Mauricio Pochettino has vowed to find a solution to their woes as quickly as possible during the international break, with his side struggling for consistency.
Adebayor has backed the Argentinian and admitted he and the squad need to stop finding excuses for poor performances.
He said: "We just have to fight as a team and as a club to find a solution, the quicker the better. Will it help playing away from home? To be honest, I think so.
"This is the fourth manager in three years, so now we just have to stop arguing about the manager. He's a great manager and a great man and we just have to find a way to understand how he wants us to play and put that on the pitch.
"If every player could do what the manager wants then we would win the Champions League. Tactically he is working hard.
"He is the new manager and we have to get used to him but it is tough and we are not getting the message."