European Qualifiers: Robbie Keane adamant he can still score goals for the Republic of Ireland
Last Updated: 15/11/14 3:25pm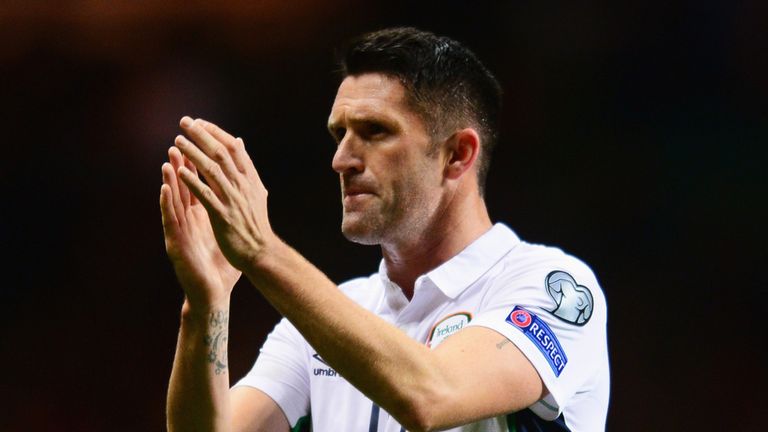 Robbie Keane is adamant he can still score goals for the Republic of Ireland if he is used the right way.
Keane was dropped for Friday night's 1-0 European Qualifiers defeat to Scotland - the first time in 13 years he did not start a competitive international when fit - as Martin O'Neill elected to play Shane Long in a lone striker role with Jon Walters supporting him.
The 34-year-old admitted he is not suited to playing on his own up front and believes playing two strikers is the best way for the team to score goals.
"If the manager wants to play with one up front, I'm not Niall Quinn or I'm not Shane Long - they are better at that than I am," Keane said.
"If you play two up front and you want to score goals, that's my game.
"Listen, I'd prefer to speak about the team rather than an individual, making a big deal out of someone else starting the game.
"The manager made a decision and you have to respect that. Playing one up front doesn't suit me, I think that's fairly obvious. I'm 5' 10", so it's not my game."
The game at Celtic Park had been billed as an Old Firm-type clash and Keane, who played in two of those high-octane affairs during his loan spell at Celtic in 2010, admitted that was exactly how it turned out.
"Yes, it was, it was exactly the same as the Old Firm derby I played in when I came up here," Keane said. "No quality, just people trying to kick each other and stuff like that.
"The whole atmosphere, the build-up to the game - certainly, there wasn't much quality out there, both teams trying to play.
"It was a scrappy affair and we knew that whoever was going to get the first goal was probably going to win the game, and that was the case."
Scotland's win saw them move level with the Republic of Ireland and Germany on seven points in Group D, with Poland leading the way with ten points.
Despite the setback in Glasgow, Keane remains optimistic about the Republic of Ireland's qualification chances and knows, with four of their next five games at home, their fate is in their own hands.
"Listen, by no means is this over," he said. "We can't get too down on ourselves.
"We are disappointed, of course we are, but overall if you look at the bigger picture, if you look at the points that we have, people probably expected us to have that around this point.
"But when you go away to Germany and get a point, you expect to come here and certainly get something out of the game. But we didn't."