Premier League: Bafetimbi Gomis going nowhere, insists Swansea manager Garry Monk
Last Updated: 12/12/14 11:34pm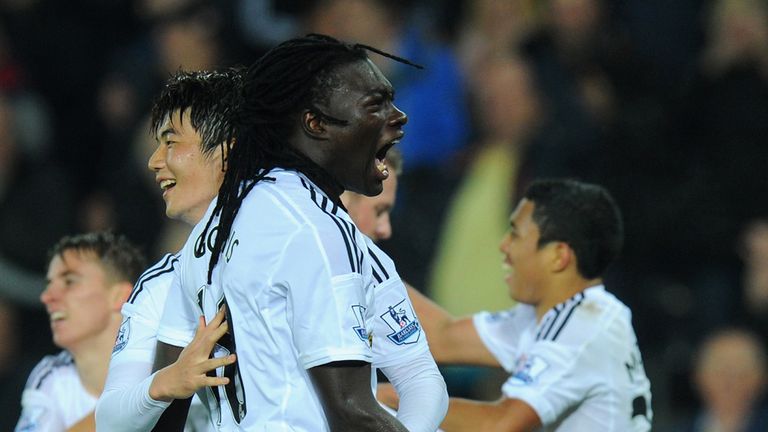 Garry Monk has ruled out a January move for Bafetimbi Gomis away from Swansea, insisting the striker will be given his chance in the future.
Gomis has found himself playing second fiddle to in-form striker Wilfried Bony, who has fired seven goals for the Swans this season.
And despite the French striker being left on the bench for most of the season, Monk was a full believer in Gomis' talents and said he was poised to be given his chance when Bony leaves for the African Cup of Nations in January.
"I have heard the speculation about Bafe but I want him here," said the Swansea manager. "He has been fine, trained well, got on with his job and it is not in my plans to move him on.
He will have his chance and that's what he's been waiting for.
Garry Monk
"He's been fantastic with me, I speak a lot to him about it and he waits for his time. He tries to contribute and in January he'll have a chance with Bony going to the Africa Cup of Nations and maybe in this period coming up with the number of games we have when we have to think about freshness.
"He will have his chance and that's what he's been waiting for."
Gomis first showed his talent for French side Lyon, netting 62 goals in 172 appearances, before moving to Swansea over the summer.
In his first Swansea start, the French striker continued his goal scoring prowess when he scored the winner in the Capital One Cup tie against Rotherham in August.
His only goal in the Premier League remains a memorable winner that sunk Arsene Wenger's Arsenal side 2-1 at the Liberty Stadium last month.
"It's been difficult for him because he's not a young kid," Monk added. "He's established and played and scored a lot every season with a good pedigree.
"And player like that doesn't want to spend time on the bench, They want to play and I understand that. I'd loved to have played him more than I have but Bony's been in such good form and players understand that.
"That quality of player will always be linked and other teams will see they haven't played as much as I or Bafe would have liked. They will look at him as a possible target but that shows what a good player he is."