Premier League: Peter Crouch and Glenn Whelan sign up for two more years at Stoke
Last Updated: 29/01/15 5:53pm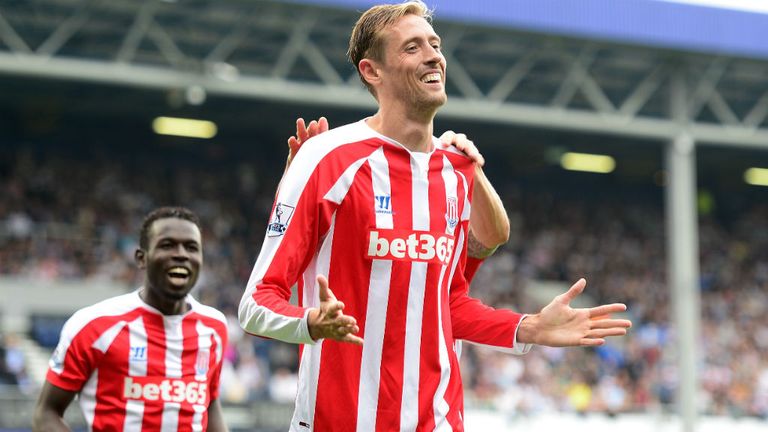 Peter Crouch and Glenn Whelan have secured their Stoke futures by signing new two-year contracts.
Both players would have been free to leave in the summer with Crouch linked with a possible move to QPR and Whelan linked with a reunion with Tony Pulis at West Brom.
However the Potters have been holding discussions with the players for some time and the experienced pair have now ended speculation about their future, much to the delight of Stoke boss Mark Hughes.
"It's pleasing that both want to stay and be a part of what we are striving to achieve at the club," Hughes told the club's website.
"They are both fantastic professionals who had contributed a great deal to Stoke City long before I joined the club and have continued to do so. I'm delighted they are staying with us for at least another couple of years."
Chief executive Tony Scholes said: "Players like Glenn and Peter are very much the backbone of our squad.
"They have both proved to be fantastic signings for Stoke City. The experience they bring to bear on the side, both on and off the pitch, cannot be underestimated and they still have so much to offer."
Whelan was delighted to extend his stay at the Britannia stadium and commit his long term future to the club.
"When I first signed here and somebody would have told me the journey this Club would go on, I would have absolutely snapped their hand off," he smiled.
 "I don't think the Club even believed the sort of success it would go on to enjoy. To have been a part of that is just incredible really.
 "It's a credit to the board, the managers and to the players who have been here over that time, because we are in a whole new world now compared to where we were before.
 "It has been hard work, but we have all dug deep and produced some incredible occasions to take this fantastic Club forward."
Crouch is targeting silverware with Stoke after extending his stay with Hughes' side.
"We have achieved so much in the time I have been here – finishing the top ten last year was huge for us and the squad we have right now is full of quality. 

"I'm just so happy that we are doing well and now we want to keep moving forward and possibly lift a bit of silverware – which is achievable. 

"I enjoy every minute of training and I also enjoy every minute I am on the pitch on matchdays too. I want to play a big part here in the coming years. 

"I have two more years now to make an impact. I've not signed the contract to sit here and put my feet up, I'm here to help the team improve and to win things."
Whelan and Crouch have amassed more than 350 games between them during a combined service of more than 10 years at the Britannia Stadium.