West Ham goalkeeper Adrian wins appeal against red card at Southampton
Last Updated: 13/02/15 4:25pm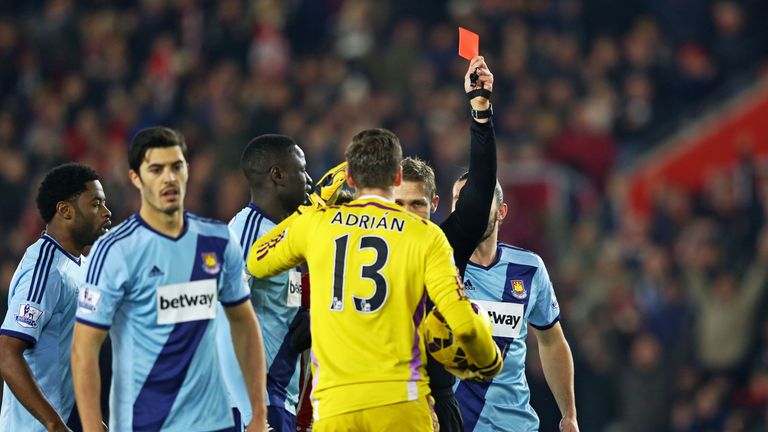 West Ham goalkeeper Adrian has won his appeal against the straight red card he was shown at Southampton on Wednesday night.
The Hammers lost Adrian to a red card after he handled outside the area following a tangle with Southampton forward Sadio Mane during the second half of the 0-0 draw at St Mary's.
West Ham boss Sam Allardyce confirmed immediately after the match that he would be appealing against the decision, which the FA has now overturned.
The ruling means Adrian will be able to play in Saturday's FA Cup fifth round tie at West Brom.
West Ham have however also now been charged for failing to control their players in the immediate aftermath of the red card.
A statement on the FA website read: "The West Ham United goalkeeper was dismissed in the game against Southampton on Wednesday 11 February 2015 for denying an obvious goal scoring opportunity.
"His one-match suspension has, therefore, been withdrawn with immediate effect.
"Meanwhile, West Ham have been charged by The FA for failing to ensure that its players conducted themselves in an orderly fashion in or around the 61st minute of this game.
"The club have until 6pm on 18 February 2015 to respond to the charge."
After the match Allardyce said: "(The sending-off) took away an opportunity for us to win the game. But I think a point is like a win for us, after coping with what we had to cope with.
"We will be appealing it and I'll be very disappointed if he doesn't get off."