Brendan Rodgers lamented a poor first-half performance and blamed frustration for Steven Gerrard's sending off in Liverpool defeat at home to Manchester United.
The Liverpool boss was disappointed with the conservative approach his players adopted in the early stages and for much of the first period.
That led to the introduction of captain Steven Gerrard at half-time, only for him to be shown a straight red card just 38 seconds later for a stamp on Ander Herrera.
"Steven, in the changing room, apologised to the players and to myself," Rodgers told Sky Sports.
"It was probably frustration there from Steven, he's an honest guy, very competitive and probably frustrated at the first half watching us because we never put a tackle in, we never made a challenge.
"He's come on and unfortunately got sent off. The players adjusted well, Steven has said his apology and we move on.
"He's a guy that knows as well as anyone that it is difficult to play in the big games with 10 men but he's a wonderful character and he'll be as disappointed as anyone."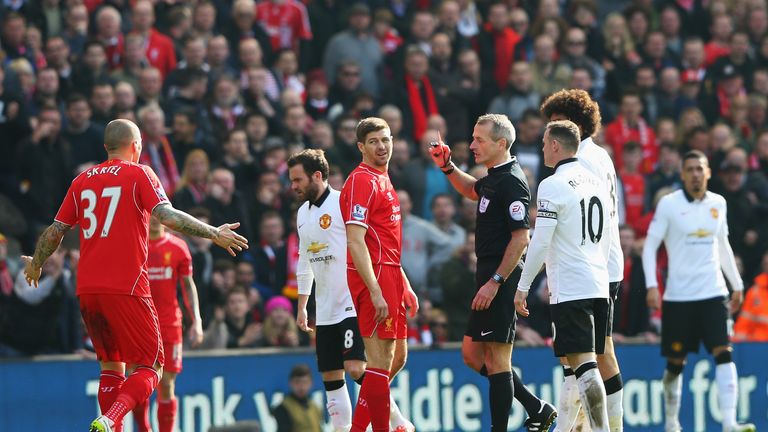 Even before Gerrard's misdemeanour Liverpool were trailing after a lacklustre showing in the opening 45 minutes, they improved after the interval but fell further behind with Juan Mata scoring his second of the game in spectacular style.
Daniel Sturridge halved the deficit but the ten-men were unable to find an equaliser as United held on with relative ease.
"I was disappointed with the first half," added Rodgers. "I think after everything that we'd spoken about with our pressing and our aggression, our start position was way too deep.
"In fairness we never laid a glove on them which is unlike us in the first half. Obviously if you give good players the time and the room… I thought they were excellent, good positioning, good possession and I thought they deserved their lead.
"Second half the players showed incredible bravery, the run that they've been on the last few months, they showed that character and especially when it went to 2-0, kept the game alive right to the very end.
"When you go 2-0 down and you've got ten men then we've seen it before, it can end up a lot more. The players were absolutely magnificent second half and there is overriding disappointment, of course with the result, but in particular first half."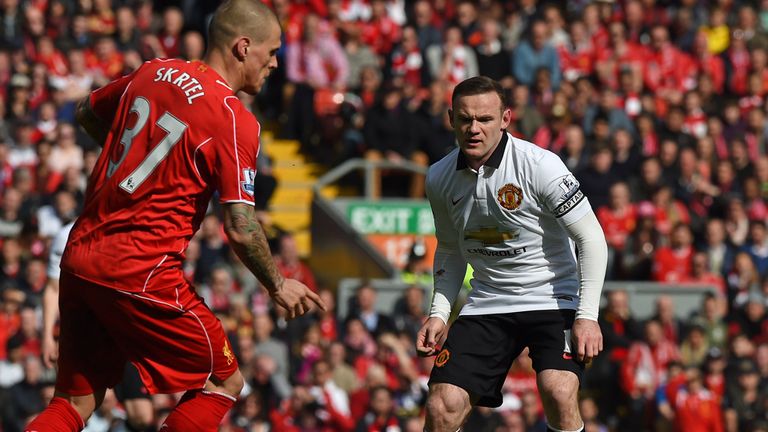 The game ended with a clash between Liverpool defender Martin Skrtel and United's David de Gea and replays appeared to show the Slovakian stamp on the goalkeeper. However, Rodgers believes there was no intent on Skrtel's part.
"I've seen that and the ball is played through and in slow motion it looks worse that what it probably is," he said.
"I think he is stretching to get that toe on the ball and it's then gone in to the keeper's hands and when you see it in slow motion it looks like he has maybe purposely stood on him but Martin's not that type of player and he was just a fraction out and then the referee blows the final whistle."
The Ulsterman also called on his players to use the defeat as a springboard in their pursuit of a Champions League place with the gap to United now five points.
"It's disappointing but it means we have to push on and really focus on our next games," he concluded.
"We knew the points total that we thought would get us there and we knew that there might be a defeat or two along the way so we're disappointed that it's at home against a rival but it's still very much up for grabs.
"We're five points behind and we'll continue to fight until the very last game at Stoke. We want to finish the season strong and like the last game with Manchester United that we lost, we need to use this as a springboard to finish the season well."