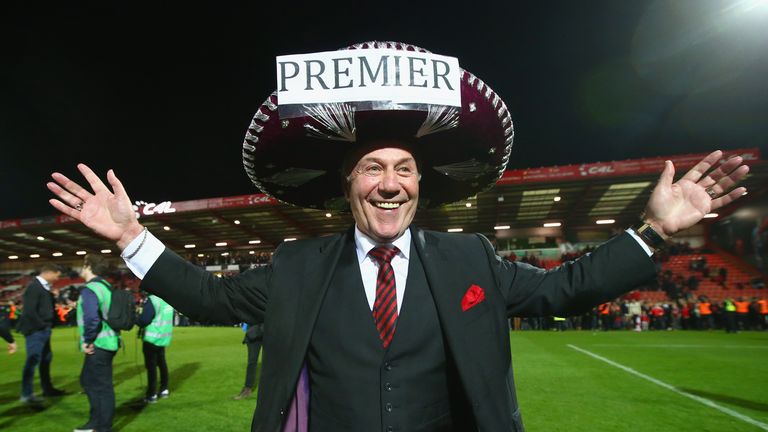 Bournemouth will "do the Premier League proud" next season, their chairman Jeff Mostyn has predicted.
Mostyn gatecrashed the dressing-room celebrations after Eddie Howe's side beat Bolton 3-0 at the Goldsands and effectively secured promotion to elite level for the first time.
Only an outlandish set of final-day results can now deny Bournemouth, who six years ago came within a whisker of dropping out of the Football League - and out of business.
Mostyn was around then and remains at the club now under Maxim Demin, and in the aftermath of the Bolton game the chairman had praise for the Russian owner, Howe and everyone at the club.
"A special word for Maxim, our owner," he told Sky Sports. "Without his commitment, loyalty and investment we'd never be able to take this club to such heights.
"It is a dream come true, from the abyss in the Second Division to the Premier League, these guys are just incredible.
"Eddie has created a siege mentality and the boys have carried themselves up four divisions against all the odds. They are just magnificent.
"The manager has an insatiable appetite to improve the team, he's calm and collected and he just wants to develop the team in his own style. We will actually make the Premier League proud."
As for next season, lifelong Manchester City fan Mostyn, who earlier this month said promotion would be "the greatest fairytale since Hans Christian Andersen", has one early ambition.
"I've been a City fan all my life," he said. "I can't wait to get to the Etihad next year and get three points."