Lionel Messi once again showed the world what he was capable of with an astonishing solo performance in Barcelona's 3-0 Champions League win over Bayern Munich.
As the world watched on open-mouthed, Messi scored twice and assisted Neymar for the third to help Barca to a commanding lead at the Nou Camp.
Ahead of the game, Bayern boss Pep Guardiola, himself more than familiar with Messi's ability, waxed lyrical about the Argentine forward, warning his team of the dangers.
And how right he was, as Messi once again became the top goalscorer in Champions League history. On the night, he scored the most goals and provided the most assists, while topping the charts for key passes and free-kicks won.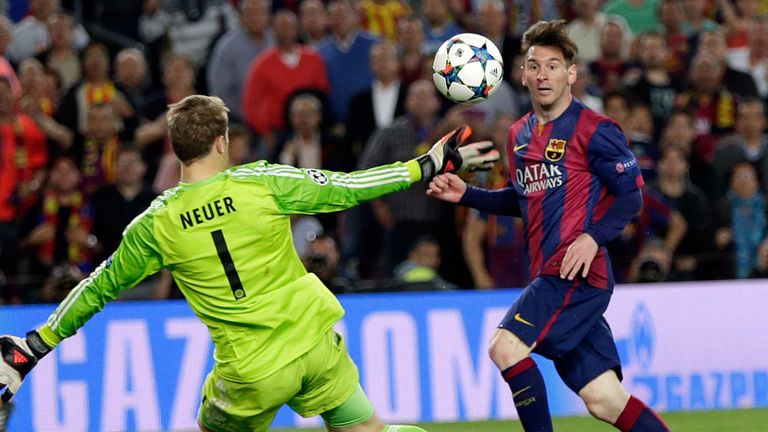 It was another masterclass, and those who know Messi best were full of praise after the match...
Barcelona manager Luis Enrique: "We are used to seeing Leo do wonders. It is a pleasure to see him play. You guys only see him once a week or every three days... we see him every single day and he is a player of another dimension. Apart from his attacking skills, have a look at how much he has added in defence."
Sky Sports pundit and former Barcelona striker Thierry Henry: "Once again, how many times are we going to say it... Lionel Messi just happened. That's just what happened tonight. Leo Messi decided to win the game. I don't care who you are, what type of defender you are, you don't want to let him on his left foot. So he goes back on his right - what are you going to do?
"There's nothing you can do, you just hope that Neuer can save you again. The way (Boateng) falls, it's actually funny. What are you going to do? Just look at the ball go into the net and watch him celebrate."
Gerard Pique: "When Messi is inspired, he is unstoppable and tonight he showed his talent again."
Neymar: "It's impossible to beat him. He is the best and I am always at his side to learn from him."
Javier Mascherano: "He is just a player who is impossible to describe. You have to watch him."
Andres Iniesta: "Leo Messi does things that nobody else does. We are lucky to be able to enjoy having him... I take my hat off to him once again. He makes us happy."
Sergio Busquets: "Having Messi in the team guarantees everything. He doesn't just score goals, he gives assists, he works and wins the ball. He's the best player in the world."
Watch Barcelona v Real Sociedad on Saturday evening, live on Sky Sports 5 HD from 5.15pm.