We were at Stamford Bridge on Super Sunday to see Chelsea crowned Premier League champions with three games remaining.
The title has only been secured earlier in one of the last 10 seasons. They have been dominant from the start. By the final day Chelsea will have been top of the table for 274 days of the season - a Premier League record. What a contrast to last season when the lead changed 25 times.
Recency will dictate that people remember the way Chelsea have ground out results since Christmas rather than the scintillating football earlier in the season that gave them a vice-like grip on the title.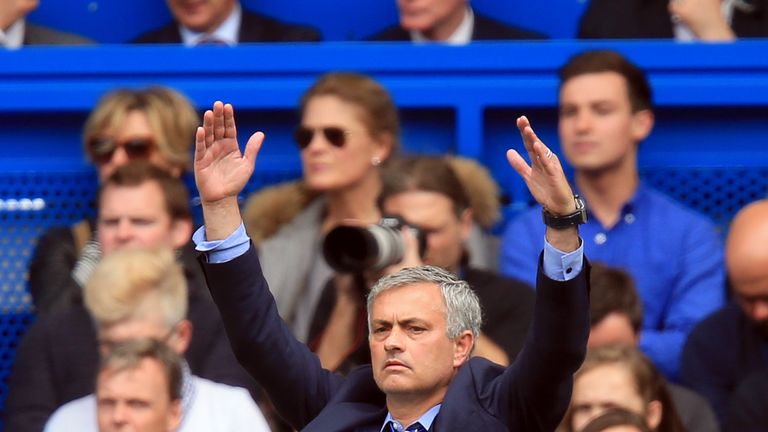 On Sunday's show, Eidur Gudjohnsen described how hard it is to stay at that level over an entire season. He compared this campaign to the second of his back-to-back titles at Chelsea under Jose Mourinho. They came flying out of the blocks in the 2005/06 campaign but were left digging out results at the end. Getting over the finishing line is never easy. Thierry Henry told us how even the 'Invincibles' found it tough, describing some of the games on the run-in as "horrible".
As Martin Tyler later said on commentary, Chelsea have been the best of the bunch by a mile. For Jose Mourinho it's a third Premier League title, an eighth league title in total in four different countries and an 18th major trophy. A winning machine. Addicted to success.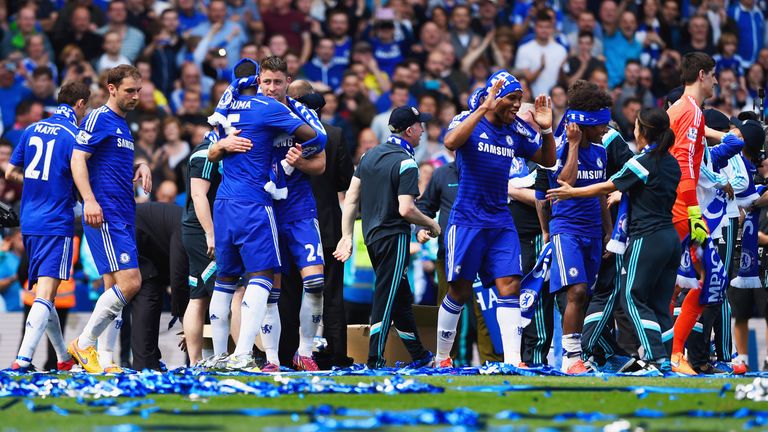 Mourinho took over at Chelsea in the summer of 2013 after they had finished 14 points behind Manchester United, who won the title. What a dramatic transformation it has been since then. A rapid transformation done within the framework of Financial Fair Play with a net spend way below their top four rivals. Mourinho has completely overhauled his squad with a net spend of only £54 million. The acquisitions last summer were perfect, filling the missing pieces in the Chelsea jigsaw. The sales of the likes of Juan Mata, Romelu Lukaku and David Luiz were equally important.
In the same period Manchester United's net spend is £168m. Manchester City £115m. Arsenal £103m. From 14pts behind to 13pts clear at the top of the League within two years, with a far lower net spend. That is impressive.
The others have a lot of catching up to do. Sky Bet have Chelsea (11/8) at a very short price to win the title again next season. We know how difficult it is to retain a Premier League but the team and manager's hunger is unlikely to dim.
A lot will be made of what players are signed over the summer. Recruitment will be important. More important will be matching Mourinho and Chelsea's will to win, tactical flexibility and defensive brilliance.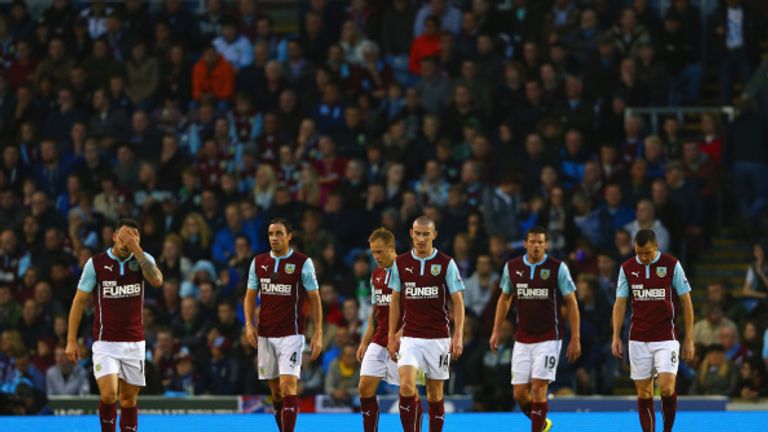 Those are areas where Arsenal have fallen down over the years. They looked brilliant again on Monday night against Hull but need to take a big step up to match Chelsea. They and Manchester City effectively have a top four place secured. We see both this weekend. City host QPR in part one of Super Sunday then Arsenal feature again on MNF, this time at the Emirates against Swansea. Garry Monk has been one of the revelations of the season and last weekend Swansea extended their record Premier League points total to 53 but they catch the Gunners in red-hot form.
The final Champions League spot is not secured yet. Sky Bet have Manchester United at 1/20 with Liverpool an 8/1 chance but that could easily change this weekend. Should Manchester United suffer a fourth straight defeat on Saturday Night Football against Crystal Palace, Liverpool will be in business. We'll be at the home of the champions to see if Liverpool can stay in the mix. They could be catching Chelsea at a good time if they've overdone the title celebrations this week. The problem they have is Jose Mourinho hates losing big games and seems to relish beating Liverpool in particular.
Live Ford Saturday Night Football


At the other end of the table it looks desperate now for Burnley and QPR. No team in Premier League history has been seven or more points adrift of safety with three games remaining and survived. Fulham were five points adrift with three games to go in 2007-08 and stayed up by winning their last three.
It looks like one of the five teams above them will go down. Those five teams are separated by just two points. Sunderland are the shortest price of those them at 4-6 with Sky Bet to go down, Hull are 7/2, Newcastle 5/1, Leicester 7/1 and Aston Villa in the best position and 14/1 for the drop.
It's amazing to think Leicester were being written off, seven points from safety at beginning of April. They have won three of the last four home games, having won only two home games all season prior to that. They are on the verge of breaking all sorts of trends. No team has ever been bottom for that long in a Premier League season (140 days) and avoided relegation and they could be just the third team to stay up after being bottom at Christmas. Leicester are on the brink of safety. What a story.