Asmir Begovic still has a future at Stoke despite the Bosnian goalkeeper being left out of the squad last week after stating he did not want to sit on the bench.
Hughes kept his word and handed England U21 Jack Butland a starting role in last weekend's defeat to Swansea.
However, Begovic's decision to tell the Potters boss he did not want to be a substitute at the Liberty Stadium has only increased speculation about his future at the club.
Hughes insists, however, he is not laying the groundwork for Begovic's departure in the summer, although he admits he cannot say for certain whether the goalkeeper will be at the club next season.
"I have said before it was my intention, if I felt it was appropriate, to give Jack some games and that was what I did," said the Stoke boss.
"I told Asmir and a number of other players who were not involved in the starting XI.
"He wasn't involved because he felt he should have been and his mind was not focused to be on the bench - which I understood to be honest and I was okay with that.
"People have misinterpreted this and it needs clarification.
"Nothing has changed from our point of view. I have given a promising young keeper, who we think highly of, a game and he'll get another game and that's it, it is part of his development.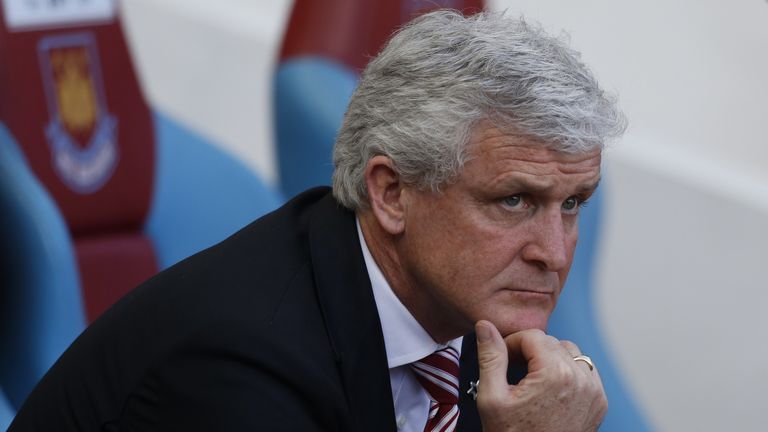 Our intention is that Asmir stays.
"Whether or not that has changed other people's view of the situation I don't know, but from our point of view it's as we were.
"Our intention is that Asmir stays. We don't know if that is going to be the case at the moment because those talks were always scheduled for the end of the season.
"If Asmir stays we will continue to look to develop Jack and the likelihood is he would probably go out on loan again (he spent time with Sky Bet Championship side Derby earlier in the campaign), if the right club was available."
Butland will start again in Saturday's visit of Tottenham, after which time Hughes will make a decision as to who plays in the final two games.
"My intention was to give him an away game and a home game so he is going to play on Saturday," he added.
"Asmir will not be available because he's just had a slight procedure that he has taken advantage of because he knew he wasn't playing this weekend so he will be back fit and well next weekend.
"Then I'll take a view on the last two games."