Young players get less game time in the Premier League than in any of Europe's other leading leagues, a new study has found.
Footballers under 21 years of age played just 5.3 per cent of total minutes in the 2014/15 Premier League.
In contrast, under-21s played in 12.1 per cent of total minutes in France's Ligue 1.
Bucking the trend are Liverpool and Tottenham, whose young players featured in 19.8 and 18.9 per cent of their total minutes this season, respectively.
Sunderland and Stoke didn't field a single player born on or after January 1, 1994.
Worryingly for young players looking to make a breakthrough into first-team squads, the game time of players under 21 in the Premier League has been on the decline in the past 10 seasons, from 10 per cent in 2006/07 to this season's 5.3.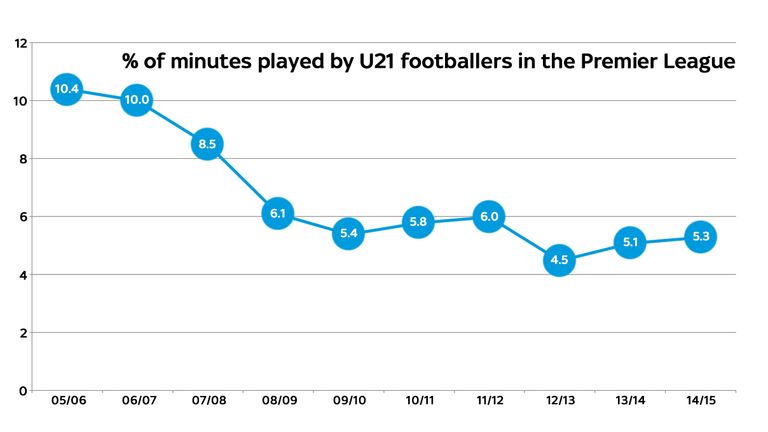 While Europe's top leagues saw more opportunities given to young players, the CIES Football Observatory study highlighted that Champions League finalists Barcelona and Juventus gave players under 21 under two per cent of their total playing time, while the figure was just 0.1 per cent at Real Madrid.
Arsenal's Champions League conquerors Monaco relied heavily on young players, though – 34.6 per cent of their total minutes featured under 21s, the most of any club across the Premier League, La Liga, Bundesliga, Ligue 1 and Serie A.
Percentage of club minutes played by U21s in 14/15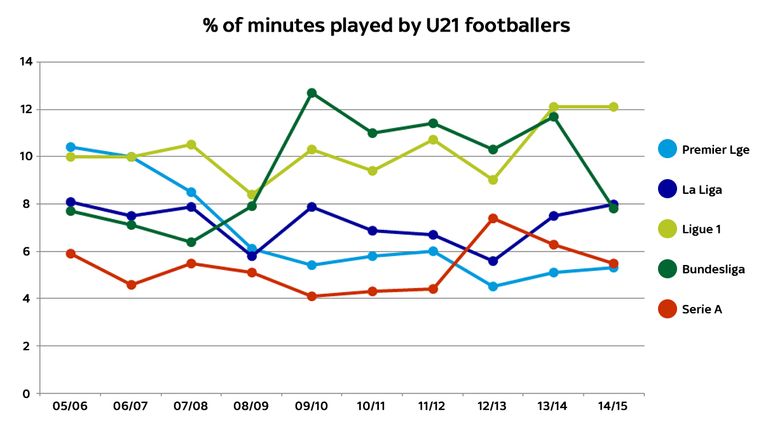 Ligue 1 – 12.1
La Liga – 8.0
Bundesliga – 7.8
Serie A – 5.5
Premier League – 5.3    
In the Premier League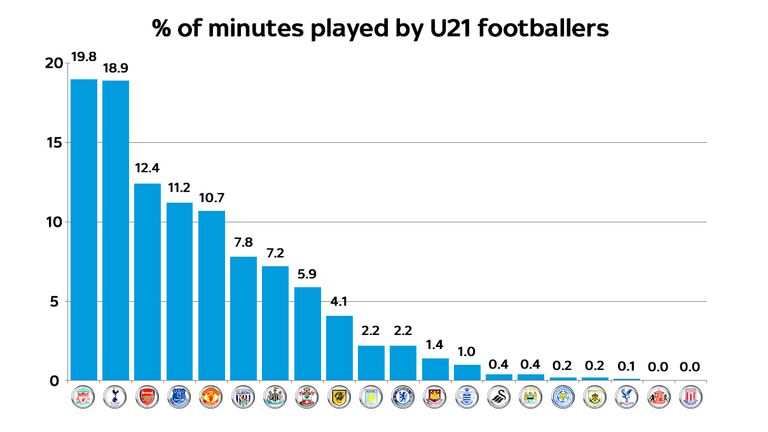 Liverpool – 19.8
Tottenham – 18.9
Arsenal – 12.4
Everton – 11.2
Man Utd – 10.7
WBA – 7.8
Newcastle – 7.2
Southampton – 5.9
Hull City – 4.1
Aston Villa – 2.2
Chelsea – 2.2
West Ham – 1.4
QPR – 1.0
Swansea – 0.4
Man City – 0.4
Leicester – 0.2
Burnley – 0.2
Crystal Palace – 0.1
Sunderland – 0.0
Stoke – 0.0