Lionel Messi just can't win in his battle to prove he's the greatest player of all time, writes Adam Bate.
For some, this is the chance to cap a legacy. Gigi Buffon, for example, is looking to finally add a Champions League winners' medal to his vast collection. For others, it's the opportunity to elevate their status. Neymar and Luis Suarez are after that breakthrough European triumph. But for the main man, the aim is the same. Do it again and do it better. But as the bar rises, the task gets tougher.
Former Barcelona team-mate Alexis Sanchez scored what many have since described as one of the greatest FA Cup final goals last weekend. But it bore little comparison to what was happening in Spain. Lionel Messi's Copa del Rey opener was a mini masterpiece. And yet, he'll be expecting to top that amazing achievement within the week. Such is the life of the world's greatest player.
The big problem for Messi is that his battle now is one against mythology. Novak Djokovic can blast the ball past Rafael Nadal on the French clay, while Rory McIlroy gets to look down the leaderboard and see the name of Tiger Woods. Trying to dribble around the memory of Diego Maradona is altogether trickier. Highlight reels and hagiographies are all that remain of Pele's career.
Live UEFA Champions League Final


As a result, shunting the greats from their throne in the mind's eye is all but impossible. Suarez could go on a biting spree, Neymar trudge off into the night and Barca find themselves down to nine men, but even then a Messi hat-trick in Berlin wouldn't be enough to end the talk of that missing World Cup win. His shot went wide. Mario Gotze scored. So come back in four years or forget it.
So what can Messi do in the meantime? Weight of numbers are his ally. While Maradona's best goalscoring season in Europe saw him score 23 times, Messi has been averaging 55 per season for six years now. For all the caveats about the relative strengths of tackling, teams and leagues, surely there comes a point at which such a disparity tips the scales in his favour?
It seems not. The glimpse of true greatness that Maradona unleashed on the world in June of 1986 remains the ultimate calling card. For some, both the beginning and end of the debate. The period of brilliance that followed at Napoli, where he bent Serie A to his will with a team from the provinces, confirmed the case for canonisation. Longevity fails to capture the imagination in quite the same way.
Messi clinched his second Champions League winners' medal at 21, an age at which Maradona was still playing in his homeland and when his only World Cup contribution of note had been a red card when 3-0 down to Brazil. Neither Maradona nor Pele won a major trophy after turning 30 so if Messi continues to perform at an age when they were past their prime, what then?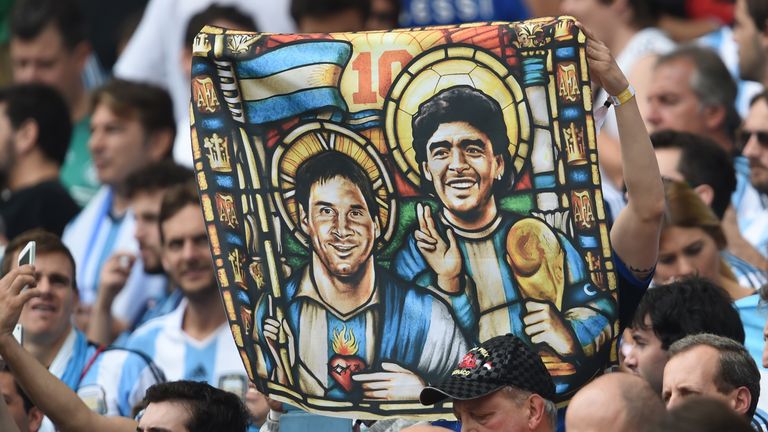 Of course, all of this would count for little if Messi's magic was somehow second rate. Tellingly, while World Cups are demanded of him should he wish to be ranked top of the pile, there is rarely any demand that Messi must actually play the game better. Such is the high level at which he is rightly being judged, the trivialities of talent seem barely relevant.
So when he stars once more in European club football's biggest match - unquestionably the pinnacle of the modern game in terms of standard - Messi will be taking on more than Juventus and his supporters will hope for more than mere medals. He'll resume his battle to be unanimously acclaimed as the best of all time. However well he plays, it's one he simply cannot win.