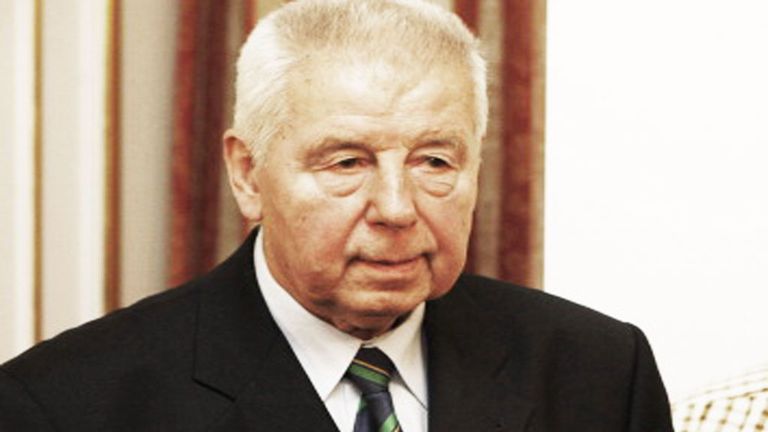 Czech football great Josef Masopust, who led the national side to the final of the 1962 World Cup, has died aged 84.
The Club of Josef Masopust's Friends, the organisation which takes care of his legacy, said he died in his Prague home on Monday morning. No cause of death was given although Czech public television said he had been battling a serious, long-term illness.
                  
"It's an irreplaceable loss," said Miroslav Pelta, the head of the Czech Football Federation. "He was a unique personality on and off the field."
Masopust, who was a creative playmaker with brilliant skill and technique, is best remembered for the opening goal in the 1962 World Cup final in Chile against Brazil, who ran out 3-1 winners.
"Masopust was one of the greatest players I ever saw," Brazilian football great Pele later said. "But it is not possible that he was born in Europe. With those explosive dribbles, he had to be Brazilian!"
Underdogs Czechoslovakia reached the knockout stage after drawing 0-0 against Brazil in one of their group matches before eliminating Hungary and Yugoslavia on the way to the final.
Pele sustained an injury in the group stage encounter but at that time, substitutes were not allowed. When he received the ball in the final Masopust refused to challenge him, allowing him to pass to a colleague.
"It was a gesture I will never forget," Pele said.
The same year, Masopust became the first Czech player to be named European Footballer of the Year. 
Masopust, who made 63 international appearances, was named the best Czech Footballer of the Century in 2000.
                  
Born on February 9, 1931 in the village of Strimice into a family of a miner, Masopust played the best years of his career for Dukla Prague, winning seven league titles. A statue of him was unveiled in front of the Dukla Stadium in 2012.
                  
At the end of his career, the communist regime allowed Masopust to play for Molenbeek for two seasons. After retiring as a player, he became a respected coach of clubs at home and abroad. He was also in charge of the Czechoslovakia national team from 1984-87.