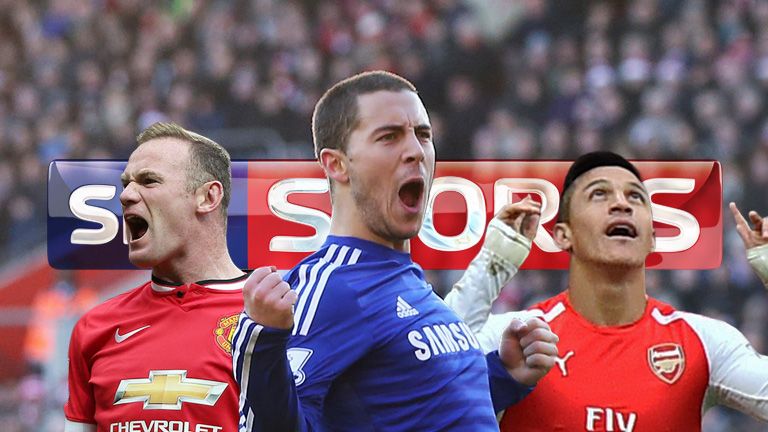 Which is the most-watched Premier League team where you live?
That's the question Sky Sports asked in a new study - and we found Manchester United came out on top in more regions than any other team.
The 20-time English champions attracted the most interest from viewers in Manchester last season but also led the way in 48 other regions, including Orkney in the north of Scotland and Torquay on the south coast of England.
Sky Sports analysed the viewing habits of 500,000 Sky homes in 118 postcode areas across Great Britain to find out which Premier League team had been watched live three or more times the most often.
Notable results included Chelsea and Liverpool dominating in Scotland, while Arsenal had a stronghold in the south east - and Leicester City were the viewers' choice in the Outer Hebrides.  
Manchester United also led the way in the region of their traditional rivals Leeds United, while viewers in Sunderland and Stoke-on-Trent - despite having local teams in England's top flight - tuned in to watch Louis van Gaal's men more than any other.
The cliché about Manchester United fans living in London doesn't appear to hold true, however, as Arsenal - the club with the second-most number of regions to their name (33) - topped the findings in the capital.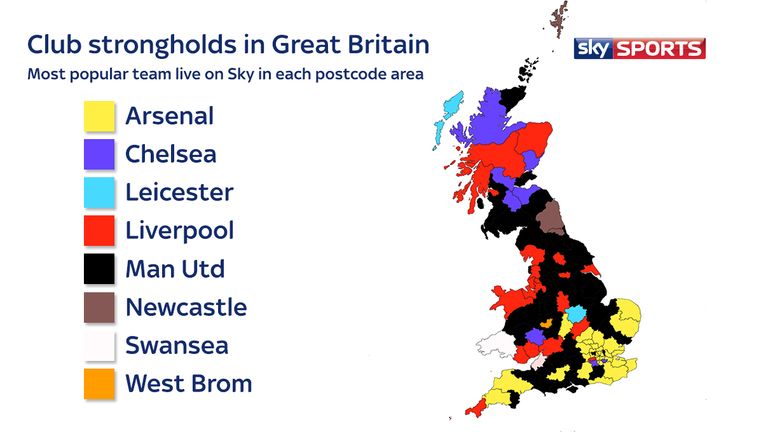 The Gunners dominated the following regions: north London, north-west London, east London, south-east London, south-west London and west London. Results for east-central London and west-central London were unknown.
Arsene Wenger's men almost conquered the south east entirely, gaining additional southern support in Salisbury and the Devon districts of Exeter and Plymouth.
Liverpool were third in the study, capturing 21 areas across the UK, with success in western England and areas including Aberdeen, Paisley and Perth in Scotland.
However, it was Jose Mourinho's Blues who enjoyed the most interest north of the border - nearly three-quarters of areas won by Chelsea were in Scotland, including Dundee, Edinburgh, Falkirk, Inverness and Motherwell.
The only southern strongholds for Chelsea were Kingston upon Thames near London and Bromley in Kent, while the Blues also secured Hereford in the Midlands.
Newcastle finished fifth after securing Lerwick in the Shetland Islands, Durham, and, unsurprisingly, Newcastle upon Tyne.
Leicester City finished sixth, winning their home region and the Outer Hebrides.
West Brom and Swansea were the only other teams to secure a UK stronghold, in Dudley and Swansea, respectively.
Matthew Roberts, Sky Sports' Head of Sports and News Research, said: "This data is invaluable for Sky Sports as it allows us to understand what our customers enjoy and want. The results also produced some interesting surprises and regional trends.
"Arsenal really do dominate the south east and several areas in Scotland enjoy watching Chelsea more than any other Premier League team, while Manchester United and Liverpool really do enjoy support across England, Wales and Scotland."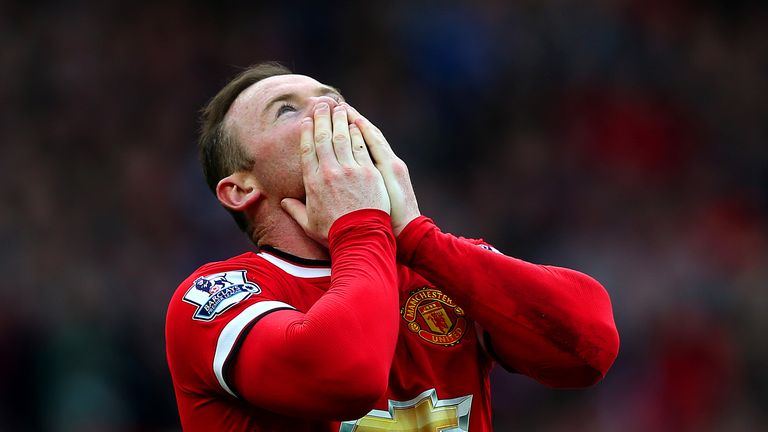 Manchester United (49 regions): Bath, Birmingham, Blackburn, Blackpool, Bolton, Bournemouth, Bradford, Cambridge, Carlisle, Colchester, Crewe, Darlington, Doncaster, Dorchester, Dumfries, Galashiels, Glasgow, Halifax, Huddersfield, Ilford, Kilmarnock, Kirkcaldy, Kirkwall, Leeds, Lincoln, Llandrindod Wells, Manchester, Nottingham, Oldham, Oxford, Peterborough, Portsmouth, Reading, Redhill, Sheffield, Shrewsbury, Southampton, Stockport, Stoke-on-Trent, Sunderland, Swindon, Taunton, Teesside, Telford, Torquay, Walsall, Wolverhampton, Worcester, York
Arsenal (33): Brighton, Canterbury, Chelmsford, Coventry, Croydon, Dartford, east London, Enfield, Exeter, Guildford, Harrow, Hemel Hempstead, Ipswich, Luton, Milton Keynes, north-west London, north London, Norwich, Plymouth, Rochester, Romford, Salisbury, Slough, south-east London, south-west London, Southall, Southend-on-Sea, St Albans, Stevenage, Sutton, Tonbridge, Watford, west London
Liverpool (21): Aberdeen, Bristol, Cardiff, Chester, Derby, Gloucester, Harrogate, Hull, Lancaster, Liverpool, Llandudno, Newport, Northampton, Paisley, Perth, Preston, Truro, Twickenham, Wakefield, Warrington, Wigan
Chelsea (8): Bromley, Dundee, Edinburgh, Falkirk, Hereford, Inverness, Kingston upon Thames, Motherwell
Newcastle United (3): Durham, Lerwick, Newcastle upon Tyne
Leicester City (2): Leicester, Outer Hebrides
Swansea (1): Swansea
West Brom (1): Dudley