With Cesc Fabregas enduring a difficult start to the season with Chelsea, Adam Bate examines the numbers that highlight his struggles…
During Monday Night Football, Gary Neville accused Arsenal's midfield of "not being powerful enough" for more than a decade. Chelsea fans, and maybe even Nemanja Matic, could be forgiven if thoughts had turned closer to home long before Thierry Henry explained that the emergence of Cesc Fabregas had sparked Arsene Wenger's shift in approach.
It's been a tough beginning to the Premier League season for Fabregas. Chelsea's start to their Premier League title defence has been woeful and few can claim to be free from blame. But the speed with which the Spaniard was exposed in the 3-0 defeat against Manchester City last month would have given Usain Bolt a run for his money.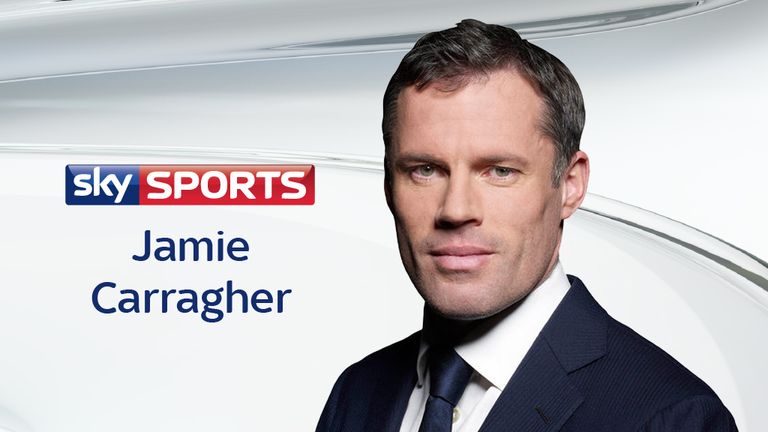 Fabregas is a fantastic footballer, he creates goals, he scores goals. But he can't defend. He lacks tactical intelligence, especially defensively.
"Fabregas is a fantastic footballer, he creates goals, he scores goals," said Sky Sports pundit Jamie Carragher. "But he can't defend, as we saw in the first 10 seconds of the match when David Silva turned him and put [Sergio] Aguero through. He lacks tactical intelligence, especially defensively. That's one of the reasons why Barcelona let Chelsea take him."
These defensive frailties are well documented. Pep Guardiola baulked at moulding Fabregas as Xavi's successor because of them. "The demands of a Barca midfielder require a lot of discipline and a tactical approach," said Sky Sports Spanish football expert Guillem Balague. "Guardiola tried to convince him for a long time what he had to do, but couldn't fully."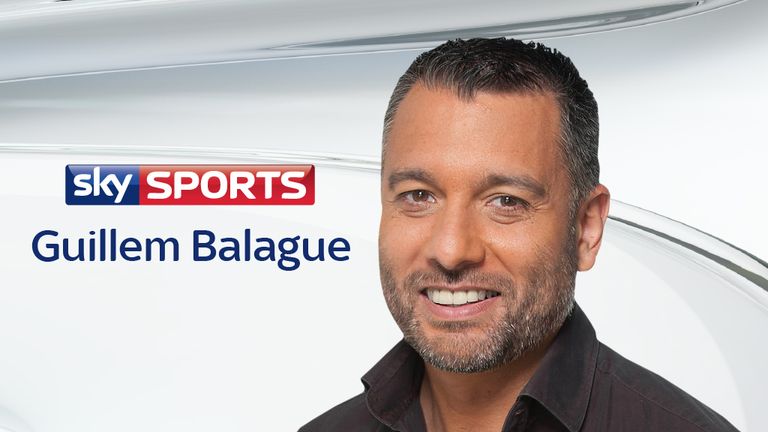 Guardiola tried to convince him for a long time what he had to do, but couldn't fully.
Indeed, this was one of the great ironies of Fabregas's unlikely union with Jose Mourinho. The Portuguese pragmatist had embraced the playmaker in the deeper role that Guardiola was unwilling to entrust to him. It reaped dividends from the outset as Fabregas provided Chelsea with the creative spark that saw Mourinho's men lead from the front last season.
But that trade off was always there. In fact, despite winning them all, Chelsea conceded six goals in their first four games last season. This might be their worst defensive start to a season since 1971, but that's not the biggest change from a year ago. It's the first part of Carragher's deal that Fabregas is no longer fulfilling. Where are those goals and assists?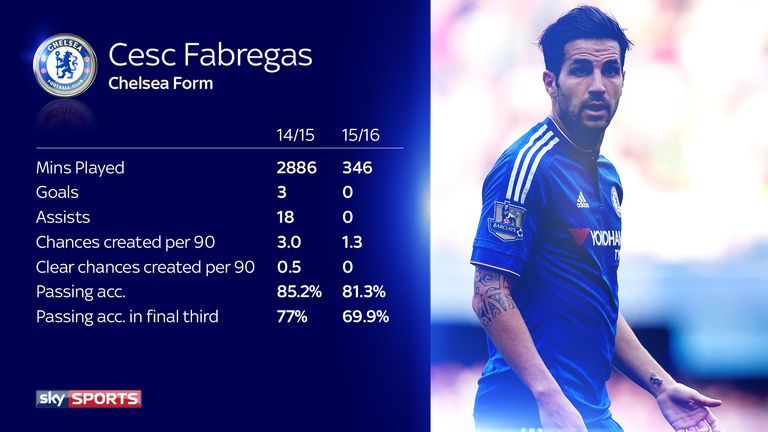 Fabregas actually found the net only three times in the Premier League last season. But his tally of 18 assists, including an astonishing six from the first four games, was more than any other player in the country. His creativity unlocked many a defence and elevated Chelsea's midfield play from the functional to the fabulous.
Of course, any midfielder is at the mercy of his strikers when it comes to assists. But in this instance, further examination would suggest that the chances for Diego Costa and the rest are drying up. Fabregas averaged 3.0 chances created per 90 minutes in 2014/15 but his first four matches of the current campaign have yielded only five such chances.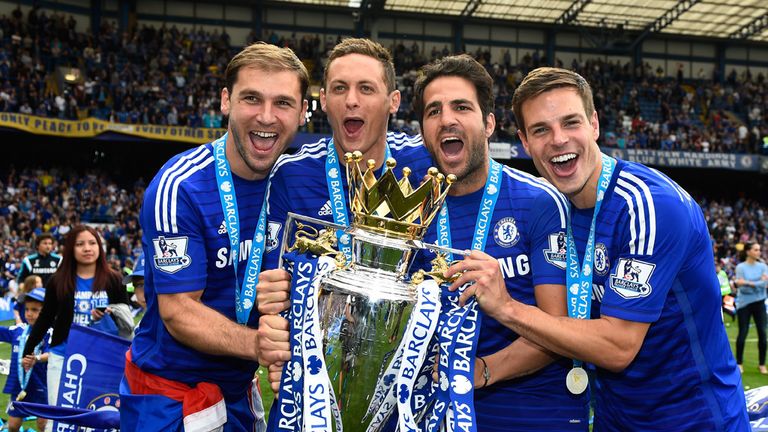 The quality of the openings being fashioned are also down dramatically on last year. Opta defines a big chance as one that a player might reasonably be expected to score - a one-on-one or a close range opportunity. Fabregas provided 16 of them last season but Mourinho is still waiting for his creator-in-chief to deliver one such chance for his side this year.
Problems in defence and attack
Crystal Palace scored twice at Stamford Bridge but that would not have been enough for all three points in any of Chelsea's first 10 home games last season.
It's not that he's been playing safer either - eschewing the high-risk pass in favour of retaining possession. Fabregas' pass completion numbers are down from 85.2 per cent last season to 81.3 per cent in 2015/16. For passes into the final third, the contrast is even more marked - down from 77.0 per cent to just 69.9 per cent. The ball is just not getting through.
These problems are being felt throughout the Chelsea team. While the struggles of the Matic-Fabregas partnership have left individuals within the back-four exposed, there are also consequences further forwards too. Costa is already six goals down on his total at the same stage last season, while the supply lines to Eden Hazard have broken down.
Live Euro 2016 Qualifiers


"My mission has been to make passes between the lines to the likes of Hazard, Willian and Oscar and make them click," Fabregas told Sky Sports earlier this year. But it's not happening and his difficulties lend a fresh - and worrying - perspective to Fabregas's deteriorating form during the second half of last season too.
That was explained away as a familiar trend. After all, Fabregas has a career-long habit of suffering a dip after Christmas. But this slow start means the midfielder's performances have been below par for seven months and counting. In Chelsea blue, he's effectively been underwhelming now for longer than he was spectacular.
Re-examine those numbers. In 1851 Premier League minutes up to the end of January, Fabregas fashioned 15 big chances for his team-mates and provided the same number of assists for Chelsea goals. In the 1381 Premier League minutes since - more than 23 hours of football - he's bagged three assists and provided only one clear-cut opening for a colleague.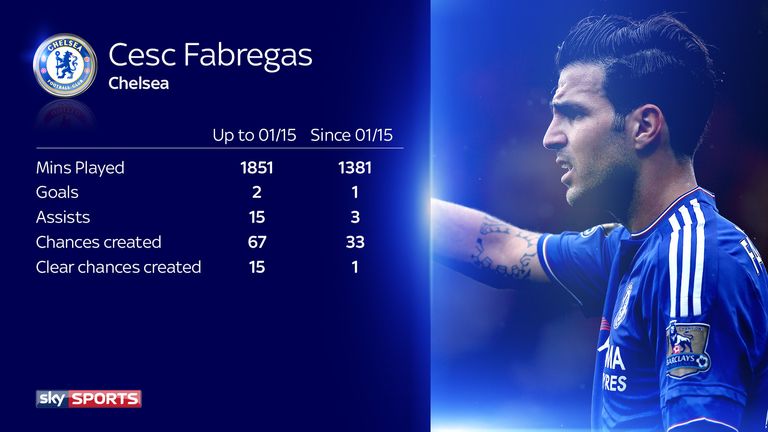 No wonder Mourinho is unimpressed. Fabregas was one of seven players with whom the Chelsea boss was "not happy" following the defeat to Manchester City and, by a process of elimination, he finds himself on the shortlist of players that Mourinho openly wished he could've been permitted a fourth substitute in order to remove against Crystal Palace.
"We could clearly identify two or three players that can do better," he added after that defeat, only his second in 100 Premier League games at Stamford Bridge. "That is what we have to do. It is not about being loyal or not. It is whether they are ready to give an answer and fight against that bad form."
Coming up with the solution is the challenge now facing Mourinho and history would suggest his response will be to tighten things up - perhaps switching to two genuine holding midfield players. That could be good news for Ruben Loftus-Cheek but a problem for Fabregas, who might find himself thrust into an advanced role once more.
It's a position that limits his - and Chelsea's - options. For while Fabregas has the technique to play on the half-turn, he's at his most effective when joining the attacks from deep and providing that extra man. Further forwards he becomes more dependent upon precisely the quality of service that only he among Chelsea's midfield is capable of providing.
Live Euro 2016 Qualifiers


Shifting Fabregas up the pitch would only increase the pressure to come up with the sort of end product that's been so sorely lacking. The signs aren't good. And so, extraordinarily, the player who so epitomised the early season swagger of Chelsea's title stroll could yet become a high-profile victim of their stuttering start to the defence of that crown.