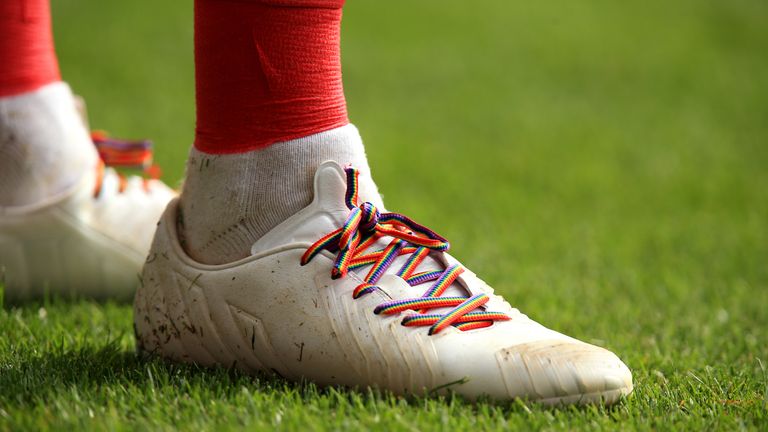 Neil Beasley is a player with Birmingham Blaze, National Gay Football Supporters Network League champions and Midlands Unity League champions.
His book, Football's Coming Out, written with Seth Burkett, is on the longlist for the 2016 William Hill Sports Book of the Year award.
In this extract from the book, Beasley shares his experiences of homophobia within the game and looks forward to the day when a Premier League star comes out...
I recently completed an FA coaching course and the tutor certainly wasn't doing much for race relations. There was a Chinese man on the course, and the tutor spent the whole week referring to him as Jackie Chan and making kung-fu noises whenever the ball went near him. Of course, the black man on the course was referred to as Denzel for the entire week. They both played along and everything was done in good humour but was it really? This is an FA course run by FA people for goodness' sake... How is this acceptable?
I compare that to my police training. There was another person training alongside me who kept on using 'gay' in a derogatory way. Oh, this is gay, that's gay. Eventually I got fed up and reported him. Just like that, he was kicked off the training. Yet in football it's totally acceptable and that needs to change. You only ever effect change when something is made law. Make homophobic abuse a bookable offence, for example. We're happy enough to reward people for minor change, or for saying they've changed, because, to be honest, anyone can be a saint when there's money or some FA certificate involved. We're not happy to bring in rulings which would have a major effect, however.
You wonder what happens in the academies at professional football clubs. Each club must have hundreds of young players on their books. How many of them are going to be gay? There's bound to be some, but how many of them are not going to progress because they think it's not necessarily a safe environment for them?
Attitudes filter down eventually. If a current Premier League star came out as gay, I'm sure they'd be well supported and I'm sure it would help to change the football culture. It'd be interesting to see if a player plying his trade in League One or Two would get similar support. I suspect not, and to be honest it's unlikely. Players at that level are effectively self-employed. They don't have the luxury of a long, lucrative contract. Coming out as gay without such luxury would be a hell of a risk. That's why it will probably have to be a player from the top end of the game.
It was reported during the 2015/16 season that two Premier League stars were toying with the idea of coming out publicly as gay. Good on them. The time is right. Every time a story like that emerges, I always log on to Twitter to see the reaction. Every other comment is always 'Well, who cares. It doesn't matter'. But it does matter. It matters so much to the person involved. It is literally a life-changing moment. To them, it matters more than anything.
I don't know whether it will happen any time soon. Football seems still a long way away from something like that taking place. It is strange, though, because at Birmingham City quite a few of the support staff are gay. It's the same at Aston Villa and why wouldn't they be? Football clubs have a lot of staff members. It's the same in the newsrooms, the media centres, the television networks, the offices, so to say that football as a whole is homophobic simply isn't true. It just seems to be on the pitch, the training ground and in the stands that this homophobia lingers. As soon as the setting changes something clicks and everything is different.
The breakthrough will come once we truly reach all on the pitch, the training ground and in the stands. That's when clubs won't need to get rewarded for their 'anti-homophobia' stance. That's when being accepting of homosexuals will be the norm, rather than simply paying lip service.
I don't necessarily think that we have a problem with homophobia at grass roots level. That's not to say that the game there is free of homophobia, but it's just at a more personal level. It's individuals who have prejudice, and when they meet a gay footballer they soon change their tune. All it takes is for them to get to know such a player.
There's still a lot of casual homophobia, mind, and that needs to change. People don't even think when they spout it, and it's rarely done maliciously. Unfortunately, that is precisely the issue. These people aren't aware of what they're saying even though they're actually having a massive effect on others. It's how they've been brought up, to expose others subconsciously for any weakness. That's why you get this straight, muscular, Caucasian male ideal that is put on a pedestal. Everything else is inferior.
In my experience, if someone who is gay performs the same task to the same standard as a straight person, it'll always be perceived that the straight person has done the task better. Gay people are always perceived to be weaker and less macho, even when they've proved that's just not the case.
Physically, most of us gay footballers will compete with anyone on the pitch. We'll happily fight all day long for our team. People don't expect it when they come to watch. They go away saying 'I can't believe you're gay'. If that's the case then how many other people must they speak to in their normal day-to-day life who they didn't know were gay? Probably quite a few, yet it only becomes an issue once the person finds out. The truth doesn't benefit the straight, muscular, Caucasian male, so these lies get spread. Gays are weaker. Gays can't play football. Gays aren't aggressive enough. The result? The straight, muscular, Caucasian male holds on to their fictional macho powers.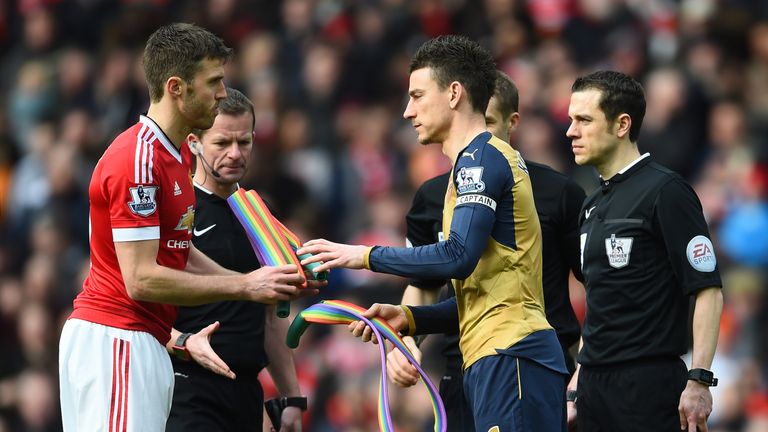 It's only a matter of time though. We're living in a world where the boundaries are forever shifting. The true breakthrough is getting closer. Through our efforts on the pitch we're challenging outdated misconceptions of masculinity. Society is getting ever more liberal. I don't blame my parents for their reactions toward homophobia when I was younger. They were merely the reactions of a wider society. Now that society is more liberal, parents are more accepting. It makes the potential impact that role models can have on young people unsure of their sexuality all the more profound.
If a top footballer came out it could be a game changer. If the Football Association started to take homophobia seriously it could have an impact beyond measure. Soon a book like this won't need to be written. A person's sexuality will not be an issue in football. We'll be a million miles away from the tragedy of Justin Fashanu. It may take another year or five years; it may take 25. All I know for certain is that it will happen. Personally, I can't wait for that beautiful day to come.
Football's Coming Out: Life as a Gay Fan and Player by Neil Beasley is published by Floodlit Dreams and is available to order at Waterstones or Amazon for £9.99