Arsenal's players must stand up and fight for Arsene Wenger, says Gilberto Silva
By Nick Wright
Last Updated: 01/04/17 6:08pm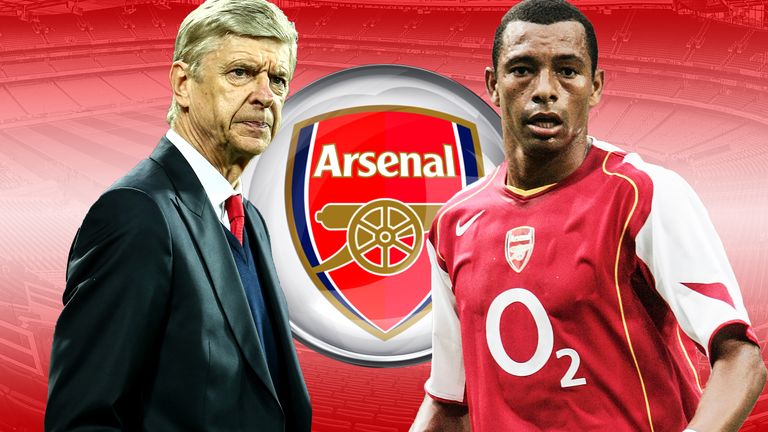 Gilberto Silva has called on Arsenal's players to stand up and fight for Arsene Wenger ahead of their Super Sunday clash with Manchester City.
The former midfielder insists Wenger remains the right man for the job despite Arsenal's recent struggles, and says it's down to the players to start performing on the pitch.
In an exclusive Q&A with Sky Sports, the Brazilian also discussed the futures of Alexis Sanchez and Mesut Ozil, Arsenal's mental fragility, and their long-standing issues in central midfield.
What's your view on the debate surrounding Arsene Wenger's future?
The pressure he has faced in these last few months has been huge. I've never seen anything like it in my life. It's sad for me to see how many people are treating him the way they are. Of course there is frustration, but the situation is not only his fault. I think everyone has to take responsibility. The players themselves have to stand up for the club and for the manager.
Honestly, if you ask me whether he is staying or going, I have no clue, because Arsene doesn't take his decision based on emotion. He will think a lot about it. He will talk with the board and they will make the decision together.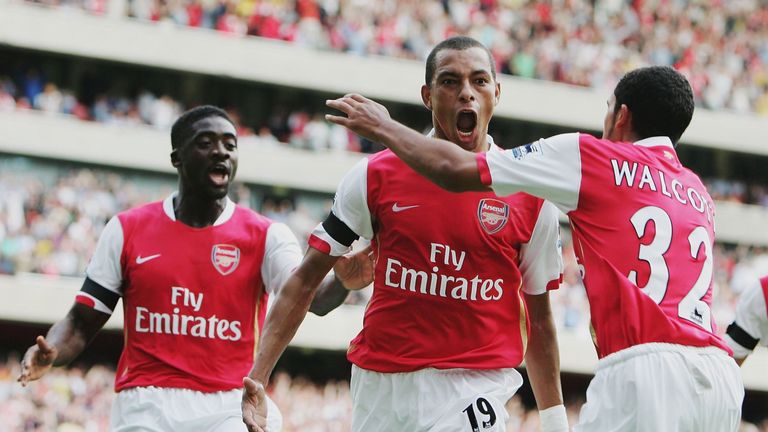 When he does leave the club, I would love to see him go in a better way, not when people are trying to push him out. They forget a little bit what he has done for the club. But let's see. I think it will be interesting to see what happens. I would love to see him stay for at least another season.
In your experience of playing under Wenger, how does he react to difficult periods like this?
His reaction was always positive, but we also reacted to those situations as players. In football, one thing that is very important is that it's not only about the manager and his methods. It's about how the players respond. It's about how much they have the desire to win, how much they want to win trophies. You can have the quality, but if you don't have that desire, it's hard.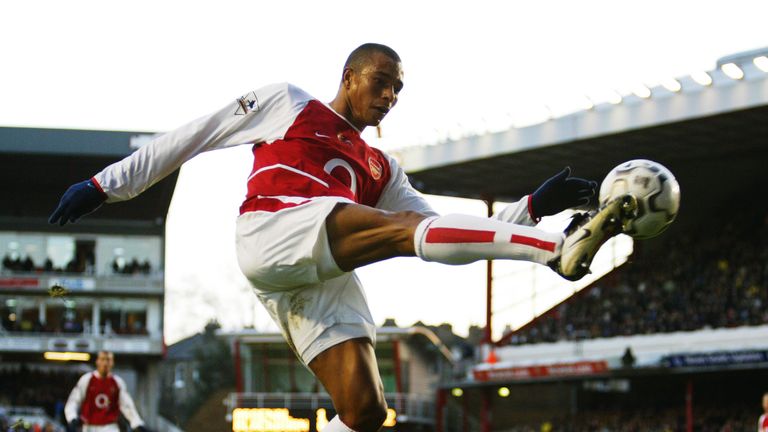 I believe this Arsenal squad has the quality, but looking from the outside, it's difficult to make a judgement on how much they want to win. If they start to be the boss of their position, to stand up and take more responsibility than they normally do, I believe things could become easier.
Instead of making excuses at the end of the season, you have to take responsibility on the pitch and in training to improve things day by day.
Wenger is loyal to his players and rarely criticises their performances in public. Do you think he should be tougher on them when they don't meet expectations?
From my understanding, what he does when protecting his players is very important. He doesn't expose any of his players. He has been under pressure for a few years now, but he has never spoken out about his players. He protects them with what he says to the press.
But in the dressing room, of course he speaks to his players and he goes hard on them. He wants to get the best out of them and wants them to perform at their best level, but he is not going to expose anybody. He takes the pressure himself.
That's why it's important that the players run for him and win for him, because it would be easy for him to say: 'My players are not running enough.' It would be easy for him to put pressure on them so they respond somehow. He doesn't do that so people think he is so easy on them, but he's not. It's about the players taking responsibility and doing something for the coach.
What do you think is the biggest difference between the title-winning Arsenal team you played in and the team of today?
It is very difficult to compare the two generations. We had players of top quality playing at their best level. Players like Thierry Henry, Patrick Vieira, Ashley Cole, Sol Campbell and others. But we were also leaders in our positions. On the pitch, on the training ground, in every session.
What people saw in the games was just a little bit of what we did at the training centre with Arsene, with his ability to manage everyone. We respected his methods, and what was important was that we had the desire to win. We had the desire to win in training. We had the desire to win in every game. We didn't want to lose any game.
We were there to fight hard. If our opponents wanted to play a technical game, we were up to it. If they wanted to play a physical game, we were ready. It was something we had in that particular squad. It was something special.
After losing the likes of Cesc Fabregas and Robin van Persie in the past, how important is it for Arsenal to keep Alexis Sanchez and Mesut Ozil?
It's very important. It would be very sad for the club, for the fans and also for the rest of the squad to see them leave. It would be like going back to a few years ago, to what happened with some other players.
Arsenal brought those previous players to the club from a young age, but when they were ready to step up, they left. That was frustrating. Arsenal then had to step back again to the process of replacing them.
Suddenly they lose players because they think Arsenal is not a club where they can win trophies. But come on. Just take a look back. They only think of themselves and don't look back at the history of the club. They should say: 'This is the place I want to be and I want to win trophies at Arsenal'.
Why can't you win trophies at Arsenal? It's not only about the manager, it's about themselves.
Arsenal have long-standing problems in central midfield and the issues have been particularly obvious this season. Do you think they need to find another player like Gilberto Silva?
In the last few years many big clubs have been successful because they have found players who don't take the spotlight but do a necessary job. At Chelsea they have N'Golo Kante. Real Madrid have Casemiro. Barcelona have Sergio Busquets.
Those players are key for the team because they do the hard job. They control the game with their ability and destroy their opponent's game without making a noise. This is very important.
Arsenal have very good players in central midfield. Francis Coquelin did very well last season, but it seems like he has dropped a little bit. When I analyse that particular position at Arsenal, from the time I was there up until now, it seems like some of the players needed somebody next to them to learn from and help them on the pitch.
Arsene can help them off the pitch but on the pitch they need someone more experienced to guide them, to position them. They sometimes look like they are very quiet during the game. They don't speak to each other.
During my time there, we had players who would speak harshly to each other during games, after games and also during training sessions. It was just because we wanted to win. But of course we also had a lot of experienced players the young players could learn from.
Arsenal's central midfielders haven't had that in the last few years. But I think they have learned a lot. It's up to them to understand exactly what their role is. It's vital in that position. You have to understand your role.
With Manchester City visiting the Emirates Stadium on Super Sunday, how important is it for Arsenal to get back on track with a positive result against one of their top-four rivals?
When you play against the best teams, it's the best moment for you to take out your frustration. It's the best opportunity you have in front of you to perform well. Everyone speaks about games like this for a week, maybe a month beforehand. People expect.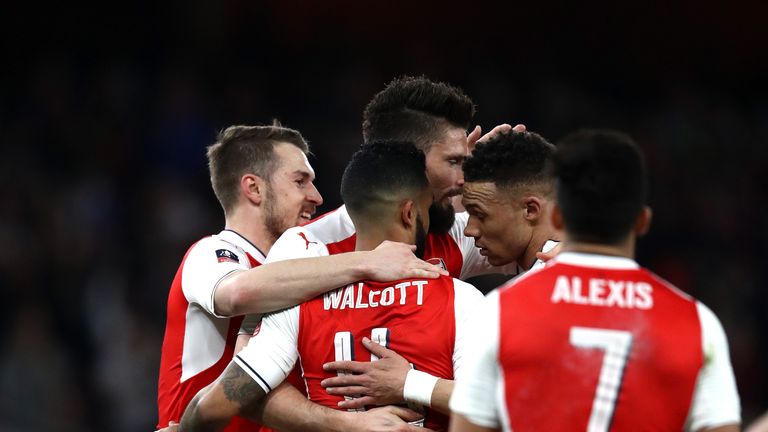 As a players, the only thing you have to do is to prepare well and be ready for the challenge and the fight of the game. That's what all the players have to give, to prepare themselves well to win the game. When you win this kind of game, it gives you confidence to go to the next one and perform well again.
Lastly, how much are you looking forward to representing Brazil again at the Star Sixes tournament in London?
It will be very good to be back in London and especially to play football, which is something we really enjoy. It's an opportunity to see some friends and I will enjoy being in that environment again. I consider London to be my second home so I am very excited to be coming back to play.
Gilberto is the latest signing for Star Sixes, a new world six-a-side tournament for former internationals at The O2, London, July 13-16. Tickets, starting at just £30 adults and £10 children, are on sale at: www.theo2.co.uk/starsixes. Follow @StarSixes on Twitter and Instagram and like on Facebook. The event will also be Live on Sky Sports this summer