Brits abroad - Mark Burke
Continuing our Brits abroad series in which we speak to players to get the lowdown on their time overseas, Adam Bate talks to former Aston Villa, Middlesbrough and Wolves man Mark Burke about his unique career path that took him from Holland to Romania via Japan.
By Adam Bate - Follow @GhostGoal
Last Updated: 11/12/12 10:34am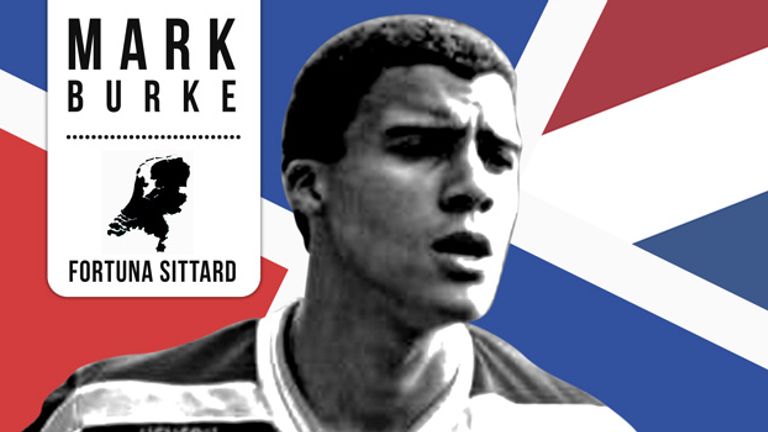 Mark Burke had enjoyed a promising career in England with Aston Villa, Middlesbrough and Wolves. But the adventure only really began after leaving Port Vale to join Fortuna Sittard in Holland as a 26-year-old in 1995. It kicked off a journey that took him to Japan, Romania and Sweden. Adam Bate caught up with him to discuss his extraordinary experiences.
You had quite a world tour. How did it all begin for you?
I always wanted to play abroad. When I was about 12 my sports teacher told me it would suit me. I was interested in foreign football even in the days when you couldn't see it on television. I think the idea of being paid for living abroad just fascinated me! It finally happened after I left Port Vale in 1995. I got this phone call from Terry Lees, who was a friend of Pim Verbeek, the Fortuna Sittard coach. Terry had seen my name on the list of free agents and told Pim that I was well worth a look. I was keen and so I was told to expect a call at 9am the next day. Sure enough I got a call at 9am on the dot - that's the Dutch - and a day later I was out there.
And it went well straight away didn't it?
My first game was against De Graafschap and I scored the winner in the last ten minutes to make it 1-0. My second game was against Ajax and I remember standing in the tunnel looking at their team. There was De Boer, Reiziger, Kluivert, Davids, Overmars and the rest. I couldn't believe it. This was what I'd always wanted to do and I'd been playing for Port Vale a few months earlier!
Did you settle quickly off the field?
I think going to Middlesbrough as a teenager had helped me. If I had stayed at Villa, my hometown club, until I was 26 years old then it would have been difficult to ever go abroad. Luckily for me - what with scoring on my debut and everything - it worked, but usually when you go to a new country it's hard to do it straight away. There's a new language, a new culture and a new style of football. It's just the little things.
On the field, for instance, what's good in one country is not good in another. I'll give you an example. That second game against Ajax. Preparing for the match in training, one of the players made a run and I went with him. The coach said: "Stop! Don't run with him." I was shocked. He realised that if I followed that run then Danny Blind or Frank De Boer would just step into the space.
In England it's a totally different thinking. If you don't follow that run people will wonder what you're playing at. The Dutch are thinkers. They think more about the game than we do. We have this idea of the Dutch being very liberal but that's not really true - it's an extremely regimented and organised culture and the football is the same. It's organised to the smallest detail.
I had a lot of ideas about football before I went there but it was in Holland that I learnt how to organise them. In that first year I found out so much. Pim Verbeek really took me under his wing. We used to drive all over Holland just watching games to introduce me to the different styles and how teams played. It was a real football education.
Do you think it suited you as a player?
To be honest, it probably suited my game more out there. In England, things were more rigid. If I was playing on the wing they'd just be telling me to stay out there. My instinct told me that if I did that then the full-back would always know where I was so I used to drift in. It was the same when I played up front and used to drop off. Now they call it playing 'between the lines' and everyone says how great it is. That's why all this stuff about English players not being technically good annoys me. Paul Scholes is technically as good as anyone in the world. The players can do it but the way we play is not conducive to that.
You clearly found it a lot more tactical in Holland?
Everywhere I have been, whether it's Holland, Romania or Japan, the team trains in the week in the same way that they want to play on the Saturday. Jose Mourinho always prepares for the next game and he got that from Louis Van Gaal. It's a Dutch thing. When I was in England, the training was more about just ticking over. The Dutch used to say that with the English it was just bezig blijven - keeping busy. We trained one way and then come the match everyone panicked and went nuts!
That's one of the things I found out in Holland. Pim took me to see Go Ahead Eagles play that great Ajax side one week and he called the game before we went. He told me that Go Ahead would come at Ajax hard early on and maybe score. But Ajax would keep passing and continue playing the same way and eventually they'd win. I couldn't believe it when that's exactly what happened! You see Barcelona doing it now. They don't panic and change the way they play because they've worked out that's the best way for them to win games.
You had a good team at Fortuna Sittard and also worked for some high-profile coaches in Pim Verbeek and Bert van Marwijk...
We had a really good team at Fortuna Sittard. Mark Van Bommel was a young lad at the time and he played as a holding midfielder with me just in front. There was Fernando Ricksen, Patrick Paauwe, Wilfried Bouma and Kevin Hofland too. It was one of the better teams they've ever had and we finished seventh in my third season.
Pim was a great coach and then Bert Van Marwijk came in and he kept that going. Van Marwijk obviously later took Holland to the World Cup Final in 2010 and I think some of the criticism he received was unfair. He was just sick of them losing and wanted to instil a winning mentality. The problem was that somewhere along the way they forgot just how good they were. If they'd have stuck to playing football they could have beaten Spain - even as it was (Arjen) Robben had a chance to win it and should have scored.
It was great watching Van Marwijk in the World Cup because I think I predicted most of his substitutions. Unfortunately, he and I didn't get on so well. I think he had some preconceived ideas about me. I used to play every game but then he'd criticise everything I did! I had a hernia in an Intertoto Cup game early on in my final year there - the 1998/99 season - and soon after that I ripped my hamstring so it was a bit of a write off for me. It was then that I got the call from my old coach Pim Verbeek - he wanted me to join him out in Japan.
Even though he wanted you out in Japan it was still a leap into the unknown though surely?
When Pim first asked me if I wanted to join him out there I remember telling him that I was only 29 and I wasn't sure. You go to Japan when you're older don't you? He went mad at me! He treated me like a son really, so I went out there to play for Omiya Ardija and it was brilliant.
I was living 20 minutes outside of Tokyo and it was a culture shock at first. Pim had to write all the station signs down for me so that I could get around because if you get lost you've had it - there are millions of people there but you can't ask anyone because nobody speaks English. It's an unbelievable place though. It's so busy and yet so peaceful at the same time.
Fortunately we had an interpreter in training and some of the Japanese players by the time I got there were great. Pim had basically been asked to build a club from scratch. The job he did was unbelievable. He put a development plan in place, introduced the Dutch philosophy and they'd completely embraced it.
He'd done such a good job that when I first went out there I thought the Japanese lads were too good for me. They were so strong technically in the 5-a-side games and they could run all day. The problem they had was that football was such a new game to them back then that they didn't fully appreciate the space on the pitch. The sort of things we take for granted because football is ingrained in us. They'd make the wrong decisions or not take responsibility.
As a result, Pim brought in a spine to the team. There was me in midfield, Jan Veenhof at the back and Jeroen Boere, who had played for West Ham, was up front. But any ambitions we had were scuppered by what happened to Jeroen soon after I arrived.
It was on a night out in Tokyo. There was some argy-bargy with an Israeli kid who threatened to kill Jeroen. It all died down but at the end of the night the lad came back over. Jeroen tried to make sure there were no hard feelings but this kid just stabbed him right in the eye. That was the end of his career. It was also the end of our hopes of getting promotion to the J-League.
Despite that tragedy, do you still have fond memories of Japan?
I still get pleasure from what Pim did out there and I stay in touch with some of my Japanese teammates. I recently went to watch Omiya's U15s play against Fortuna's U14s over in Holland and they thrashed them 15-0 or something. I've rarely enjoyed a game of football more because you could see Pim's Dutch influence in the way Omiya played. He's basically a god out there.
Pim had to return to Holland after my first year and so we had a Japanese coach. It was funny because he was literally working from Pim's manual on how to coach. But he didn't really get it. He'd ask me if he'd got something wrong. You can't coach like that and he's actually come out and admitted that since.
Then you became the first British footballer in Romania. How did that happen?
After I left Japan, a Romanian agent in Holland mentioned to Pim that Rapid Bucharest were looking for a forward. He recommended me. They were in Holland at the time, training in the local sports centre, so I thought I'd go down and give it a go. I thought they'd want to take a look at me but from day one of training it was like 'right, you're signing'.
I was only there five months but I've always said I could write a book about Romania. It was just really weird.
In what way?
It was everything but the football. One week it'd be 'the manager's not paying you this month'. The next week the secretary would tell you that you were all fined $5,000 because you'd lost. We had a famous coach called Mircea Rednic who was the best player in training by a mile - he should've still been playing - but for some reason the players wanted him out.
I noticed in this one game that something wasn't right. None of the players seemed to be trying. Something wasn't right. I walked off the pitch and said to one of the Romanian lads who'd been in Holland and told him I couldn't understand it. He just said: "Mark, this is Romania - strange things." They'd thrown the game. It's completely alien to us in Britain but in Romania it's not unusual.
Another time I was running all over the place and the players wouldn't pass it to me. When I got off the pitch I was told that the players were jealous. Then there was the time I scored the winner against the club's biggest rivals Petrolul Ploiesti - Rapid's first win there in 35 years or something. The next game was a big one against Dinamo Bucharest but I was dropped. Like I say, it was anything but the football.
Eventually the players got Rednic the sack. But this only brought in a new coach who was harder on the players. They didn't like that either so went on strike. I remember being at the ground and one minute we were training and the next minute we weren't. It was crazy - I just wanted to play. When we finally got out there we found a group of 50 to 60 fans had burst into the stands and were shouting things at the players. Obviously, I didn't understand any of it.
The coach went over and in the end we stopped training again. I told him: "You can't stop training just because the fans are shouting." He said: "Mark, they were saying that if we didn't go off they'd come on and attack all the players." We both agreed it was best we didn't train! But that's what it was like. The fans had a huge input.
Shortly afterwards I remember a game where I was picked in the team but then when we arrived at the ground I was a substitute and the coach was nowhere to be seen. By the time we came in for half-time, it was the old coach Rednic who was back and giving the team-talk! By this point I was trying to take a step back and just look at it all as social observation.
I saw some of the bad side of football with regard to football's slave trade too. Agents bring over African lads for trials but then take their passports off them and if they don't get a club they just leave them. There was this lad near my apartment who I used to just give $50 to because he had no money, it was just ridiculous.
Even the odd-job man at Rapid was different. Every club has one - a guy who gets you a cup of tea or sorts things for you. In England this was usually some old man but at Rapid it was a 12-year-old little kid that I called Johnny. I used to ask if he went to school but they just said: "This is his school. He is Rapid." He just lived at the training complex. That was Romania.
Did you never think about returning to play in England?
I came back to England in the end but if you've been away as long as I had it's actually a culture shock to come home. I trained with Rushden & Diamonds for a few days but I just couldn't get used to that again. It's funny but the lower down you go the harder it gets.
And then there was Sweden?
I had a brief spell with Brommapojkarna in 2001. They've got a great youth set-up but, sadly, didn't really have the money to pay me. I still have links to the country though. I'm now coaching at Birmingham University and I've spoken to an agent out in Sweden to arrange for some of the better players here to go out there and get fixed up with clubs.
It's not about making money. I'd recommend life abroad to anyone and if I can give these kids that chance then that'd be great. You see - being paid to live abroad - it all comes back to that!
Mark has now turned his hand to journalism and writes a regular column with Football.com.