Brits abroad - Lee Sharpe
Continuing our Brits abroad series in which we speak to players and coaches to get the lowdown on their time overseas, Adam Bate talks to former Manchester United and England winger Lee Sharpe about his spells in Italy and Iceland.
By Adam Bate - Follow @GhostGoal
Last Updated: 07/01/13 5:30pm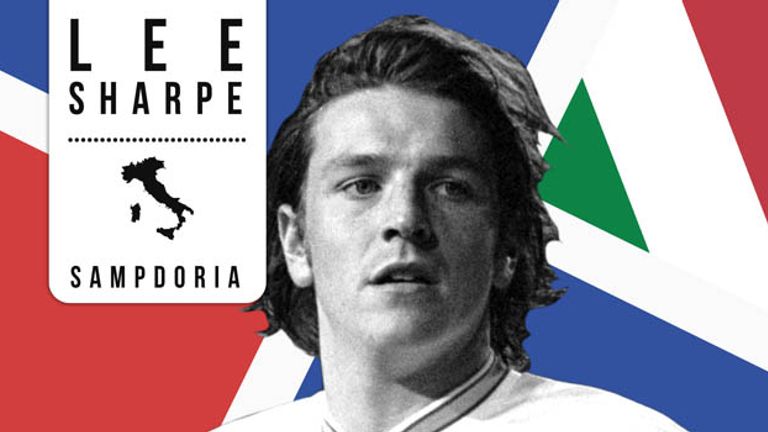 Lee Sharpe played more than 250 games for Manchester United and won three Premier League titles, all before his 25th birthday. His career then took him to Leeds United before making stop-offs in Serie A with Sampdoria and the Icelandic league with Grindavik. Adam Bate caught up with the former England international to find out more about those adventures abroad.
How did the move from Leeds to Sampdoria come about? It was David Platt who signed you?
Yeah I'd been with Platty at England. He gave me a call and asked how things were going at Leeds. I'd not been playing so I had the chance to go over there.
And it was a good opportunity at that time...
Absolutely. They were a great side and it was a massive opportunity at a massive club. It was just a shame really that it didn't work out.
Did you enjoy the lifestyle in Genoa?
I absolutely loved it. Both the city and the training ground were fantastic. I was in an apartment for a couple of months but unfortunately not many of the players spoke much English. So the language barrier was a bit of a problem.
Why do you think it didn't work out?
I'd had a while out with a cruciate knee injury. I wasn't properly match-fit. So they put me on a training programme and in matches I was getting half an hour here and an hour there. But after four or five weeks Platty ran into difficulty because he didn't have his coaching badges and it all fell away really. He left and Luciano Spalletti came back so I wasn't playing and it became a bit frustrating.
Spalletti had been sacked just before you arrived but returned when Platt was unable to resolve the issues around his coaching permit. Was his return effectively the end for you at Sampdoria?
It was yeah because Spalletti came in and said: 'I don't really know you. I've got my players from when I was here before that I'm going to stick with because I know them.' And that was about it really. I was enjoying it but when you know you're not going to play and you can't speak the language it becomes a bit of a lonely place so I decided to come back.
And Sampdoria were relegated that season despite having the likes of Vincenzo Montella and Ariel Ortega there...
We had some decent players. I think the problem was that because of the Platty situation - we came over together - the supporters thought I was there to replace Ortega. It was totally wrong because we were completely different players playing in different positions. I don't think the situation helped either of us really. It was just a lack of communication.
Four years later you resumed your adventures overseas when you signed for Grindavik in Iceland. What sparked that move?
I was only there for about seven weeks or so. I met someone who asked me to go over and do a talk there. And then they said, 'Would you play?' So I went there for a while and it was alright but Iceland is a funny place to live. It's very small. I just thought I'd go over there for a little while and see what it's like. The people there were great, the crowds were great and I enjoyed it but it just wasn't for me.
How did you find the standard of football?
There are some good players over there and you get one or two coming over to England in the Premier League. It's pretty high tempo and they're all pretty fit. It's a bit like League Two or Conference standard football with a few Premier League and Championship level players thrown in.
They took the football pretty seriously though. They imposed a drink ban didn't they?
They came to me and told me there was a total drinks ban during the season. I thought, 'You can't do that!' I don't mind Premier League rules of 48 hours or 72 hours before a game but if I've got friends coming over to see me...
I'd been professional for 16 or 17 years and I wasn't going to abuse it but I'm not going to play semi-pro and do that. I was training twice a day while everyone else was training once a day so it wasn't as though I wasn't doing my bit. And I didn't go out for the first six weeks I was out there so it wasn't as though I was out there on a jolly.
But you'd recommend the experience of playing abroad?
Without a doubt. I think you need to try everything in life - experience new things then come back and share them. I'd still love to go abroad and have another go at it even after football.
Lee Sharpe was speaking at the launch of The Football Pools 90 Day Community Challenge at Frome Town AFC, who received funding of £50,000 to makeover their club. For more information or if you would like to get involved with the 90 Day Challenge through donating time, funds or materials please email communitychallenge@frometownfc.co.uk. Play The Football Pools at www.footballpools.com.