Brits abroad - Chris Iwelumo
Continuing our Brits Abroad series, Oldham striker Chris Iwelumo discusses his time in Denmark with Aarhus Fremad as well as his taste of European football with German second-tier side Alemannia Aachen.
Last Updated: 11/03/13 9:11am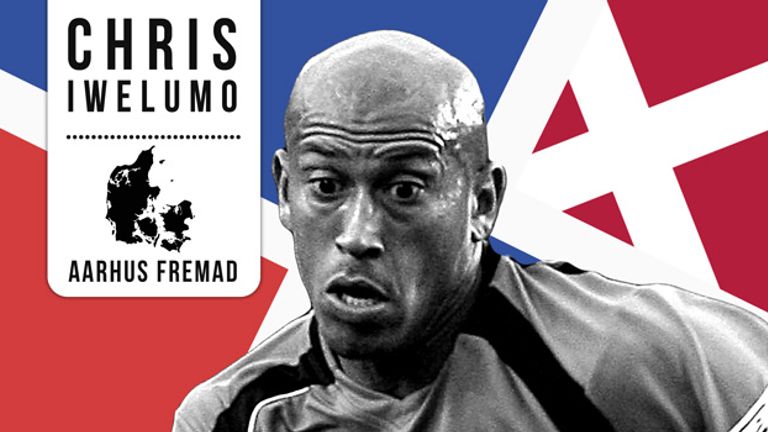 Scotland international Chris Iwelumo began his career at St Mirren but was soon on his travels, making the move to Danish Superliga side Aarhus Fremad while still a teenager. After testing himself against the likes of Brondby and Kobenhavn, Iwelumo returned to English football with Stoke City. But it was not the end of his foreign adventures as a season-long spell with Alemannia Aachen in Germany followed, during which time Iwelumo experienced UEFA Cup football. Adam Bate got the full story from the Oldham striker.
So you're at St Mirren but you move as a teenager to Denmark. It's an unusual move. How did it come about?
It's a funny one really. I was at St Mirren and I was playing but me and the manager Tony Fitzpatrick were having a bit of a battle of egos. He had some strange thoughts that I never really agreed with and I knew I had to get out if I was going to get on in the game.
But why Denmark?
The Bosman ruling had only just come in then. I knew I had to move on if I was to progress. But St Mirren had offered me a new two-year contract so that meant it would have to go to tribunal if I went to an English club. So basically I would have to go and play abroad for a year before I could come back. That was always my plan.
There were a lot of English clubs interested in me at the time as I was doing well. My agent took me to Denmark just to train for a week and they offered me a three-year contract. So I went abroad and it was the best thing I ever did. I have absolutely no regrets whatsoever. It was a great experience.
A big move for a young lad though?
I packed all of my worldly possessions in a hold-all. I had some clothes, a pair of boots and a Playstation. I went over on a plane and got picked up by the owner and his two daughters. These daughters were Scandinavian models! They took me to the club and I did the press conference. It was just a massive deal for me.
Do you think you need to be a certain type of person to give it a go?
Of course. Everybody likes their home luxuries. There's nothing better than being able to walk out of the door and see your best mate. But this is a short career. You've got to make sure you get the best out of yourself.
Was it tricky to settle in?
I was one of the youngest in the squad and everyone spoke fantastic English. Even the TV was in English so I had my routines. I'd go to the cinema. I just felt so comfortable there. There were guys like Brian Priske, who went on to do really well for Denmark and Portsmouth, who I'm still in touch with. I made a lot of friends out there.
How about on the field?
Football-wise it was a good experience. I played in the Danish Superliga which was great for me and I played most of the games.
You got a deal with Stoke when you returned to Britain. Had Denmark helped you as a player?
Definitely, 100 per cent. I think football is explained to players in a different way in a different culture. If anything it made me a better player.
Four years later you tried your luck abroad again with German side Alemannia Aachen. How did that move happen?
When I was in Denmark I'd got myself a German agent and he had the contacts in Germany. I was in the 2nd Bundesliga but they were a big club and considered one of the biggest at that level. When I signed for them there were about 15 new players. It was a real transitional period for them.
How did you settle in there?
The English game is very physical in comparison. In Germany I was getting free-kicks blown up against me left, right and centre for next to nothing compared to the English game.
And off the field?
Not everyone spoke English. Probably about 70 per cent of the squad spoke English with 20 to 30 per cent who could speak it fluently. I had tutoring in German just as I'd had lessons in Denmark - but it was harder in Denmark as everyone just wanted to speak English to you!
I was right on the border. So I used to go and drive over to Belgium or Holland to go to the cinema. It was so bizarre but I loved every minute of it.
European football must have been a big draw?
Yeah, they had got to the final of the German Cup the year before. We actually got to the last 16 of the UEFA Cup when I was there. I played against the likes of Sevilla in Spain and Zenit St Petersburg. But we got knocked out by AZ Alkmaar.
Lukas Podolski was the top scorer in the second division that year. Was the standard pretty good?
I played against him when he was at Cologne. He was in the Germany set-up even then and he got the big move to Bayern Munich. You could see the quality he had. The standard was very good. There is no stone unturned with the Germans. Everything is analysed and looked at from every angle. I guess that's why they keep producing these players.
So you noticed the difference in training?
Yeah. It changed depending on who we were playing against - it was tailored to that extreme. I think here in England you go through things but over there everything was planned. Every session was with a view to putting something in the players' minds that could help them on a Saturday. Every single week that would change.
I still speak to Dieter Hecking who was my manager there. I hold my hands up. It definitely opened my eyes. I'm doing my coaching badges at the moment and I'm about to be assessed for my UEFA 'A' Licence. From a coaching point of view, seeing how they do things was an eye-opener.
Is it sometimes a case of out of sight, out of mind when you're trying to come back after a spell abroad?
I think that's what it is in football unless you do your own PR and do as much as you can so that people don't forget you. When I came back from Germany I was like the forgotten man. I'd just reached the last 16 of the UEFA Cup but when I got back it was just frightening.
So would you consider finishing your career abroad or are you quite settled back home now?
I think I'm quite settled now because my daughters are in school. I did contemplate going out to America as there was a little bit of interest from Chicago Fire. I'll be 35 in the summer but I'm still feeling good. I'm in good shape and my body fat is way down so I think I've got a couple of years in me yet.
But presumably you'd recommend the experience?
Oh yeah, 100 per cent. Look at Manchester United. They loan a lot of their young players abroad because it opens their mind regarding what to expect. You experience different cultures and it allows you to absorb more information about the game.
For an intelligent player that's what you've got to do. You've got to understand the game so that's why I think teams like United do that. There's no wrong age to go abroad, that's what I've learned. It will benefit you as a player.