Roberto's rules
It may still be very early days but it appears as though Roberto Martinez's influence is already taking hold at Goodison Park. Alex Dunn looks at the Spaniard's first game in charge and is surprised with just how different Everton were in their approach
By Alex Dunn - @skysportsaldunn
Last Updated: 22/08/13 8:19am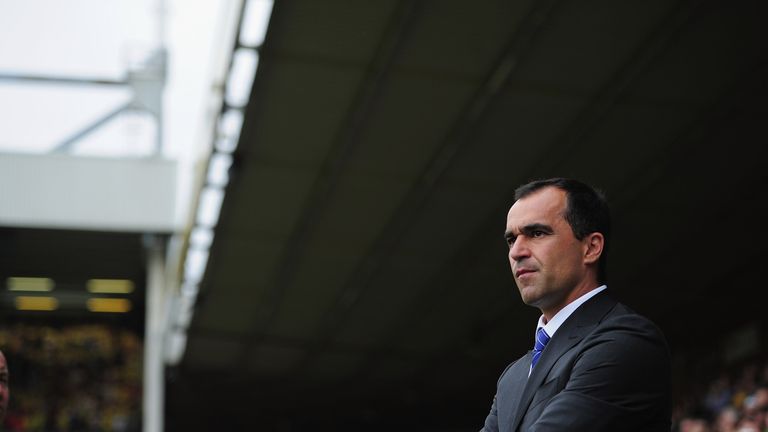 From the School of Science to the Holy Trinity to the Kendall class of '81-87 it's fair to say Everton supporters of a certain vintage have on occasion hankered after a more refined version of the football dished up by the Dogs of War or the latter day equivalent moulded by Moyes.
That's not to downplay or patronise an unimpeachable record of consistency achieved over more than a decade of the wily Scot's prudent tenure or even question the tactical make-up of a side that has oft been accused by its harshest critics as being one-dimensional; antiquated even in being incapable of changing style or system dependent on the opposition.
There is little doubt that when time has validated David Moyes' achievements on Merseyside his name will be carefully stitched into the club's rich tapestry but there is a sense a parting of ways was not quite so hard for many Gwladys Street regulars to stomach as imagined by the casual observer from the outside looking in.
This was not an unhappy marriage but for some, when the curtains were drawn the old bedroom spark just wasn't there any more.
The manner in which Roberto Martinez's enterprising if ultimately fatally flawed Wigan Athletic side so guilefully pick-pocketed Moyes' men at Goodison in the FA Cup last season clearly did not go unnoticed in the Everton boardroom. Bright, personable and with tactical soundbites to rival Brendan Rodgers across the city, Martinez is the quintessential modern manager. Had he not got Wigan relegated playing pretty football his credentials would be even stronger.
For me, Moyes' Everton were an unconventional beauty; a voluptuous plus size stunner amidst a sea of identikit models reared on a diet of tiki-taka and celery. Alas, to hit a diagonal to a target man is not merely unfashionable these days but downright offensive. It has perhaps been overstated how robust and direct Everton were under Moyes compared to how Martinez teams played at Wigan and before that Swansea, but there's little doubt that on a rudimentary level this was not a like-for-like appointment.
A trip to Norfolk to play free-spending Norwich then was always likely to be one of the opening day's more intriguing sub-plots. And so it proved.
"I think you need to have wider options and I think the squad is ready to be pushed and to be in a position where we can be flexible and do different things," said the Spaniard in the game's build-up.
"It is not changing everything in the way we play. We are not losing anything, but trying to add. I don't want to be a team that can only play in one way and to do that you need to experiment.
"This is about making ourselves a bit more expansive in terms of how we play and that is going to be a real strength for us."
That Everton dominated possession at Carrow Road has been well documented but was this representative of an overhaul of his predecessor's key philosophies or rather a more subtle tinkering job? It is of course a somewhat arbitrary, if not knee-jerk, task to attempt to extrapolate telling conclusions from a single game and yet such were the differences from previous seasons it would be equally remiss not to at least highlight them.
In terms of personnel Martinez resisted the temptation to field any of his new signings and instead appeared to set-up an Everton XI that was more Moyes-like than a thousand-yard stare on receipt of a journalist's impertinent question. The graphic below shows the side picked by Martinez on Saturday, alongside that selected by Moyes in the corresponding fixture last season on February 23. Talk of apeing Wigan's 3-4-2-1 formation proved redundant as Martinez elected to stick with Everton's tried and tested back four, with Nikica Jelavic operating as a lone front man.
The personnel of the side may have changed only slightly but a shift in its personality was evident throughout 90 minutes that saw Everton dominate 67.5 per cent of possession and enjoy a pass completion rate of 88 per cent, up from a 79 per cent average last season.
If you compare the two graphics below it becomes clear Martinez has been true to his word of placing greater emphasis on width. The change is most evident in the positional play of Seamus Coleman (23).
It's a point Jamie Carragher was keen to make on Monday Night Football: "It's the same personnel. None of his signings actually played against Norwich. But there's definitely been a shift. Just look at the positions of Coleman, Jagielka, Distin and Baines. Especially the width of the pitch - the two full-backs - you wouldn't associate that with a David Moyes Everton team."
Whereas last season Coleman's average position was dead on halfway, on Saturday he provided repeated penetration down the right and was more an auxiliary winger than full-back. Indeed, such were his buccaneering endeavours only Jelavic and Kevin Mirallas operated further forward. Leighton Baines created more chances than any other player last term and it would appear Martinez wants similar ammunition from the opposite flank. Coleman's 91 per cent pass accuracy and goal is cause for optimism. Jelavic will also draw heart from the fact he was not the isolated figure he too often cut when the goals dried up. Steven Pienaar, Ross Barkley and Kevin Mirallas proved an innovative and interchangeable triumvirate playing in the pockets just behind and either side of him.
The beguiling performance and stunning goal of Barkley has manifest hyperbolic, at least for now, talk of an England call-up but it's just as interesting to note the difference in Marouane Fellaini. Last season the Belgian had just two players operating in front of him, whereas on Saturday there were six. In the past he has spoken openly of his frustration at being used in an advanced position by Moyes and it would appear his new manager is ready to acquiesce with his wish of playing in a withdrawn holding role.
"Sometimes I look at myself and ask, 'What is my best position?' I think it's a defensive midfielder, that's the best one. The manager (Moyes) might like it sometimes when I play up front because I can cause trouble for the defenders, but for me my best position defensive midfield - stopping the opposition and then looking to impose myself on a game."
Facing the opposition's goal rather than with his back to it, Fellaini attempted his most ever passes in an Everton shirt at 81 with a 91 per cent accuracy, up from a 79.29 average in 2012/13. Of those passes, just seven were long.
Carragher went on to add: "You'd normally expect a manager to stamp his authority on it and maybe 10 to 12 games in you can see it slowly building. I think there has already been a big shift.
"Who would have said that at the start of the weekend - most passes and most possession (surpassed by Manchester City on Monday). They have always been the team that would grind the results out. You'd expect Manchester United, Swansea and Chelsea up there with those stats. You wouldn't expect Everton and that shows the effect Martinez has already had."

Opening weekend - Passing
Team
Passes
Manchester City
668
Everton
564
Chelsea
551
Swansea City
534
Opening weekend - Possession
Team
Possession
Everton
67.5%
Arsenal
64.0%
Manchester City
63.2%
Tottenham
58.2%
Perhaps the most telling statistic from Saturday was the number of passes Everton played in their own half, 221 against a season average last term of 142. Persistently they avoided the temptation to go long, with their usual target Fellaini no longer the easy get-out ball. Greater patience in their build-up play is likely to be a trope to watch out for in a side that already is starting to mirror its manager.
They certainly did in the manner in which they conceded. But that's another story. For now, though, the mood at Goodison is one of quiet optimism and if Martinez can deliver the type of football he's made his trademark but with better players there's every chance Everton will keep moving forwards, whilst at the same time retaining the 'fast, forward-thinking football' that has been a hallmark of club's identity from before Moyes, from before Kendall.
After all, if football really is a science Martinez is exactly the type of man you want in the lab.