Brits abroad - Scott Booth
Former Aberdeen forward Scott Booth discusses his move to play for European champions Borussia Dortmund in 1997 and his subsequent successes in Holland with FC Utrecht, Vitesse and FC Twente
By Adam Bate - Follow @GhostGoal
Last Updated: 30/09/13 4:50pm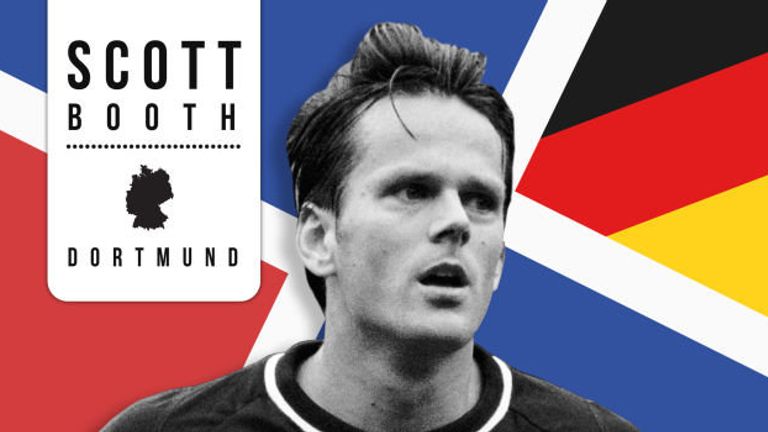 In the spring of 1997, Scott Booth was a highly-rated forward for Aberdeen and Scotland. But when he embarked on a road trip through continental Europe, even he didn't imagine it would lead to a contract with soon-to-be Champions League winners Borussia Dortmund. Booth eventually returned to Aberdeen... in 2003. By that point, he was a world champion with Dortmund and a Dutch Cup winner - in particularly dramatic circumstances - with FC Twente. Adam Bate spoke to the Scot to find out more...
How did the move to Dortmund come about?
There was an offer from elsewhere in Scotland for me but the manager at the time didn't really want me to leave for another Scottish club, even though I only had a few months left on my contract. So I said to the manager, 'Well, I'm going to go abroad then because I want to try something new if you're not going to be reasonable'.
I spoke to a Dutch agent. He scouted around for me. Initially he was going to meet me and we were just going to drive to clubs. The first club I was going to go to was Rapid Vienna. There was a contract on the table for me so we were driving to Vienna. When I met him, he said that he also knew the general manager of Dortmund and they were looking for a bit of ammunition up front. He asked me if I would go for a few days on trial.
So it was basically a stop-off on the way to Vienna. I was there for three days and I was due to play in a match for Ottmar Hitzfeld so he could see me in a game 11 v 11. But my manager at Aberdeen wouldn't even let me play in that game. This was for a club that was about to play in the Champions League final a few weeks later so I was annoyed to say the least. But eventually I managed to get my deal at Dortmund.
Was it a big decision for you to move abroad?
It was and it wasn't. Like I say, some of the doors had been closed for me in Scotland. I wasn't really feeling the idea of going down to England. I don't really know why that was. I suppose if there had been some good English clubs interested then that would have been a possibility. But at that time there weren't as many Scottish players who'd go down to the Championship and things like that.
Also I just fancied trying something new. The Rapid Vienna thing came up and I just thought, 'Why not?' I didn't have kids at the time so it seemed like a good experience and the chance to try a different kind of football.
And you were joining the best team in Europe...
Well, exactly. I couldn't believe I was going to get that chance. I'd gone on trial with the attitude of let's see what happens. At the end of the three days, Hitzfeld came up to me and said 'Yeah, we really like you and want you to come back in the summer'. Two weeks later they won the Champions League.
When I came back in the summer time, Hitzfeld had been moved upstairs as a director of football and Nevio Scala was the man in charge. So I didn't even get to work with Hitzfeld for any length of time, which was a bit annoying because he was the one who brought me in.
As usual at a big club, the new man had his own ideas and brought a few of his own players in. It was always going to be an uphill struggle for me at Dortmund given the size of the squad and the type of player they had but the changes at the top regarding the manager just made things even more difficult.
How did you find the training there? Did you feel you had to be at your best every day?
I did. It really was like that. I'd wake up ahead of every training session and gee myself up like I was preparing for a game. It was that type of intense focus that you had to have. I did treat it that way - that I had to give it absolutely 100 per cent every day just to meet the standard.
That wasn't me trying to be the best, that was just to meet the standard. It was such a massive jump in quality from what I'd been used to for my entire football career. But I think that intense period of training at 100 per cent made me raise my game and made me a better player.
Was it still frustrating not to get a look in there?
Yeah, it was. It was more about the fact that the squad was big and being made bigger by Scala. He was trying to settle himself into German football, having come from Italian football, something he didn't really manage to do. Unfortunately, it was a very unsettled period for Dortmund. They'd won the Champions League and things then changed massively. Not much further down the road there was serious financial problems as well.
Sometimes you get lucky at clubs and you'll be part of a settled team with a settled coaching staff. Other times it just isn't going to be that way. But I would never really look back at my time with Dortmund and think I was unfortunate, to be honest. I enjoy every minute of it. Even though there were periods where I wondered whether I was going to be good enough to play at this level, in the end I feel I did manage to achieve that. I was able to hold my own in games but because of the unsettled nature of Dortmund at that time I was never going to get a run of games.
So you moved on loan...
I could have settled in at Dortmund. I had a three-year contract. I could have just waited my time out for a couple of years and sat back taking the money. I really wanted to keep furthering myself and keep bettering myself. But within about six months of being there, my international career was suffering.
Having been involved heavily with the Scottish national team, I really wanted to stay a part of it. But I realised that by only playing from the bench at Dortmund, it wasn't going to be enough. So I had a conversation with national team coach and he suggested I go on loan. That's why I went on loan to FC Utrecht. It was the right decision because I made the World Cup squad in 1998.
Although you went back to Dortmund, that was the start of a five-year Dutch adventure...
Yeah, I returned to Dortmund at the end of that season after the World Cup and it was a different coach again. He brought in even more new faces and I hadn't been around for six months so I was a little bit out of sight, out of mind. With a few months of being back in Germany I realised that things hadn't changed that much I was getting hungry for games so I decided to move back to Holland with Vitesse.
Was Dutch football a different experience again?
There wasn't a great emphasis on defending in the Eredivisie. It was far more about attacking and being on the ball. It was much more open than the German model. German football was about very slow build-up and then incredibly quick and high quality in the final third. In my day, that's the way it was played.
In Germany, you had to be much more patient and wait for your moment. In Holland, you were involved in the build-up play as a forward. Dutch football suited me. I'd developed my game to become a forward who played off the main striker. That worked really well in Holland because they played the 4-3-3 and the No.10 role became my position, particularly when I went to FC Twente and played off Jan Vennegoor of Hesselink.
That was the good thing about it. The quality of my football had to go up hugely in Germany and then I was able to use the quality I'd been practicing there during my time at Holland. You were given more space there and I was able to utilise that space better because I was a better player. That's why I decided to stay in Holland for the best part of five years.
The highlight must be the KNVB Cup win in 2001. Coming from 3-1 down (Booth scoring the one) in the penalty shootout against PSV to win Twente's first trophy since 1977 must have been extraordinary? A great memory?
It was. In fact, it's probably my greatest memory in football to be honest with you. FC Twente were a club that you'd call a subtopper which means they were one of the clubs that would be around sixth or seventh in the league and have a decent run in the cup without reaching the final. They could challenge the best clubs on the day but not maintain it. That's how they were seen. They hadn't won anything for the best part of 25 years but were potentially a big club.
To even get to the final was amazing. We took 35,000 fans to Der Kuip and outsang PSV. They really did make a massive party out of it and it was a terrific atmosphere. PSV were a better and stronger team as they had the likes of Ruud van Nistelrooy up front. I think they were shocked that we managed to keep them at bay throughout the game.
Of course, the penalty shootout itself was an amazing experience for a player. Thinking that you're down and out, then seeing their goalkeeper take a penalty to win it... Watching our keeper save it and then save another. As they say, the rest is history. It was an unbelievable achievement.
In some ways, I think it got FC Twente's taste-buds going again for success. Since then they've really become a big club with year-on-year aspirations to be among the top three or four clubs in Holland. In the last seven or eight years they've gone on to prove what a great club they are.
You went back to Aberdeen in 2003. Was it kind of strange going back to Scotland after all that time away?
I always had reservations about going back but I also had a good feeling about the fans at Aberdeen. They were always great with me and I felt there was a bit of unfinished business. I also felt there would be an opportunity to stay at the club after I'd stopped playing. I wanted to work there as a coach. That was my longer-term ambition.
But I'd gone back to a club in disarray. It seemed everyone had left and there was nobody at the club you could even speak to in order to find out what was happening. I only had a one-year contract and it was a very strange year.
But now you are working with youngsters at the SFA, have you been able to take your experiences from Germany and Holland and put that into your coaching?
Football is such a strange business because my first club in Holland was FC Utrecht and the manager there was Mark Wotte. He is now the performance director at the SFA so it's amazing how things can go full circle. He employed me as the U-15 coach initially and mentored me during the first year, giving me a lot of the experience he's gained in football which was brilliant.
Having come from the Dutch background, it was very easy to utilise a lot of that within the new Scottish philosophy which is about 4-3-3, better passing and attacking football. That's where it has really helped me because I saw that first hand for those five years and it's very natural for me to coach that way. It's dovetailed quite well.
Of course, the German style has now changed slightly to a more dynamic and high-tempo style but I can use those influences too. I don't forget about my Scottish roots though because we do have our own character and temperament. A lot of that is good and we want to keep it. But you do try to take as much from your career as you can and use it in your coaching. I've thoroughly enjoyed my two years with SFA and I'm now the coach of the U-17 and it's great to be involved with the best Scottish kids.
So needless to say you have no regrets about moving abroad?
Absolutely none. I would go further and say that I'd thoroughly recommend it to any player if they have the opportunity and feel the time is right. I always say why not? If it's a club you feel you can perform well at then just give it a go. You can always come back. So I think if you get the opportunity to go abroad then you should take it.