Four for fourth?
With four teams looking set to battle it out for the final Champions League spot, Sam Drury looks at the strengths and weaknesses of the contenders...
Last Updated: 09/02/14 11:21pm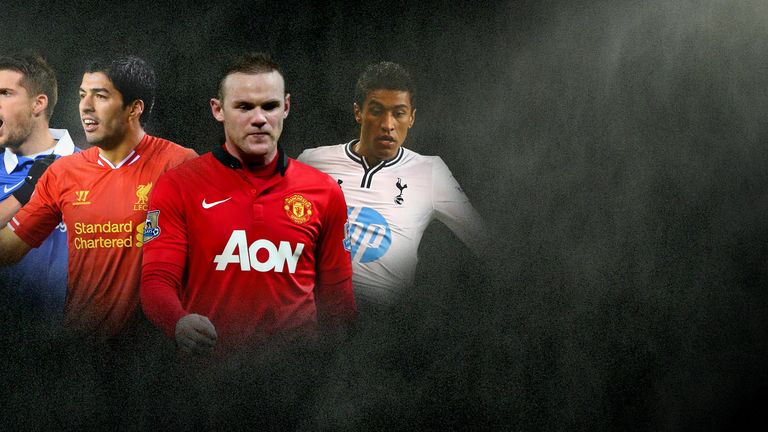 His reasoning was simple: "if you want to attract the best players, they do not ask 'did you win the League Cup?' They ask you 'do you play in the Champions League?'"
It is hard to argue with that and with Arsenal sitting pretty at the top of the league and 10 points clear of fifth, barring a disaster, they can be confident that their first 'trophy' of the season is secure.
However, while the Gunners now have their sights set on some actual silverware, there are four sides for whom the prize of fourth place would be more than enough to satisfy them this season.
Liverpool, Everton, Tottenham and Manchester United are the sides in question with the race for the final Champions League spot set to go down to the wire.
This weekend could see things become even closer as Liverpool host Arsenal on Saturday before Super Sunday sees Everton travel to Spurs and Manchester United welcome rock bottom Fulham to Old Trafford.
With the possibility that the four sides could be separated by just four points by Sunday evening we look at the contenders to see where the battle for a Champions League place will be won and lost.
Liverpool
Sky Bet odds 4/7
Points: 47 Goal Difference: +29
Brendan Rodgers' side are the team in possession at the moment with a two point gap to neighbours Everton. That effectively becomes three points with goal difference taken into consideration as Liverpool's +29 is far superior to any of their rivals.
The reason for that is simple. In Luis Suarez and Daniel Sturridge the Reds have two of Europe's most in form strikers. Individually they are a defender's nightmare and together they can be nigh-on unstoppable, helping the team become the second highest scorers in the league. Certainly if Liverpool do make the top four this season, these two will have played a big part.
Equally key will be their home form. A record of 10 wins, one draw and a defeat so far in 13/14 is mightily impressive but with Arsenal, Manchester City and Chelsea, not to mention fellow Champions League hopefuls Spurs, to come to Anfield in the coming months maintaining such form will be extremely tough.
On the flip side are Liverpool's defence and their away form. Both have been inconsistent in the extreme. However, having now travelled away to all but one of the sides in the top eight the chance to improve on the road is there for the taking.
The defence is an altogether trickier issue to solve. Rodgers can only hope that the returning trio of Daniel Agger, Mamadou Sakho and Jose Enrique after injury can sure things up although further chopping and changing in the back line is equally likely to cause more problems. With Lucas out for two months the lack of a midfielder to shield the defence could also prove costly.
Goals at both ends seem assured.
Everton
Sky Bet odds 5/1
Points: 45 Goal Difference: +12
The transformation of Everton under Roberto Martinez has been as impressive as it has been quick. Although the 'dogs of war' tag was often overplayed and ignored some of the more expressive football played in the latter years of David Moyes' tenure, the added verve that Martinez has brought to the team has seemingly taken them to another level.
A win at Old Trafford and a point at the Emirates came as a result of taking a far more positive approach than they ever had under the previous manager. This is largely down to Martinez who has managed to implement his passing style without losing any of the defensive steel that has been a key characteristic of the team for a number of years.
As such this weekend's trip to White Hart Lane and their match away to Chelsea before the end of the month, as difficult as they will be, are games that the Blues will look to win. The days of being content to defend deep and take a point in big away games are fast becoming a distant memory.
The biggest concern for Everton is the size of their squad. Injuries to key players have shown the weaknesses in certain areas of the squad. Their 4-0 defeat in the Merseyside Derby was the most obvious example of this, as John Stones and Antolin Alcaraz came in for Seamus Coleman and Sylvain Distin in defence.
The former has the potential to be an excellent player for Everton in future and Alcaraz did a fine job for Martinez at Wigan but both were exposed at Anfield in a way it is difficult to imagine the men they replaced would have been.
The Blues have a first XI capable of matching anyone on their day but relying on such a small group to maintain their form and fitness for the remainder of the season is a big ask.
Tottenham Hotspur
Sky Bet odds 3/1
Points: 44 Goal Difference: -1
With Andre Villas-Boas at the helm, Spurs started the season with three straight wins. Despite the sale of Gareth Bale, the club was praised for its summer transfer business with the squad as a whole looking a match for anyone in the league.
Fast forward six months and Villas-Boas is gone and his replacement seemingly doesn't much fancy many of the summer signings.
However, the club have never been out of the race for fourth, even when Villas-Boas was sacked, and under Tim Sherwood were going very well prior to a 5-1 home reversal to Manchester City and a draw at Hull in their last two games.
The squad still looks stronger though - it's arguably the best of the four sides competing for fourth - and Sherwood appears to have helped the players to rediscover the belief that was lacking in the weeks before his appointment.
Recalling Emmanuel Adebayor was hardly a difficult decision but the former Arsenal striker has been in great form since his return, much to the relief of Spurs fans with Roberto Soldado struggling and Jermain Defoe counting down the days before his move to Canada.
Sherwood's tactics have been questioned in some quarters and his refusal to play a defensive midfielder even against the top sides has seen them undone twice, at Arsenal in the FA Cup and in the aforementioned defeat to Manchester City. He may be forced to rethink with games against four of the top five before the end of March.
Manchester United
Sky Bet odds 100/30
Points: 40 Goal Difference: +10
Twelve months ago the future looked so bright at Old Trafford. Sir Alex Ferguson's team were strolling to their 20th league title with a number of promising young players excelling under the Scot's guidance. How things change.
United are 19 points worse off than they were at this stage last season, 15 off top spot and seven behind Liverpool in fourth. Star men Robin van Persie and Wayne Rooney have been in and out of the side through injury and the air of invincibility around them has quite simply vanished.
And yet, with 14 games to play, David Moyes' side are still in with a chance of making the top four. After so many years at the league's summit, United have come back down to Earth with a bump but, at the end of this 'disastrous' season, they could still reach the Champions League.
Rooney and Van Persie are back and Juan Mata has joined, add the emerging talent of Adnan Januzaj and it is hard not to see the reigning champions improving as the season reaches its most vital stage.
However, it is no secret that United midfield is somewhat lacking, especially with Michael Carrick currently sidelined. The return of Darren Fletcher will help but unsurprisingly he is not the player he was before his lay-off, whilst Tom Cleverley and Marouane Fellaini have done little silence their critics this season.
This a squad who won the title at a canter last season, now with the added quality of Mata, and as such they cannot be ruled out. There is precious little room for slips up though and matches at home to Liverpool and away at Goodison Park look likely to be crucial.