All about Eriksen
Tottenham came from a goal down to produce a convincing performance in beating Sunderland 5-1 on Monday Night Football at White Hart Lane. Christian Eriksen was the undoubted architect. Adam Bate hails a performance of creativity and verve that offers hope amid the uncertainty at Spurs...
Last Updated: 08/04/14 12:54pm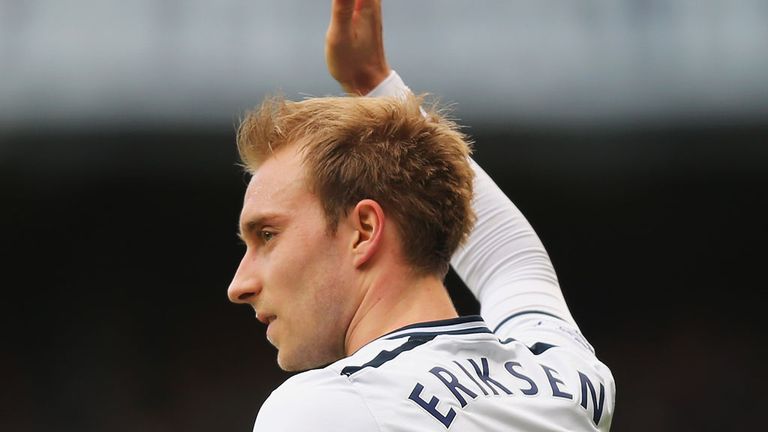 "He's not just on the pitch but he takes part in the game. He affects thing, he scores goals and he assists."
Tim Sherwood's post-match assessment of Christian Eriksen's performance summed it up nicely. Although two late goals added gloss to Tottenham's victory as Sunderland capitulated, it was the Dane who'd decided matters. Two assists and a goal won the game for Spurs.
There was plenty of excitement about Eriksen upon his arrival in the summer. The price of £11million seemed a bargain for a young player with vast experience - more than 150 games for Ajax, over 40 caps for Denmark and Champions League matches on his CV. But having arrived at White Hart Lane alongside six other new signings, it wasn't immediately obvious where he'd fit in.
"I think Christian is a pure number 10," said former boss Andre Villas-Boas in the early stages of the campaign. "He knows how to position himself... He's very sound tactically." But with Roberto Soldado misfiring in the lone striker role, a rethink was required. Under Tim Sherwood, Eriksen has found his opportunities coming in a roaming role playing from the left flank. That's where he's had 10 of his last 13 starts and against Sunderland it worked to great effect.
"He's a genuine one (number 10) but because of Emmanuel Adebayor and Harry Kane playing tonight, he was moved," said Sky Sports pundit Gary Neville. "But it didn't restrict him at all. He's doing most things, but the main thing he's doing is setting up goals and scoring goals. He sees a pass, he's maybe quicker than people give him credit for and he can beat a man. I think he's better in a central role but he was good tonight. He was the best player on the pitch by a mile."
Eriksen is no traditional winger but his interpretation of the role actually offered a pleasingly asymmetric contrast to the work of Aaron Lennon on the opposite flank and, with Danny Rose driving forward from full-back, it would be more accurate to say that he plays from the left rather than on it. Eriksen is happy coming deep for the ball and provided crosses from left and right with either foot. "He had a big influence on the game," added Neville. "He was all over the pitch."
He was always looking forward with his passing and the most common pass combinations in the game were instructive: Paulinho to Eriksen and Eriksen to Adebayor. He progressed the attacks. Indeed, it was Adebayor the playmaker found for the opening goal with an expertly delivered left-footed cross into a dangerous corridor. A vicious right-footed cross then provided Kane with the second after the interval. "Eriksen is the quality in the team for Tottenham," said Neville.
It is easy to see why Spurs have struggled for creativity without him at times this season, with the defeat at Norwich in late February being a fine example. Prior to the fourth goal on Monday, he had directly contributed to six Spurs goals in a row. In the first half alone, Eriksen created five opportunities and finished the contest having fashioned seven chances for the team. Only three players have created more chances from open play in a Premier League match this season.
Premier League creators (min 50 chances)
Player
Team
Mins per chance created
David Silva
Man City
23.4
Mesut Ozil
Arsenal
29.1
Christian Eriksen
Tottenham
30.8
Juan Mata
Man Utd
30.8
Eden Hazard
Chelsea
31.7
Luis Suarez
Liverpool
32.6
In terms of creativity, he's keeping good company. In fact, it's only the restricted game time he's been afforded this season - 1538 minutes from a potential 2970 in the Premier League - that prevent Eriksen being near the top of the key metrics. Of players to have created 50 or more chances for team-mates this season, only Manchester City's David Silva and Arsenal's Mesut Ozil deliver more frequently. It suggests a role at the heart of this Tottenham team must beckon.
Future
"He's a classic number 10 but he hasn't quite got that role yet," said Jamie Carragher. "He's playing in wide areas - wide left tonight. Another Tottenham player who went on to be a star was Luka Modric. He was bought as a central midfielder who could play wide and he eventually got that central role. If he (Eriksen) continues to play like that, he'll get that central role too."
After an afternoon of uncertainty regarding what lies ahead for Tottenham, the evening provided a clear vision for what the future should hold. No matter who takes the helm in the summer, Christian Eriksen is surely the man to build this Spurs team around.