Sky Sports Scout reports on young defender Paul McKay
By Sky Sports Scout - Tweet me: @skysportscout
Last Updated: 07/11/14 4:35pm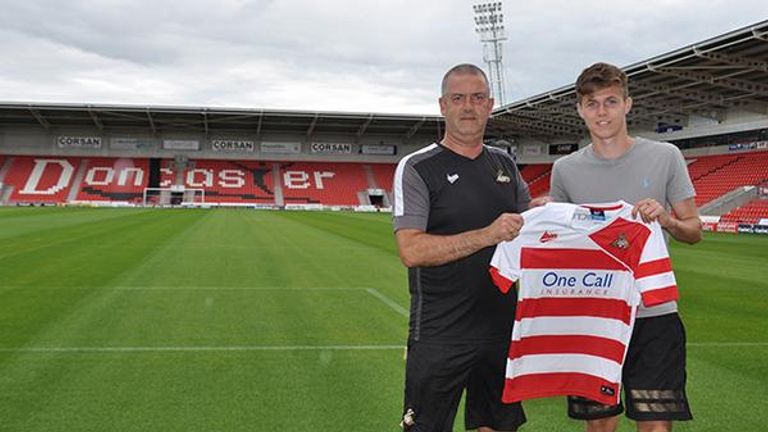 Sky Sports Scout is our exciting feature where we scour the globe looking out for the best talent and bring you a report on what we find.
Our scout - using all the tools at his disposal, will report back and you can comment on what you think of their appraisal.
You can only nominate a player by emailing here, including the word 'Scout' in your subject line, and please check to make sure we have not already covered the player.
You can also now interact with the scout via his Twitter feed! You can get in touch with him and interact here or just search for @skysportsscout.
Scout Facts
NAME: Paul McKay
AGE: 17 (19th November, 1996)
BORN: Glasgow, Scotland
POSITION: Defender
CLUB: Doncaster Rovers
FACTS:Signed pro contract with Doncaster in August
Sky Sports Scout Ratings:
0-10 - No hoper
11-20 - Should look elsewhere
21-30 - Might not make it
31-40 - Has work to do
41-50 - Keep an eye on him
51-60 - Great prospect
61-70 - On his way to the top
71-80 - Already World-class
The latest player to be spotlighted is talented defender Paul McKay.
The scout reports...
McKay began his football education in France with Cap d'ail and it was these early years working under former Boca Juniors midfielder Jorge Quiroz that helped shape McKay as a player.
Quiroz, who played alongside Maradona at Boca Juniors, helped McKay develop his skills and technique with the defender adept at playing with both feet and comfortable with possesion of the ball making him standout from most central defenders.
Upon moving to England McKay linked up with Doncaster Rovers' academy at the age of nine and he has quickly developed into one of the best talents to emerge at the South Yorkshire club in recent years.
The cultured central defender is on the fringes of Paul Dickov's first-team at the Keepmoat Stadium after impressing for the Doncaster Rovers' Development side and Under 18s this season
McKay was named in the senior matchday squad for the first time in last month's Johnstone's Paint Trophy clash with Burton and he is expected to get more first-team opportunities throughout this season.
Paul's twin brother, Jack, is also on the books at Doncaster Rovers and the talented pair could soon join a select group of twins to play professional football together.
McKay's emergence has not gone unnoticed among clubs higher up the football pyramid with several Premier League and Championship clubs keeping tabs on the defender's progress at Doncaster.
Accomplished on the ball, McKay relies a great deal on his athleticism, and it is his ability to cover ground quickly that is thought to have initially attracted potential suitors.
The 17-year-old has also been commended for his passing ability, helping set up attacks from the back and he has also shown he knows where the net is as he is a regular on the scoresheet from set-pieces.
McKay's desire to make it to the top is illustrated in how he has embarked on undertaking extra training sessions with former Doncaster Rovers, Sheffield Wednesday and Everton winger Terry Curran.
McKay is far from the finished article as yet, but he possesses all the attributes and desire to go all the way to play at the highest level for club and country in the future.
The scout says...
A big future clearly beckons for McKay, who has all the attributes to go to the very top. Doncaster have a top talent on their hands and they know they will face a fight to keep the burgeoning talent if he maintain his rapid progress.
The Scout rating...
Shooting: 6 out of 10
Passing: 8 out of 10
Tackling: 7 out of 10
Heading: 7 out of 10
Pace:  8 out of 10
Vision:8 out of 10
Current ability: 6 out of 10
Potential ability: 8 out of 10
OVERALL SCOUT RATING: 58/80
Current value: £500,000
Potential value: £5million
Your opinion...
You have read our opinion of Paul McKay - now we want your views. Have you seen McKay in action? Do you agree with our assessment? Do you think he will make it?
Get in touch, either using the form below, email or the scout's Twitter feed - @skysportsscout.
Pick your Sky Sports Fantasy Football team for the chance to win over £100k in prizes. Play for free here.