Capital One Cup: Five questions to emerge from Chelsea's semi-final win over Liverpool at Stamford Bridge
Last Updated: 28/01/15 9:04pm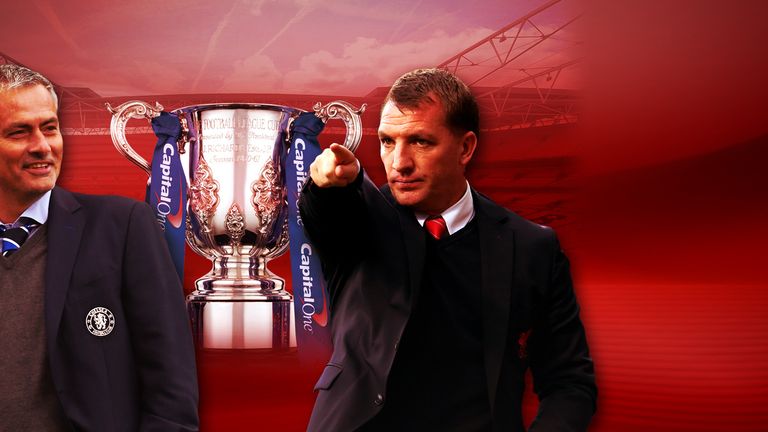 Branislav Ivanovic's extra-time header proved the difference as Chelsea beat Liverpool 1-0 in their Capital One Cup semi-final second leg at Stamford Bridge on Tuesday.
Aside from the Diego Costa drama, it was a thrilling tie that threw up as many questions as answers. Adam Bate was there for Sky Sports and looks at five questions to emerge from the evening…
Is there a way back for Balotelli?
Let's be clear. This was far from the most abysmal of performances by the much-maligned Mario Balotelli. The familiar mask of practised apathy was dropped almost immediately when showing frustration with himself for ballooning a half-chance over the bar and there were moments of real urgency. One particular run down the right flank in which he got the better of two Chelsea defenders before setting up Raheem Sterling for a snapshot might have won Liverpool the match. Instead, the headlines will again be negative ones.
The pass that surrendered possession in the build-up to the only goal of the game was casual and the marking from the resultant free-kick – from which Ivanovic headed home – was little better. In itself it was not unforgivable but Balotelli's past failings mean he has to be concentrating more than his colleagues not less and this was not the performance that was required in order to win hearts and minds. Jose Mourinho pointedly praised his Liverpool counterpart for completely changing the team from the start of the season, while Brendan Rodgers himself suggested that his side have rediscovered their "flow" of late and at least part of that has been down to Balotelli's removal from the team. Redemption looks as far away as ever.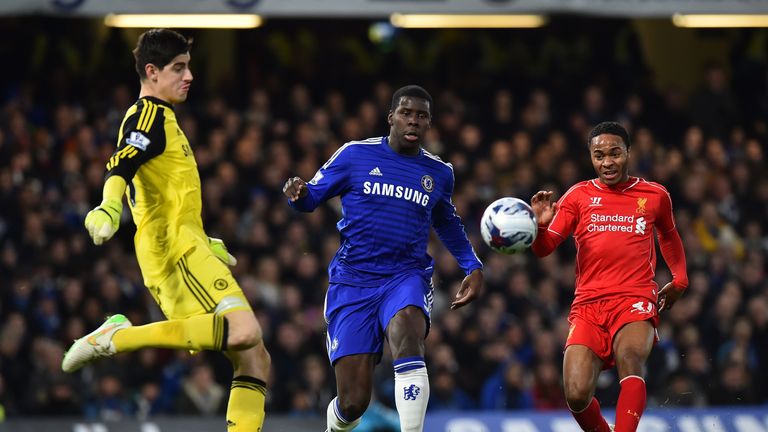 Can Zouma now be trusted?
Nobody could question Kurt Zouma's application in arguably his biggest game yet for Chelsea. The young centre-back's only Premier League start so far came against Newcastle in which he notched up a clean sheet alongside John Terry and Zouma did much to suggest he could be a good foil for the skipper in another shut-out on Tuesday night. The crowd were right behind their man, chanting his name from the outset, and Zouma responded by making more clearances and more blocks than any of his team-mates.
However, Mourinho will be aware that it's the little details that prove decisive at the highest level and a couple of errors marred his first half – the most noteworthy being when he got under a long ball to allow Sterling to run through on goal. The recovery was impressive but the manager is unlikely to be fooled. That's not the sort of thing likely to go unpunished when the biggest trophies are on the line or, more pertinently in the short term, against Sergio Aguero on Saturday. Even so, with Gary Cahill's form having dipped, there was enough here to suggest there might be a decision for Mourinho to make before too long.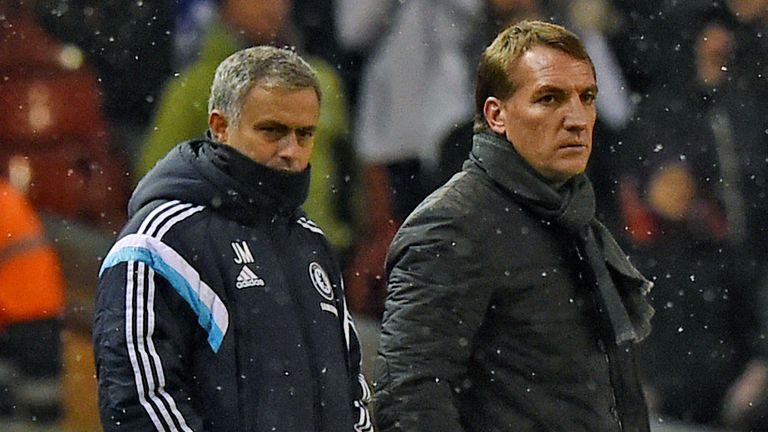 Does Rodgers need a trophy?
"The team showed maturity." That was Mourinho's verdict on his Chelsea side. For much of the game Liverpool looked more than a match for their opponents but like a tennis player who played the big points better, the home team's experience proved critical. Rodgers has little choice but to be patient but he will know that for clubs as big as Liverpool, the wait for a trophy cannot go on forever. "For us to be successful, at times it's got to hurt," he said afterwards. "We've got to make the next step and try to go and win a trophy." If that's going to happen then his team must find that killer touch when it matters, but for now it seems Mourinho remains the master when it comes to the big games.
There certainly seemed to be a smirk on the Chelsea manager's face when thinking of the most withering put-down he could conjure after being informed by reporters of a difference of opinion between him and the Liverpool boss.  "He worked at Chelsea with me but we are different people," said Mourinho. Judging by the vitriol hurled his way by the visiting Liverpool fans, they may well be delighted with that. But they'll also have noted that it is Chelsea off to Wembley and not them. It's an issue Rodgers must address.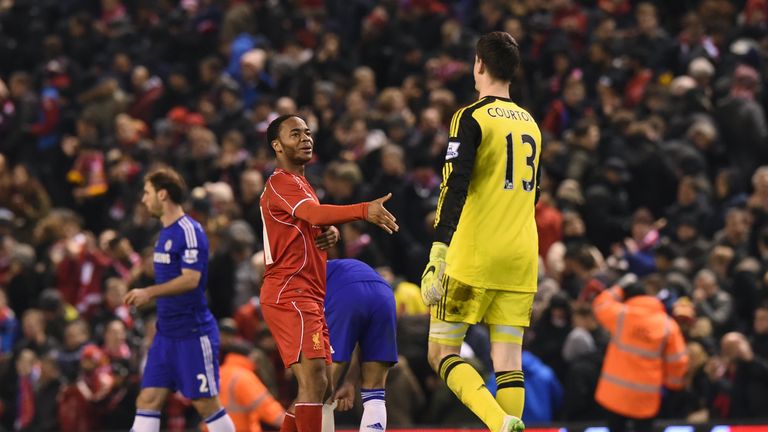 Is Courtois the difference?
"I think the goalkeeper has won them the tie really." Rodgers' post-match verdict was not without substance. Thibaut Courtois did brilliantly to stretch out an arm to deny Alberto Moreno during the first half before showing his expert ability to use his feet in denying Philippe Coutinho soon after. Mourinho took exception to what he perceived as the implication that Liverpool had by far the better chances but it has become clear that Chelsea boast the best goalkeeper in England. The statistics show as much – the Belgian is the only regular keeper not to have made a single error leading to a shot so far this season.
For all Petr Cech's qualities, his performance against Bradford did not encourage the view that he would have pulled off these saves. Last season, there was semi-final disappointment for Chelsea in the Champions League with Courtois lining up for their opponents Atletico Madrid. With the 22-year-old in goal, those big matches look all the more likely to go in Chelsea's favour.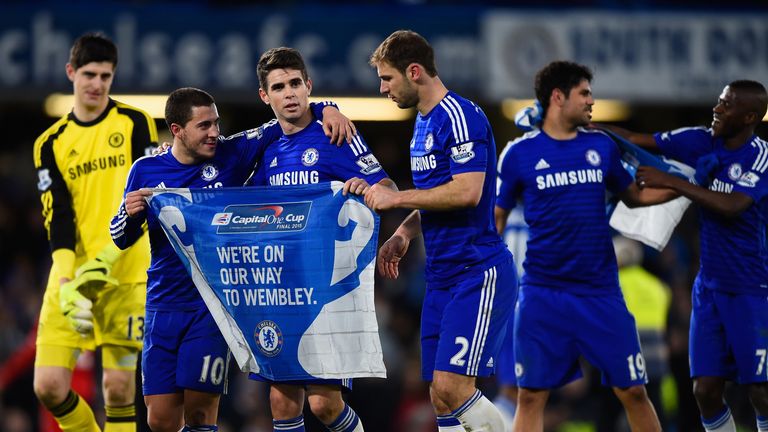 Were Man City the real winners?
"When you are happy, I think you can cope with fatigue." Mourinho was insistent in his post-match press conference that Chelsea had not given a thought to their weekend title showdown with Premier League champions Manchester City and they certainly seemed to put everything on the line on Tuesday. Over the course of two hours, they threw plenty at Liverpool while absorbing a series of speedy counters from the visitors and the mere sight of Willian tracking back was exhausting enough.
But this Capital One Cup campaign could yet come at a cost. An injury to Filipe Luis might be manageable but coupled with Mourinho's emotive tale of Ivanovic's blood-soaked boot, it presents a problem at full-back. Even more of a concern will be the fitness of Cesc Fabregas, who went off complaining of a tight hamstring. With City having enjoyed a fixture-free midweek, will Manuel Pellegrini's men belatedly feel the benefit of that Abu Dhabi trip after all?
Watch Chelsea v Man City live on Sky Sports 1 HD this Saturday from 4.45pm