Jack Butland: The making of the Premier League's in-form goalkeeper
By Adam Bate
Last Updated: 26/12/15 12:57pm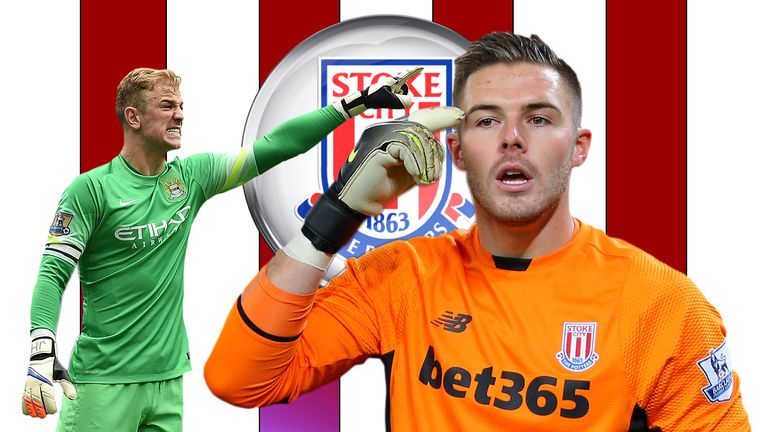 As Jack Butland continues to impress for Stoke City, Adam Bate talks to his old international boss Stuart Pearce to discuss the goalkeeper's rise - and whether he has the potential to eventually oust Joe Hart as England's No 1...
If Asmir Begovic's decision to take up the role of deputy to Thibaut Courtois at Chelsea was a surprise to some, even fewer would have expected what's followed. Injury to Courtois has allowed Begovic to make 12 appearances for the Blues - during which time he's conceded two more goals than his old club Stoke City have let in all season. Much of that is down to his replacement Jack Butland.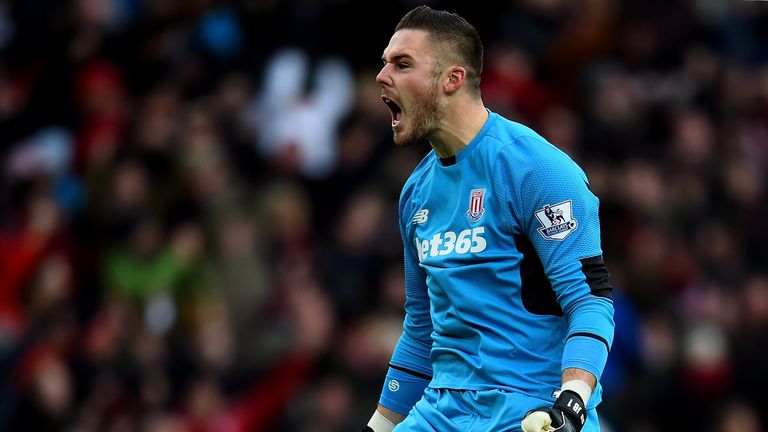 The ever-present Butland has been one of the standout stars of the Premier League season. There was a man of the match performance against Norwich in August and he topped that with a series of stunning saves to keep out both Newcastle and West Ham. Even in the weekend defeat to Crystal Palace, Butland looked to have earned a point as he rushed out to deny Yannick Bolasie late on.
Premier League 2015/16 - Save percentages
| Player | Team | Save percentage |
| --- | --- | --- |
| Jack Butland | Stoke | 81.0% |
| Petr Cech | Arsenal | 79.0% |
| Hugo Lloris | Tottenham | 77.2% |
The statistics are impressive. Butland has the best save percentage of any regular goalkeeper in the Premier League this season, just ahead of Petr Cech and Hugo Lloris. Unlike those two, he's been busy too - with only Sunderland's Costel Pantilimon making more saves. Of the five goalkeepers with seven or more clean sheets, Butland is the only one not to make an error leading to a goal.
Premier League 2015/16 - Most saves
| Player | Team | Saves |
| --- | --- | --- |
| Costel Pantilimon | Sunderland | 71 |
| Jack Butland | Stoke | 68 |
| Tim Howard | Everton | 60 |
Not bad for a man who, at 22, is the youngest first-choice goalkeeper in the Premier League. And yet, it feels like he's been around for longer than most. It's three years since his England debut but Butland was being tracked well before that. In The Nowhere Men, Michael Calvin recalls accompanying Liverpool scout Mel Johnson to watch him play for Cheltenham in March 2012.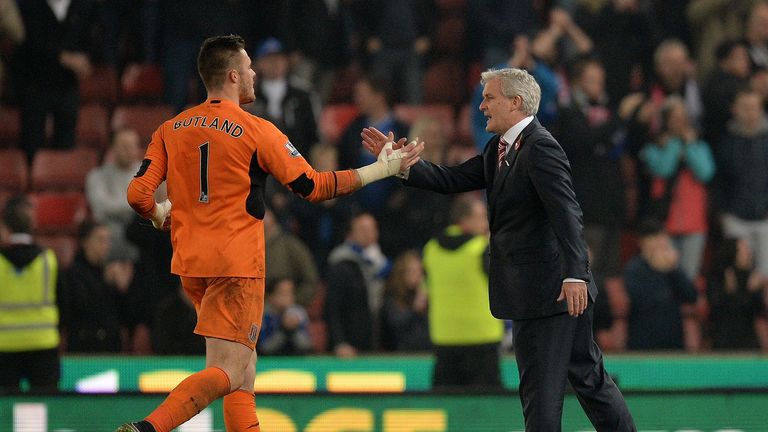 Physically he's an imposing specimen. He looks like a modern-day athletic keeper and has great presence."
Mark Hughes on Jack Butland
On loan from Birmingham at the time, Butland's difficulties that night highlight the progress he's made since. He was at least partially responsible for all four Southend goals that Friday evening. Even Cheltenham boss Mark Yates admitted it was "a night to forget" for the young goalkeeper with the Gloucestershire Echo pointing out that we would now "learn about his character".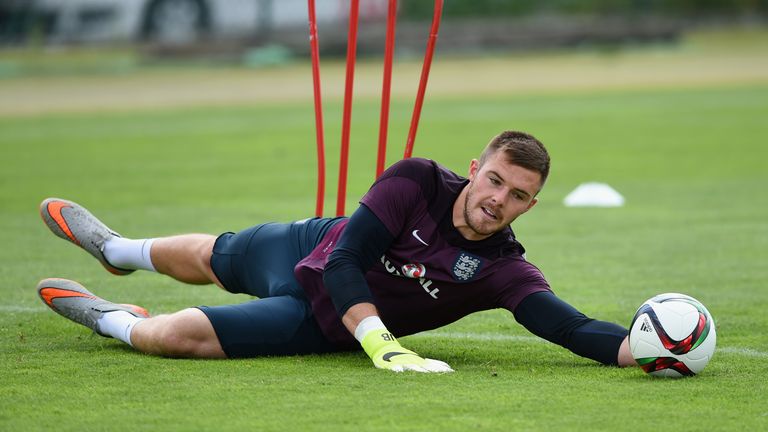 Before the end of the year he was making his senior England debut. Answers don't come much more emphatic. Even so, with only 24 league games for Cheltenham to his name, it was some leap of faith. What had the experts seen that was so compelling? Stuart Pearce got a close-up view earlier than most and was in no doubt as to Butland's vast potential.
"The first time I came across him was in 2011 when I went to work with the England Under-20 squad for the World Cup in Colombia," Pearce told Sky Sports. "You could just tell straightaway he was a special goalkeeper. He was ahead of his years in maturity. I worked with him again in 2012 at the Olympics where he played every game. He has that international tournament experience."
Maturity is a word that keeps coming up in regard to Butland. Confident and articulate in interviews, it's apparent that his attitude is right. Crucially, given that he's had to grow up and make his mistakes under the spotlight from a young age, he has support too. "Both of his parents were in Colombia supporting him which said a great deal about them and him as a boy," added Pearce.
"Attitude is everything. I've worked with players who have had more ability, possibly, but if you couple that ability with attitude then you get a Joe Hart or a James Milner, who maximises every ounce of the ability that they have." It's the mention of Hart that raises the intriguing prospect of England's two best goalkeeper's being locked in a battle for the country's No 1 spot for years to come.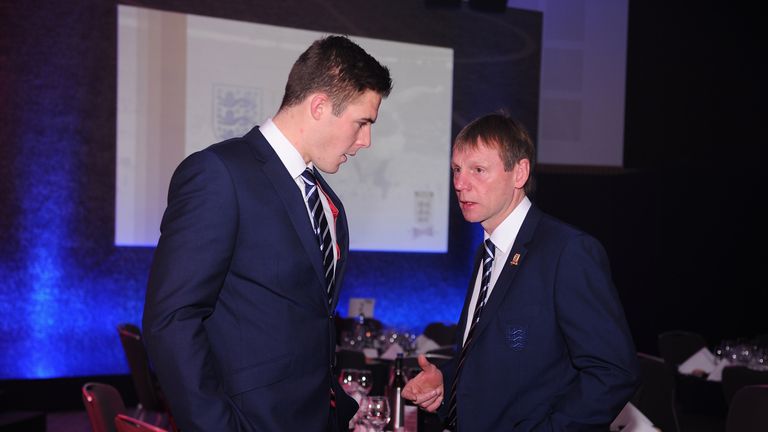 I signed Joe Hart from Shrewsbury and I think at the same age Jack is the better goalkeeper, to be quite honest with you.
Stuart Pearce on Jack Butland
With Hart in his prime and a two-time Premier League winner with Manchester City, it's a tough challenge for Butland. But with Pearce having worked with both men, he believes it's a contest that the younger man could win.  "I signed Joe Hart from Shrewsbury and I think at the same age Jack is the better goalkeeper, to be quite honest with you," added Pearce.
"He has just progressed. For me, he's the best goalkeeper in the Premier League on form at the moment. That says a great deal with the likes of Joe Hart and David de Gea around. Time will tell whether he goes on to achieve what Joe has but I think from an England point of view we might have a Peter Shilton and Ray Clemence scenario with two outstanding goalkeepers."
It's some praise and with the chance for another direct comparison when De Gea and Manchester United visit the Britannia Stadium on Boxing Day, Butland now just needs to keep going.He's already shown that Begovic can be replaced. Don't be too shocked if he goes on to prove that Hart is expendable too.