Manchester Derby Ref Watch: No red card for Claudio Bravo, says Dermot Gallagher
Last Updated: 12/09/16 5:48pm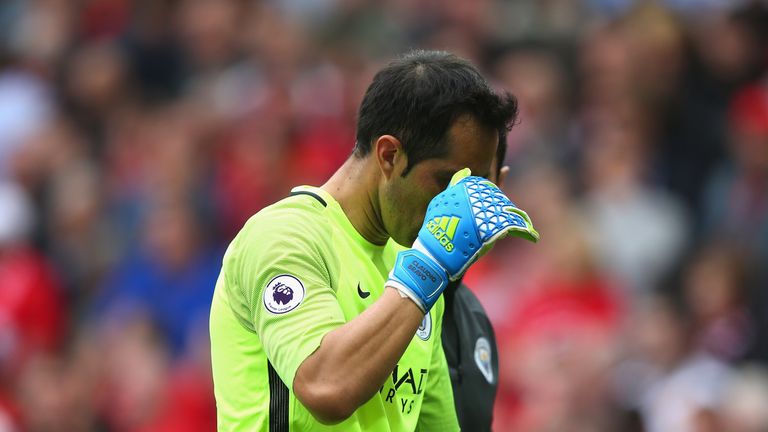 Former Premier League referee Dermot Gallagher debates a whole host of controversial decisions from Saturday's Manchester derby.
The hotly contested affair at Old Trafford, which ended in a 2-1 win for Manchester City, produced an angry response from Manchester United manager Jose Mourinho after the match.
In particular, the 'Special One' was furious with Mark Clattenburg over the official's failure to award his side two second-half penalties.
New City goalkeeper Claudio Bravo's rash challenge on Wayne Rooney went unpunished and moments later Antonio Valencia's cross struck the elbow of Nicolas Otamendi in the area, neither of which resulted in a spot-kick for the home team.
"I am very disappointed with two decisions from Mark [Clattenburg], because it's a penalty and a red card for Bravo," Mourinho said. 
"If you tell me that that's not a penalty and a red card, I'll tell you that for sure outside the box it is a free-kick and a red card. Inside the box it has to be the same, but obviously even the best referees make mistakes, and he made a big one.
"The second one is also a penalty, Otamendi is a penalty, you can tell me he has no intention, I think he has intention.
"The arm behind the body, he knows that the cross is not going in his face, it's going in his back, and he drops the elbow back, so two penalties."
So this is what Gallagher thinks about those two big calls, as well as several other ones at the Theatre of Dreams...
INCIDENT NO 1: Claudio Bravo brings down Wayne Rooney in the area. 
SCENARIO: Man City's goalkeeper miscontrols the ball, before making a desperate last-ditch tackle on the player, with the referee giving no penalty or taking any action against the Chile international. 
DERMOT'S VERDICT: Penalty and a yellow card. 
DERMOT SAYS: Definitely not a sending-off. My immediate reaction was penalty and yellow card, because I think he has got enough of the ball. If you talk to a lot of people now they say: 'He has got so much of the ball that it is not a foul,' but my gut reaction was penalty and a yellow card.
In fairness, he has not gone airborne and he has arrived one footed, but what I would say is that it is definitely not a red card, as he has not seriously endangered the safety of an opponent, he has not gone two footed and he has not gone out of control with his body.
INCIDENT NO 2: Antonio Valencia's cross hits Nicolas Otamendi's arm in the area. 
SCENARIO: United's right back swings in a centre that strikes the City defender's arm, but again referee Clattenburg decides 'no penalty'. 
DERMOT'S VERDICT: Correct decision. 
DERMOT SAYS: It is not a penalty for me, it is too close, he has got his back to the ball and it has got to be deliberate - I see players all the time put their hands behind their backs in order to stop being hit by the ball.
INCIDENT NO 3: Pep Guardiola tries to stop Wayne Rooney from taking a quick throw in. 
SCENARIO: The City boss and United's captain get involved in a minor scrap on the touchline after the Catalan prevents the Englishman from getting to the ball, with both men just being spoken to by the referee. 
DERMOT'S VERDICT: Correct decision. 
DERMOT SAYS: I thought this was well dealt with and something of nothing. It happened very, very quickly, it ended amicably and it was not an incident that needed raising the profile. Sometimes you have to remember that little things can be dealt with, but if you make them bigger things then it is much, much harder to deal with.
INCIDENT NO 4: Wayne Rooney is booked for a late tackle on Claudio Bravo. 
SCENARIO: United's striker follows through late on the Chile goalkeeper as he attempts to clear the ball in the area, with Mr Clattenburg booking Rooney. 
DERMOT'S VERDICT: Correct decision. 
DERMOT SAYS: Definitely [the right punishment], I think everybody knows that, don't they? He is frustrated, the goalkeeper has gambled again and he is late and reckless and it is a yellow card every day of the week. The difference [to the previous Bravo-Rooney incident] is that the ball has gone.