Manchester City's progress under Pep Guardiola is stalling
Last Updated: 03/12/16 8:16pm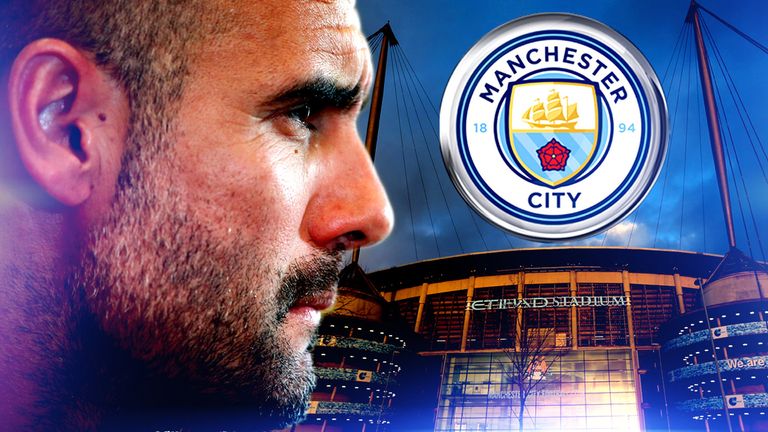 Issues in both boxes are undermining Pep Guardiola's plans for Manchester City's progress, but is the coach culpable? Adam Bate assesses the scale of the problem following Saturday's defeat to Chelsea...
Ultimately, it was embarrassing. Having been picked off by Chelsea on the counter-attack in their 3-1 defeat, Manchester City's discipline deserted them. Both Sergio Aguero and Fernandinho face suspensions following stoppage-time red cards. It was an ignominious end to a game that could prove highly significant in the race for the Premier League title.
The risk for Pep Guardiola is that his stance in the face of defeat seems absurd. Having already launched a passionate defence of a 4-0 defeat this season, albeit away to Barcelona, he did something similar on Saturday after being beaten for the first time at the Etihad. At least he appeared aware that it might not have been what people wanted to hear.  
"To give my opinion when you lose, it looks like an excuse," Guardiola told Sky Sports. "I am so proud of my team and how we played. I came here to try to play the way we played today. We cannot forget about which team we played. We created more chances than [against] Burnley and Crystal Palace, when we won. I congratulate my team for what we did."
In one sense, it was a curious response in the circumstances. After all, this was the first time that City had lost a Premier League game having led at home in over seven years. But it wasn't without some truth. Much like at the Camp Nou in October, Guardiola will be left feeling that his plan to deal with his opponents had shown plenty of promise.
Having switched to a 3-4-3 shape of his own, effectively matching up against Chelsea, City succeeded in exposing a weakness in Antonio Conte's line-up. With Eden Hazard offering little defensive help to Marcos Alonso, who was already robbed of the cover provided by Nemanja Matic, City doubled up in that zone through Kevin De Bruyne and Jesus Navas.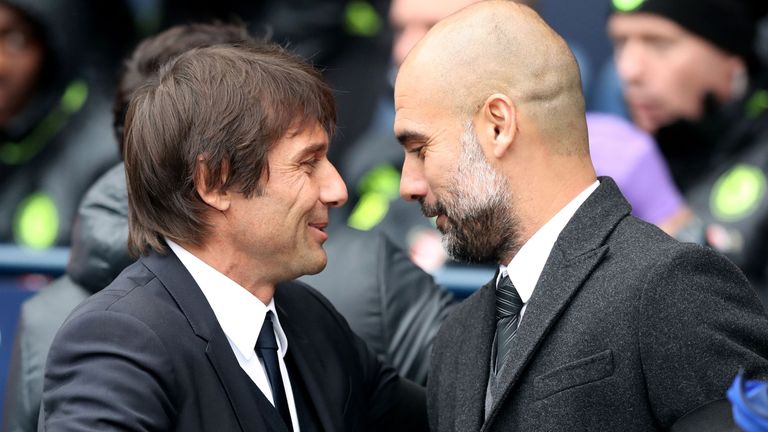 It worked for the goal when Navas's cross was diverted into his own net by Gary Cahill, but that was only one example. De Bruyne should have doubled the lead when Navas got in once more and even after Chelsea equalised there were chances to restore the advantage - Aguero and De Bruyne each finding space in that right channel only to see shots saved.
"Forget the goal, it's been a tough day all round for Gary Cahill down that left side," said Gary Neville on co-commentary for Sky Sports midway through the second half. "They keep getting in down that Chelsea left. Conte will have been feeling more and more confident in his defence but this will have sobered him up. They look ragged."
For Guardiola, both the ease and the regularity with which his players were able to trouble Chelsea in those zones must have felt like a vindication of his decision. He would have known that Hazard could not match Pedro's work rate on the opposite flank and that Cesar Azpilicueta, Chelsea's best defender, was on that side of the pitch too.
As a result, in the first half City directed 55 per cent of their attacks down Chelsea's left compared to just 26 per cent down their right. De Bruyne loitered alongside Navas and the tactic looked like working. If the former had converted the latter's cross soon after the interval then there would surely have been no way back for the visitors.
Instead, De Bruyne blew the chance and City blew up. What followed was more than a story of mere miscues and misfortune. The fragility of Guardiola's defence was completely exposed by Diego Costa. Twice the Chelsea forward got the better of Nicolas Otamendi, out-muscling him for the equaliser before eluding him in the build-up to Willian's goal.
"In the boxes we are not strong enough," said Guardiola and while it's difficult to disagree, this would seem to be about as fundamental as a problem gets. It's not the first time he's expressed the sentiment either, citing a "need to improve in both boxes, both offensive and defensive, to score goals and not concede" after drawing at home to Middlesbrough.
Clean sheets kept by title contenders
| Team | Goals scored | Clean sheets |
| --- | --- | --- |
| Chelsea | 32 | 7 |
| Tottenham | 24 | 6 |
| Arsenal | 33 | 4 |
| Liverpool | 32 | 3 |
| Man City | 30 | 2 |
While only Manchester United have missed more clear-cut chances, it's City's defensive record that represents the bigger cause for concern. Guardiola's men have kept only two clean sheets in the Premier League this season, the worst record of any top-half team. In contrast, leaders Chelsea have kept more clean sheets than anyone.
In truth, it's indicative of an all too familiar fragility. City's record in the big games last season was woeful. They didn't win once against the top five. Throw in the defeats to Tottenham and Chelsea under Guardiola and City have now picked up only 23 points in their last 22 games against sides who finished in the top half of the Premier League table last season.
Man City's record against last season's top-half teams since September 2015
| | Played | Won | Drawn | Lost |
| --- | --- | --- | --- | --- |
| City v top half | 22 | 6 | 5 | 11 |
If this were just a problem that the new coach had inherited and is working to solve, that would be one thing. But, Guardiola might be contributing to the team's difficulties in this area. Not necessarily in terms of his oft-discussed style of play - it seems that no trophy haul will bring to an end those accusations of overplaying - but in terms of personnel.
His tinkering has seen City make 46 changes already this season, the most of any Premier League team. That's not necessarily the hallmark of a successful side. The past two title-winners have made the fewest changes of any club in the league and current leaders Chelsea could repeat that trick having made only eight changes so far this season.
Pep's tinkering
Manchester City have made 46 changes to their team this season in the Premier League, more than any other side.
If that's a temporary stumbling block to success while Guardiola searches for his best side, City's transfer dealings are likely to have longer-term consequences. John Stones might still be a safe bet to succeed in the end but he has much to learn, while there must now be serious doubts whether 33-year-old Claudio Bravo is really going to prove more help than hindrance.
Time will tell on those decisions and Guardiola is getting enough right at City for fans to keep faith that they're on the right path. This game could have gone their way. But this is going to be a keenly-fought Premier League in which the major matches must not be lost. And for all his tweaks, it seems that's one thing Guardiola hasn't yet been able to stop happening.