Jurgen Klopp 'a little disappointed' by Liverpool draw at Man City
By Gerard Brand
Last Updated: 20/03/17 6:37am
Jurgen Klopp admits he was a little disappointed not to come away with all three points as Liverpool drew 1-1 at Man City on Super Sunday.
Klopp's side, who went ahead though James Milner's penalty, were pegged back by Sergio Aguero's equaliser, but had a number of clear chances to score, including a sitter from Adam Lallana.
The German was disappointed to see his Liverpool side come away with only a draw and will need time to accept it is a vital point in the fight for a top-four finish.
He told Sky Sports: "If I was to make an assessment then I would say 'if you took a point at Manchester City then that would be okay'.
"I thought we could have won this game because their goalkeeper made a few outstanding saves.
"But we didn't close the game and we let them recover a bit, so they came back and with the quality, they have one strike and they scored - they deserved the goal of course - but I thought we could have scored more.
"It is a point and that's good. Tomorrow I will be happy but in this moment I am a little bit disappointed, not too much but a little bit."
Liverpool are now firmly in the top four, but their rivals Arsenal and Man Utd do have two games in hand over them.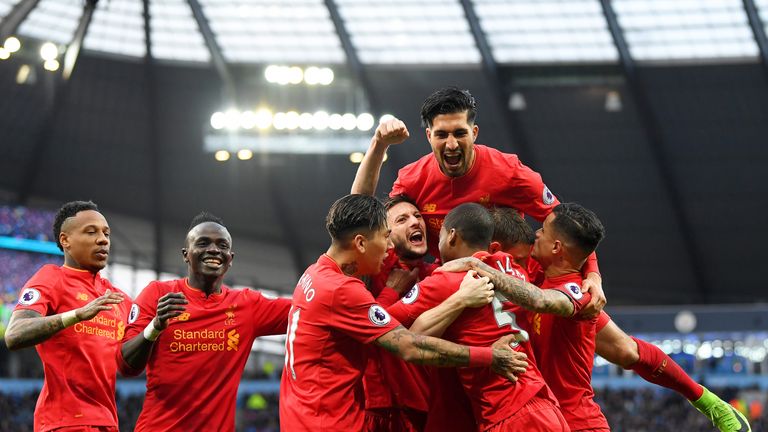 Klopp refused to get too downbeat by the point, and praised both sides for putting on a pulsating display at the Etihad Stadium.
"We take it. It is fair, we could have lost and we could have won. We had three or four chances, open goals in the first half, in the six-yard box. I don't know how they defended this.
"But of course they had their moments too so maybe it is okay. I'm not happy in this moment but give me a few hours and I will be happy.
"They deserved the goal, but we could have scored more. Two highly motivated sides, both wanted to win until the last seconds."
Sky customers can now upgrade to Sky Sports and get 12 months for just £18 per month. Upgrade now!