Arsene Wenger's new contract: Can he really turn Arsenal around?
Last Updated: 24/03/17 10:01am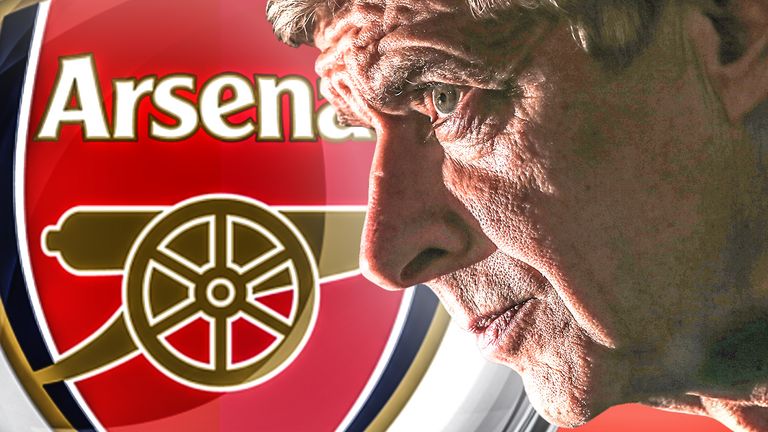 Arsene Wenger is tipped to sign a new contract as Arsenal manager but what can he hope to achieve in that time? Adam Bate examines the challenge ahead and wonders whether Wenger is the man to exercise real change at the Emirates Stadium…
They say that before you can truly address a problem it is essential to acknowledge that the problem exists. So Arsene Wenger's assessment in the wake of the 10-2 aggregate defeat to Bayern Munich that Arsenal are in "great shape" might well have alarmed even those fans not choosing to line the pockets of small aircraft owners up and down the country.
In many ways, of course, Wenger is right. The so-called Bank of England club rank among the top 10 richest in the world. They have the academy and the stadium; the vast scouting and media operations; twenty years of top-four finishes. But while chairman Stan Kroenke might view major trophies as an optional extra, supporters quite rightly see it differently.
They look at the two FA Cup wins in 11 years. They wonder how many times any other manager would have been sent packing for such a return. And they wonder whether things are now set to get worse before they get better. The continuity candidate only makes most sense when you want what is happening to continue.
While stability is craved elsewhere, at Arsenal the appetite is for change - and that will only be exacerbated by the award of a new contract to the man who currently has the club in sixth spot as the run-in looms. The onus will be on Wenger to satisfy that desire for real rejuvenation but does he have the capacity or indeed the inclination to do so?
Wenger has changed things for the better before but it is debatable how applicable that is now. When the Frenchman first arrived in the country his strategic edge came from knowing the superior European market better than anyone on the island and the introduction of now fundamental ideas about fitness and diet. That competitive advantage has long gone.
It would be wrong to suggest that he relied upon that or the English defensive spine that he inherited. Wenger completely rebuilt that back line in constructing an all-conquering Premier League side that played some of the most entertaining football the English game has ever seen. It was a team with an extraordinary winning mentality.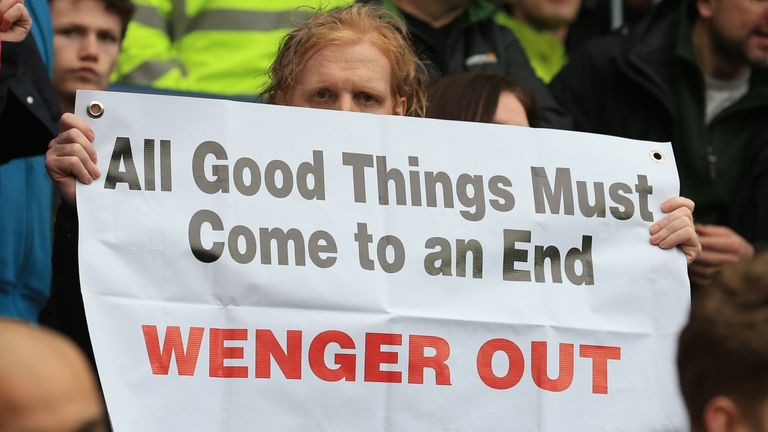 Wenger certainly showed he could change back then. He switched emphasis, pursuing his total commitment to technical excellence and a short-passing style - correctly anticipating that this particular approach would come to dominate the game for the rest of the decade. The problem for Wenger was that the club that did it was Barcelona and not Arsenal.
Now he must pivot again. But the path back to the top is rockier than before. More rivals have established themselves with financial muscle of their own. New managers with newer ideas, bringing the sort of fresh impetus that sometimes appears lacking at London Colney.
Antonio Conte made the switch to 3-4-3 to turn Chelsea around. Nobody saw Victor Moses as a world beater but the team found a way to win nevertheless, and it's telling that while Pep Guardiola, Mauricio Pochettino, Jurgen Klopp and Jose Mourinho all dabble with a back-three of their own, it is Wenger - and only Wenger - who sticks to his ways regardless.
He sticks with players too, but it is getting harder for him to do that. Faith has gone unrewarded for too long and the talent drain is imminent. Arsenal's two star players are out of contract in a little over a year but there are also other key figures over 30 - Santi Cazorla, Laurent Koscielny and Petr Cech - for whom long-term replacements must soon be sought.
Wenger is no fool. He will not be oblivious to the challenges ahead or the flaws within the group. But the wait goes on for any real sign of a shift; the big step forward that Arsenal must take just to stand still. That stasis is no blip either. It has endured for a decade and it will need rather more than Granit Xhaka to convince of a commitment to cultural change.
At 67, Wenger is not the obvious man for an overhaul job but an overhaul job is what this is. He will need to confound his critics if he is to not only have the vision to lift Arsenal but also the skill to implement it too. The problems are there to see. But before they can be solved, the man in charge has much work to do to prove he is not the one at the root of them.
Sky customers can now upgrade to Sky Sports and get 12 months for just £18 per month. Upgrade now!