Vincent Kompany talks 'special' Pep Guardiola and the improvement of Man City
By Patrick Davison
Last Updated: 06/05/17 11:50am
Ahead of Manchester City vs Crystal Palace live on Sky Sports this Saturday, Patrick Davison sits down with Vincent Kompany to talk "special" Pep Guardiola, the improvement of Manchester City and what lies ahead for the club.
Many, maybe even most, thought the best manager in the world was coming. Now, of course, we're not so sure. After a flying start, Manchester City's season has gone from underwhelming to outright disappointing. And questions are being asked.
Can Pep Guardiola succeed in this country? Will he be able to win things at a club that doesn't dominate quite like Barcelona or Bayern Munich? Put simply, is he as good as we thought?
You don't have to talk to Vincent Kompany for long to think the answer, to all of the above, is yes. City's skipper is absolutely convinced that, in time, Guardiola will answer every question and prove wrong every doubt.
"Pep's tactical and technical assessments are like nothing I've ever seen before and I think that's why people enjoy to see him fail," says the 31-year-old.
"It's normal, someone that's been successful that many times, you have one season where it's not going your way and people want to focus on it - that's what creates news and creates entertainment.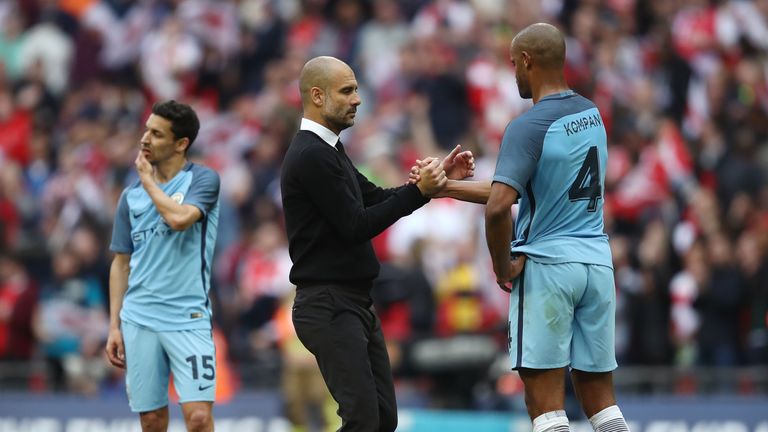 "But in reality I can vouch for him in the sense that I've been around a lot of top people in football and all of them had qualities, but he's really special. It's not come off this season but there's no doubt in my mind that, with the right amount of time and a season where things go a bit more our way, he's capable of delivering extremely good things."
Of course, the Belgium international has missed much of the season through injury, but says he's still seen the team and his own game improve.
"The league is the truth but we're on the right track, I've never been involved in a team that presses like we do today, that keeps possession like we do today, if the key moments improve, then we're not far off.
"There's no greater pleasure than to have possession of the ball and to be able to control a game which we do really well, so I have seen progress.
"It's just that somewhere it's in there for us to create more chances, it's in there for us to concede less goals. We're somewhere down the line in doing it and I feel if we improve in those things we'll be a special team."
Kompany, who led City to their first Premier League title five years ago this month and another two years later, has been a key figure in the most glorious period in the club's history.
Despite this season's disappointments, Kompany believes what lies ahead could be even more special - if the current group are able to recapture the resilience of the title-winning teams.
"When we've won the league it's been a lot down to strength of character and big personalities in the team that carried us over the line in moments when we shouldn't have been able to win it," he adds. "We always believed and we kept going.
"With this approach now there's an opportunity to be more dominant and have a season where we win most games and have a huge tally of points, that's what I think we can achieve if we work on the big details (like character and resilience) that are still very important in football."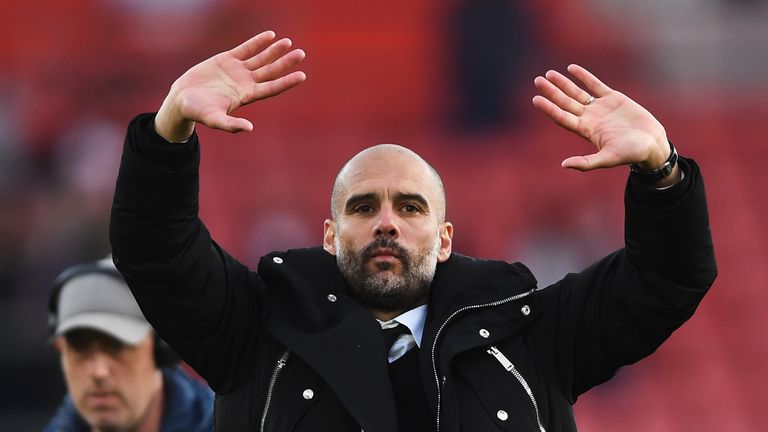 "I've been around a lot of top people in football and all of them had qualities but he's really special."
Kompany on Guardiola
Now, at last, fully fit and having started five of the last six, Kompany hopes to be a big part of the bright future he predicts.
"It doesn't take a lot to imagine what City means to me, it's been my life for the last almost ten years now," he says. "I'm grateful for what the club has given me and I've given everything to the club.
"If I'm there to help this team lift trophies and achieve big things I'll be proud of it. Until the young guys start running past me in training, which they still don't at the moment, there's no need to panic.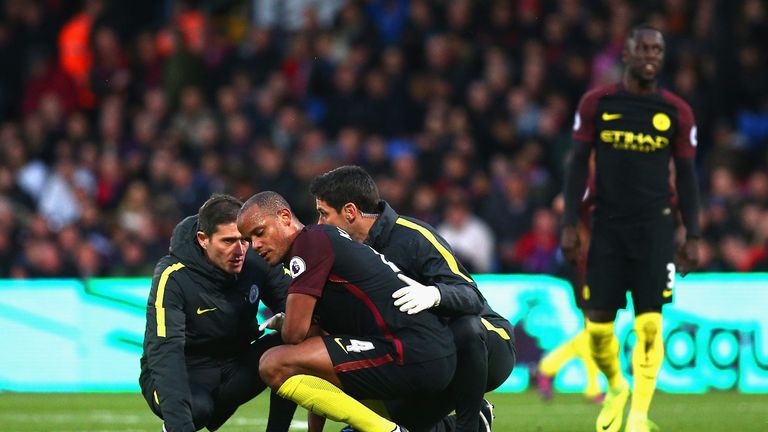 "I'm just pleased I don't need to talk about comeback anymore. I've been able to comeback at a high level which is something I'm happy about, not just stand on the pitch but able to perform as well. I didn't doubt for one second that I would be able to play at that level (again) and even improve. Now as an experienced player I need to focus on helping this team improve and get to the next level."
The final four games of this season could have a huge bearing on when, or indeed if, this City team, 'get to the next level'. Beating Crystal Palace in Saturday lunchtime's live game on Sky Sports would be a key step toward something Kompany says the club cannot be without - Champions League football.
"It's the future of the club," he says. "We belong in the Champions League but that's the thing for English clubs, there are six or seven clubs that need to be in it each year and only four places, maybe five if United win the Europa League. Inevitably one of the big clubs will miss out, but it can't be City."
Catch the full interview with Kompany ahead of Man City v Crystal Palace live on Sky Sports 1 on Saturday from 11.30am.