Petr Cech exclusive: Arsenal performances don't match training sessions
Last Updated: 07/05/17 9:05am
Petr Cech insists Arsenal's performances this season are not matching their effort in training, and says he understands the criticism they have received.
Arsenal, who host Manchester United live on Super Sunday, are six points off fourth-placed Manchester City with a game in hand and have five games remaining of the season.
They are also guaranteed to finish below Tottenham for the first time in 22 years, and Cech says they have not been transferring their efforts in training sessions to the pitch enough this campaign.
Cech told Soccer Saturday: "When you see the training sessions, after we beat Leicester and started preparing for Spurs, I thought we were in a good shape. We looked ready, and then obviously you don't transfer the work, and this positivity if you don't transfer it to the game, the performance can be like that.
"This is disappointing because you try to work hard, try to prepare to put out the best performance, and there have been far too many games this season, especially in 2017, where we didn't transform that from the training ground to the pitch.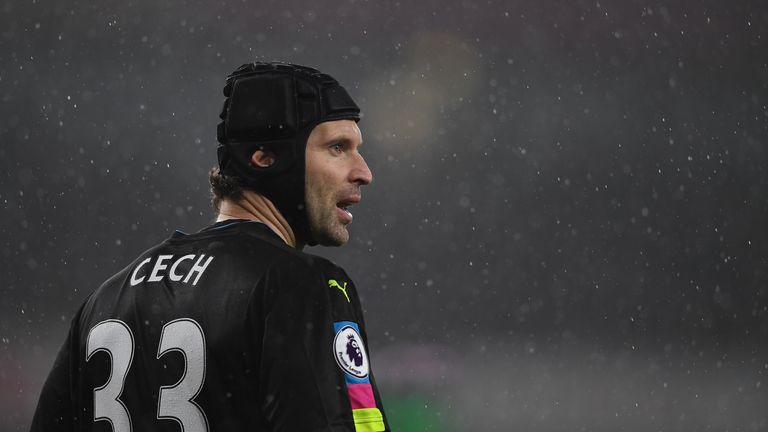 "Everybody involved is so desperate to win the title, because it has been a long time, and this is probably where the frustration comes around. Year after year Arsenal have come very close, and in the end there is that missing piece. This is what adds together every year and the people can be disappointed.
"This is the first year in 20 years where there is a chance the club won't qualify for the Champions League, which is a completely new situation for everybody. Nobody who was involved or attached to Arsenal wants to see it this way, so you can understand the disappointment."
Cech was brought to the Emirates from Chelsea by Arsene Wenger two summers ago, and after two under-par years for the team, Wenger's future at the club is unknown, with his contract up in the coming months.
With speculation rife, Cech was asked whether rumours about the Frenchman's future has impacted the players, but the goalkeeper says he is busy concentrating on his own work, whoever the manager may be going into next season.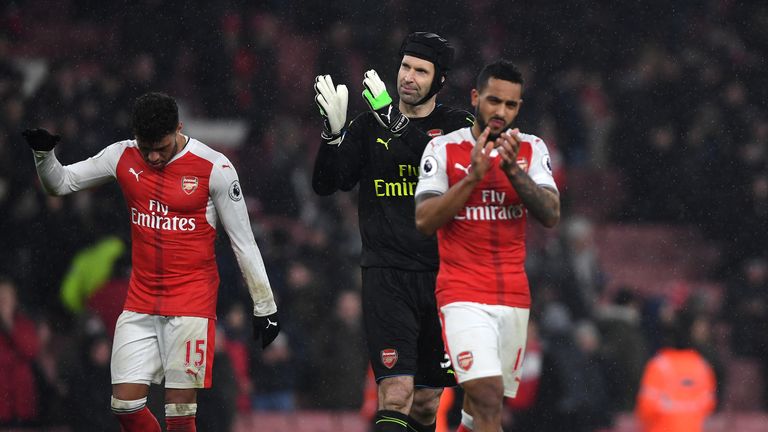 "I think at this moment it is clear Mr Wenger is our manager, and he will be until the end of the season, and then he has the cards in his hands. We will see what his decision will be, but I don't think it makes the situation more different.
"You have the manager and you know you have to deliver the performances and you need to work towards the games to win the games, and everybody needs to do their best. Whether the manager stays or not, at this moment I don't think it is a huge problem.
"I don't see it personally as a problem, I just do my best every day and try to prepare for every game, and if somebody is different and has a different feeling, it can happen. Personally I don't really follow that too much because I am concentrating on my work."
Cech's Arsenal host Manchester United on Super Sunday, with their opponents having to juggle Premier League football and a Europa League campaign in order to qualify for the Champions League.
Jose Mourinho has admitted he may have to field a weakened side on Sunday, but Cech says there is no such thing as a weak United side, and insists Arsenal must win every game from now until the end of the season to stand a chance of reaching the top four.
He said: "I don't know what it means, Man Utd with a weakened side? They have a big squad, OK they have some injuries, but that's why they have a big squad. This is a game everybody will want to win, so I know he will put out a team that he will be 100 per cent sure can win, otherwise he wouldn't put the team in.
"Now we are in the situation where we probably need to win all of the remaining games, and hope that the teams ahead of us slip. This is the situation we are in, and this was not the target for the season. This is the biggest disappointment.
"We are in the situation now where it is not about how well you play, but about how many points you get. Starting with United, a game we need to win on Sunday."
Cech was speaking to Sky Sports while visiting music therapy charity Nordoff Robbins, where The Arsenal Foundation Music Therapy Room, funded by the club's foundation, is housed.
Cech said: "I'm so impressed with the facility, but what's so special is the work that's done here with people facing unimaginable challenges in their lives."