Pep Guardiola says Gabriel Jesus will lead Manchester City's attack for years to come
Last Updated: 06/05/17 11:47am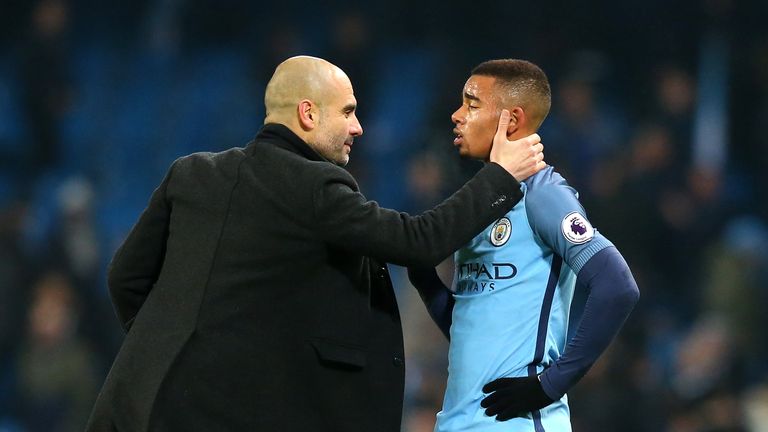 Pep Guardiola admits the impact of Gabriel Jesus has surprised him but expects the Brazilian to lead Manchester City's attack for years to come.
The 20-year-old striker has made a big impression since joining City from Palmeiras in January, despite being sidelined for more than two months with a broken foot.
Jesus struck three times in his first five appearances before the injury and then netted on his first start since recovering in last weekend's draw at Middlesbrough.
Attention will fall on Jesus on Saturday lunchtime as he leads the line against Crystal Palace, live on Sky Sports, with top scorer Sergio Aguero out injured.
City manager Guardiola said: "Before we got him we expected a lot of things, but not that impact as soon as possible. He will be the future striker in this club for the next years."
Guardiola did not directly compare Jesus to Lionel Messi, the five-time world player of the year he famously managed at Barcelona, but he did mention him in the same breath.
The Catalan said: "The good ones make a good impact.
"Messi, for example, at 18, 19 years old he scored 40 league goals in a year. The top players are top players.
"Sometimes we talk about needing more time and you have to give that time. Some players come here in the Premier League and the first and second season are difficult and then, wow - explosion.
"The other ones, they are positive, they are mentally strong, they have skill, they arrive and go wow! It's done."
Grab a Sky Sports Day Pass and strap yourself in for a blockbuster Super Sunday as Arsenal face their old foe Man Utd. All the action live on NOW TV, no contract!