Marcus Rashford still has more to offer and can handle the pressure of being Manchester United's No 9, according to Jesse Lingard.
Jose Mourinho revealed Rashford had played from the outset with a slight injury in Spain on Thursday, as the striker's stunning free-kick secured United a 1-0 lead over Celta Vigo after the first leg of their Europa League semi-final.


Having stepped in to replace injured top scorer Zlatan Ibrahimovic in recent weeks, Rashford hobbled off gingerly late on after his goal.
United team-mate Lingard insists the 19-year-old can continue to carry the raised expectations on his shoulders though as they hope to continue their top-four push against Arsenal on Nissan Super Sunday.
"He can handle the pressure," Lingard said. "He's been about long enough now to handle the pressure.
"He's scored major goals for United and again he's got the important goal. He's still going. He's going to fill out even more.
"His knowledge of the game, his game intelligence will continue to grow and he'll keep learning and go from there.
"Of late he's been put on set-pieces and his corner delivery and free-kicks have been excellent. Close to goal he's got a real chance of scoring."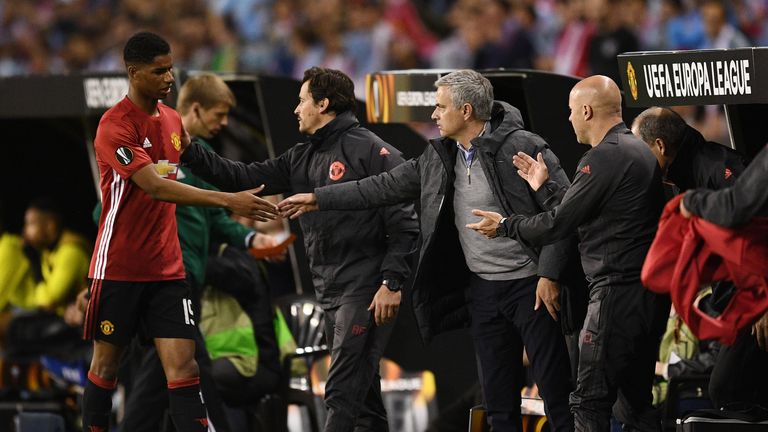 England international Rashford came under criticism last week after appearing to dive to win a penalty against Swansea, but Lingard believes the striker is responding in the right fashion.
"It's part and parcel of football," Lingard said. "He's going to learn. People are always going to have an opinion.
"You've just got to focus on the next game and he's bounced back with that goal."
Mourinho had suggested he would play a weakened side to face Arsenal this weekend, prioritising the second leg of their Europa League tie against Celta Vigo at Old Trafford on Thursday.
Arsene Wenger responded by insisting any side Mourinho puts out at the Emirates will still be strong, and Lingard is in no doubt as to the weight the fixture carries.
Asked if the trip to Arsenal is must win, the England international said: "Yeah, I think so.
"We have got to keep the pressure on the top four, we're not out of it yet. We have got the belief and the manager believes in us to get there.
"I think from now until the end of the season every game is big. We've got to treat them like finals.
"We've got to win the games and hopefully we beat Arsenal and can concentrate on the next game."
Grab a Sky Sports Day Pass and strap yourself in for a blockbuster Super Sunday as Arsenal face their old foe Man Utd. All the action live on NOW TV, no contract!