David Moyes insists Sunderland are not smiling despite Hull win
By Gerard Brand
Last Updated: 06/05/17 6:30pm
David Moyes insists Sunderland are not smiling despite their win over Hull after being relegated from the Premier League last week.
Goals from Billy Jones and Jermain Defoe gave the Black Cats a rare away victory, denting Hull's own survival hopes at the KCOM Stadium.
Moyes did admit he was pleased with the win, but also insisted his side have played like this several times before, and were unlucky not to get similar results.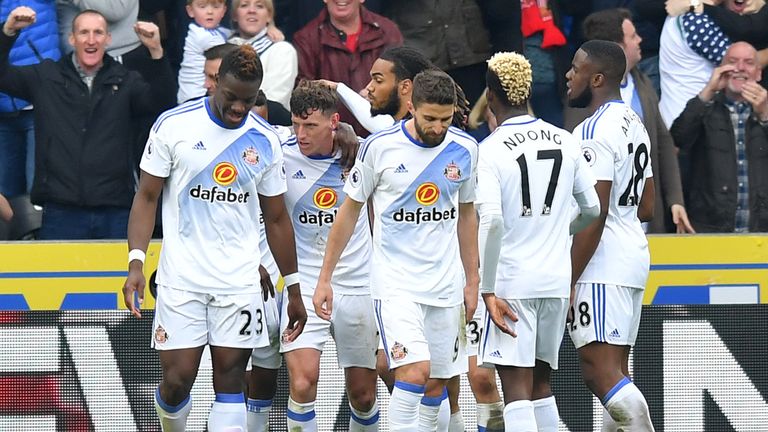 "We're really disappointed, we can't be smiling," he said. "We're pleased we've won today but obviously we can't be smiling about the bigger picture. But it's gone now, we can only try to improve and show what we can do.
"I thought the players showed exactly what they're capable of. I thought they worked hard, played well, defended well. We wanted it sooner, but at least we've played a bit better today.
"I thought we played really well, but I think we've played really well recently and not had results.
"We had a few chances first half, a few in the second, and so did they, it was quite an open game. We played well, and we deserved it.
"If you'd seen our performances against West Ham, Bournemouth, even at Middlesbrough, I don't think any of the games we deserved to lose. Today we got the goals, maybe kept them out at crucial moments as well."
Moyes praised the travelling Sunderland fans for making the trip to Hull for the win, and said his side haven't given them enough to shout about this term.
"The most important thing at Sunderland is the supporters, and it always will be, and the one thing about Sunderland is they carry a massive support home and away.
"We've not given them enough wins this season, so I'm glad the ones who made their journey today have seen the win.
"I think it's good if we can win the games, because I think it gives us a lot of hope. You nearly forget how to win, and for a lot of times this season we had."