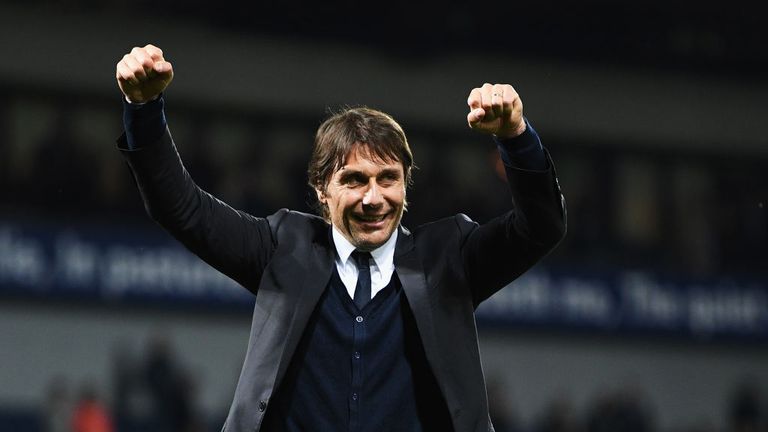 After Chelsea won the Premier League title on Friday, Sky Sports pundits Thierry Henry, Frank Lampard and Jamie Redknapp looked at what the future holds for Antonio Conte's side.
Michy Batshuayi came off the bench to score the winner at West Brom as the Blues won the title for the second time in the last three seasons.
Conte has now won four successive domestic titles after winning three in a row at Juventus, but his future at Stamford Bridge is uncertain as he has been linked with a move to Inter Milan.
If he does stay, then Chelsea legend Lampard thinks Conte has the potential to "build a dynasty" at the club.
"I think so. If you're a Chelsea fan that's what you're hoping for now. The way he's held himself this year and the results have been different class," said Lampard on Friday Night Football.
"N'Golo Kante is the player of the season, Eden Hazard was close, but the man of the season is Conte. He is the boss, he has driven them from 10th last year to make them champions and in the end it has been pretty comfortable.
"I think he's going to be backed in the summer, and he does need backing. It's a great squad of players they've got there but maybe there will be a freshen up, don't lose your best players and add one or two at the top end to go into the Champions League."
Lampard said he expects next season to be a "big test" for Chelsea as they look to defend their Premier League title and also challenge in Europe.
"It's the second season, and the formation won't be a surprise. The players will be a second season in and we saw that last season they couldn't sustain it for a second year," he said.
"And all the other teams behind, other than Tottenham, have been disappointing, and they will be back stronger."
Redknapp says the Blues will have to rotate more next year, with only 13 players starting five or more games this season.
"Players like Eden Hazard should be in Europe and playing at the top level but it will be totally different in the Champions League because they will have to rotate and use their players wisely," he said.
"But Conte has experience of that and is a fantastic manager who knows what he is doing. I am sure they will bring in a couple of players to add to it next year. You could see this Chelsea team having a good run in Europe."
Henry agreed with Redknapp's assessment, saying Conte's experience could be key for Chelsea in the Champions League.
"We all know the Premier League is very demanding and Conte didn't rotate the team much this season, so he will have to do that more next season," he said.
"We don't know who will come in over the summer, but we know that Conte has the pedigree to do something in Europe.
"He believes his tactics and systems will win him the game more than individuals. He believes the structure and the plan will win him the game."
Grab a Sky Sports Month Pass for £25pm for 2 months and capture an unmissable summer of sport on NOW TV. More live football than ever before, the British & Irish Lions tour and much, much more…